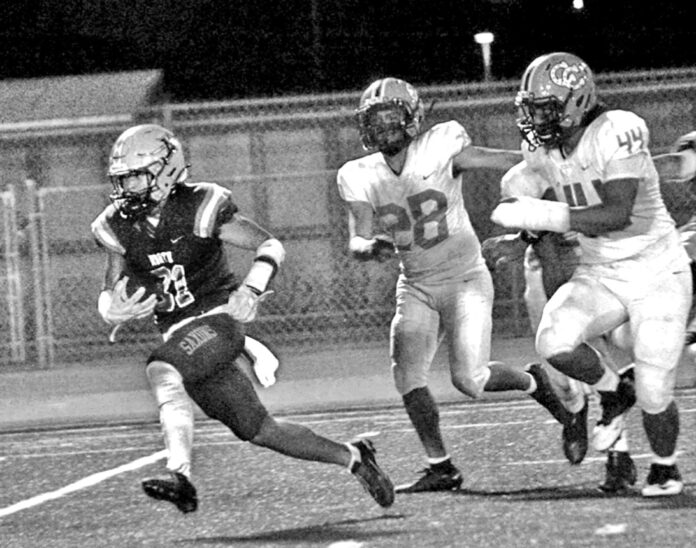 By Joe Snyder
North Torrance High's football team had very little trouble in shutting out Carson 49-0 in an intersectional non-league game last Thursday at North.
The Saxons, who are 2-1, wasted little time on the Colts, who for many seasons enjoyed success but appear to be in their dark ages at 0-3.
Quarterback Trevor Lagarde continued his success by throwing for three touchdowns, two of those to junior wide receiver Hanbyala Lozano from 33 and nine yards.
Jonathan Jurado started North's scoring in the first quarter with a 2-yard run. Later in the period, the Saxons increased their lead to 14-0 when Carson fumbled away a punt in the end zone as J.D. Noa recovered the ball in the end zone for a touchdown. North continued to dominate the Colts from there with two more TD's each in the second and third quarters and one in the fourth.
Dylan Williams helped the Saxons take a 28-0 halftime lead scoring from 20 yards out.
The third period was dominated by the passing combination of Lagarde and Lozano with pass completions of 33 and nine yards for a 42-0 lead.
The mostly running time fourth quarter saw North finish its scoring on a 5-yard touchdown run by sophomore running back Will Pireda.
"We spread the ball well," North head coach Todd Croce said.
The Saxons are expected to have a bigger challenge when they visit CIF-L.A. City Section Marine League power Banning High in Wilmington Friday at 7 p.m. Carson faces Paramount at Los Angeles Harbor College today at 7:30 p.m.