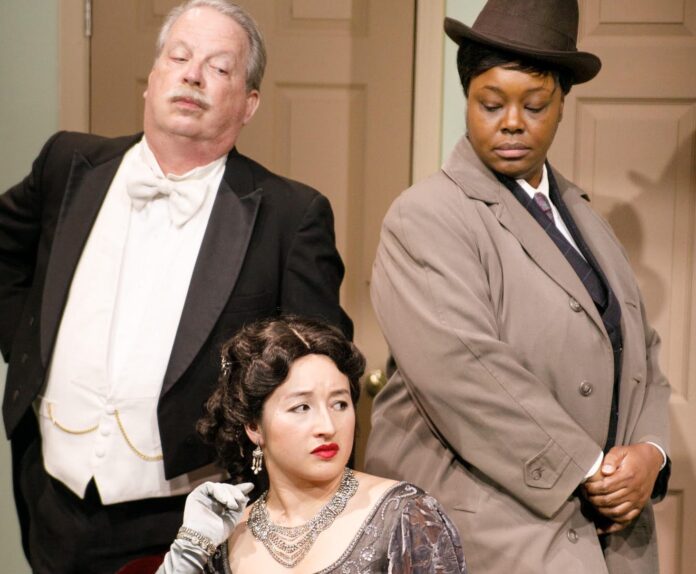 By Shari Barrett
Kentwood Players proudly presents J.B. Priestley's suspenseful drama An Inspector Calls directed by James Rice and produced by Lyndsay Palmer and Marty Feldman for Kentwood Players with rights secured from Dramatists Play Service. Performances take place Friday, September 15 through Saturday, October 7 on Fridays and Saturdays at 8 p.m., and Sundays at 2 p.m. Beginning September 23, Saturday matinees at 2 p.m. will be added and continue through the rest of the run at the Westchester Playhouse, 8301 Hindry Avenue, Los Angeles 90045. The cast features (in alphabetical order) Elora Becker, Chiquita Fuller, Aaron Hagler, Ben Lupejkis, Payton Ross, Lisa J. Salas, and Ren Warzecha. 
A classic of mid-20th Century theater, the Hitchcockian suspense drama An Inspector Calls centers on the Birling Family – Arthur, Sylvia, Sheila, and Eric – who live in a comfortable home in the fictional town of Brumley, an industrial city in the north Midlands. The family is visited by Inspector Goole, who interrogates the family about the suicide of a young working-class woman in her mid-twenties, Eva Smith. During questioning, all members of the family are lightly or deeply implicated in the girl's undoing, including Sheila's fiancé Gerald Croft. What begins as a parlor drama with polite banter quickly becomes acid and hateful. Everyone is not who they seem to be, including the inspector, thanks to a Twilight Zone-inspired plot twist.
Reserved seat tickets are $25 with a $4 discount for seniors and students, available online at www.kentwoodplayers.org, by emailing the box office at boxoffice@kentwoodplayers.org or calling (310) 645-5156. All box office emails and messages will be answered in the order received to confirm your ticket order. Group rates for 10 or more at $19 per ticket can be arranged with the box office. Any available tickets will be sold at the box office beginning a half hour prior to each performance. There will be a pay-what-you-can performance on Saturday, September 23 at 2 p.m. with reservations recommended. 
For more information about Kentwood Players including their production schedule and upcoming auditions this weekend on August 26 and 27 for the Broadway hit musical A Gentleman's Guide to Love and Murder directed by Catherine Rahm, please visit the Kentwood Players website at www.kentwoodplayers.org. Follow Kentwood Players on Facebook, Twitter, Instagram, and YouTube. 
Rogue Machine presents the Southern California Premiere of Heroes of the Fourth Turning written by Los Angeles-based playwright Will Arbery and directed by Guillermo Cienfuegos. Centering around the topics of religion and politics, two subjects known to cause arguments between even the best of friends, Will Arbery's haunting Pulitzer Prize Finalist play speaks to the heart of a country at war with itself, offering both grace and disarming clarity sure to ring true during these troubling times in history.
The play takes place on a dark night in western Wyoming when four young conservatives gather to toast their former teacher and newly inducted president of their tiny Catholic college. But as opinions clash, their reunion spirals into chaos when generational politics turns the celebration into a vicious verbal battle to be understood. It all begins when the outspoken Teresa (Evangeline Edwards) attempts to convince the others, starting with the much-too-drunk and lonely Kevin (Samuel Garnett), that America is on the verge of a religious and political war exemplified by the Strauss–Howe generational theory which describes a theorized recurring generation cycle in American and Western history. During the Fourth Turning, each generation will be called upon to play a unique role in pushing the nation forward through a deadly war.
Thus the play evolves into a two-hour diatribe about all that is wrong with the world and how religion and conservative politics will lead the way through the upcoming war. It's not a play for those unwilling to pay close attention to the complicated topics at hand as they are fully discussed in long monologues, each brilliantly delivered by the talented cast members. Along with Edwards and Garnett, the cast includes Roxanne Hart as Gina, the new college president; Emily James as her usually bedridden and lonely daughter Emily; and Stephen Tyler Howell as Justin, at whose rural Wyoming house the group has gathered. But soon an eerie presence within the place adds layers of unsettling behavior to the mix.
Heroes of the Fourth Turning continues at 8pm Fridays, Saturdays, Mondays, and 3 p.m. Sundays through October 2, 2023. (No performances September 10, 11) at Rogue Machine at the Matrix Theatre, 7657 Melrose Ave, Los Angeles 90046. Tickets are $45 for general seating. Seniors: $35, Students with ID: $25. Pay-What-You-Want Fridays: Sept 1 ($10+), September 8 (15+), September 15, 22 (20+). Runs 2 hours (no intermission). Street parking only. Reservations at https://www.roguemachinetheatre.org/ or by calling (855) 585-5185. Follow Rogue Machine Theatre on Facebook, Twitter, and Instagram.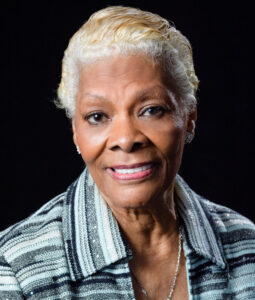 Sterling Venue Ventures is presenting a series of concerts and events at the art deco era Saban Theatre in Beverly Hills guaranteed to appeal to all members of the family. The schedule includes Gino Vannelli on September 1, Dionne Warwick on September 2, Yngwie Malmsteen & Glenn Hughes on September 8, Don McLean: The American Pie 50th Anniversary Tour on September 9. Todrick Hall: Velvet Rage on September 13, Miss Back CA USA Scholarship Pageant (Teen & Ms. Division) on September 30, 98 Degrees on October 6, The Rocky Horror Picture Show: The 48th Anniversary Spectacular Tour (with special guest Barry Bostwick) on October 8, Musiq Soulchild on October 12, Boney James: Detour on October 13, Jesse Cook on October 19, Stephanie Miller's Sexy Liberal Tour on October 21, Christopher Cross on October 26, and Anthony Hamilton on October 27, with a special two-day Marilyn Monroe Film Festival on November 5 & November 6 celebrating the 70th Anniversary of her movie How to Marry a Millionaire which premiered on 11/4/53 with Marilyn Monroe and other Hollywood stars in attendance at the Fox Wilshire Theatre (now the Saban Theatre) located at 8440 Wilshire Blvd., Beverly Hills 90211.
Visit https://wheremusicmeetsthesoul.com/saban-beverly-hills/ for more information and ticket links. To avoid ticket scalpers, please be sure to only buy online tickets from official websites at www.AXS.com or www.WhereMusicMeetsTheSoul.com. Tickets may also be purchased via the box office at (888) 645-5006 or email to boxoffice@WMMTS.COM. All audience members under the age of 18 must be accompanied by a paying adult.