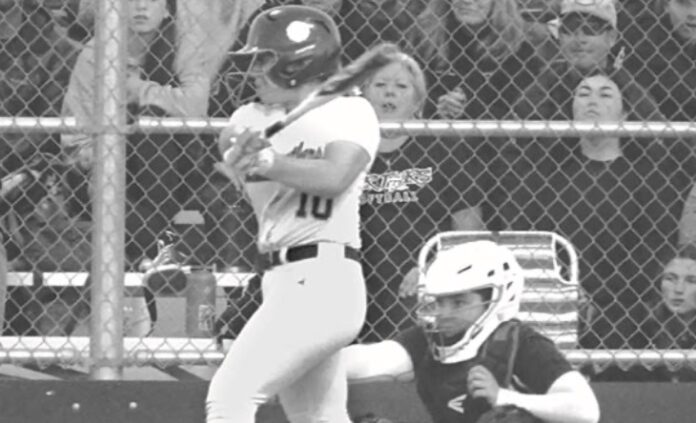 By Joe Snyder
After a three-year absence due to the COVID-19 pandemic, the South Bay All-Star softball classic, along with baseball played last Monday, was on at the new Don Lee Softball Stadium on the Torrance High campus.
In the nine-inning contest, due to it being all-stars so that both coaches could get all players in the game, it was the American Stars that pulled away for a 14-6 win.
Several local players from North Torrance and Gardena High were represented but it was the some of the Lady Saxons that starred in the contest. Julie Diekmann hit a three-run double in the top of the seventh inning was the biggest part of the top of the seventh inning that keyed the Americans to four runs for a 12-6 lead.
Aseel Khalab, also from North, was the starting pitcher for the Nationals but was tagged for four runs in the top of the first. She had one run batted in after her sacrifice fly drove home her Saxon teammate, McKenzie Koshi in the bottom of the third off American starting pitcher Layla Jelenic from San Pedro.
A few other Torrance school players had strong showings including West Torrance's Khalie Jennings had three doubles including one that drove in a run for the Americans in the top of the seventh. Another West player, Rylee White, had a two-run single for the Nationals.
Torrance High's Savanna Kaslingar drove in a run with a double for the Americans.
Gardena had two representatives; one on each team; Lilianna Gudiel for the Americans and Lillian Leslie for the Nationals. Both saw some action but neither had a hit. Both helped the Panthers to a third-place finish, behind champion Carson and runner-up Wilmington Banning. Due to success in Division II over the past two seasons, including winning the City title over host Palisades in 2021 and making the finals before falling to Garfield last year, Gardena was moved up to Divi- sion I but lost in the first round to host Garfield 8-1 in East L.A. Next season, the Lady Panthers are expected to rebuild with a large majority of the players being seniors.
In the highly competitive Pioneer League, Torrance won the crown with an unbeaten 12-0 record, followed by North in second at 10-2. South and West tied for third place with El Segundo finishing fifth.
The South Bay All-Star Ba ball Classic was played last Monday at Redondo High.
Carson, Torrance get knocked out
Torrance and Carson High's softball teams saw their 2023 seasons come to an end with semifinal losses to top seeded teams in the Southern California Regional Championships last Thursday.
The Pioneer League champion Lady Tartars fell to top ranked Poway 10-2 in Division I play. The Marine League and CIF-Los Angeles City Section Open Division champion Colts lost to Chula Vista Otay Ranch 11-3 in Division III.
In Carson's loss, Zunich Puni and Rylee Gardner each hit solo home runs.
A seven-run third inning by Otay proved pivotal for the Colts.
Both Poway and Otay Ranch are from the CIF-San Diego Section.
Both Torrance and Carson won quarterfinal games on May 30. At John Glenn High in Norwalk, the Tartars routed La Mirada 16-2. At Carson on the same day, the Colts rolled over Bakersfield Frontier from the CIF-Central Section 15-5.
In Torrance's win over the Matadors, Emily Schepp and Mazee Martinez each hit a home run. Ryan Da Costa droveinfiverunsandSchepp had three runs batted in. Winning pitcher Emma Haynshida pitched a complete game one-hitter for her 22nd win of the season.
It was a match-up between two teams who lost in the first round of the CIF-Southern Section Division I playoffs. The host Tartars, who won the Pioneer League title at 12-0, lost to Huntington Beach 12-1. Last season, Torrance advanced to the Southern California Regional Division II finals before falling to Chula Vista Mater Dei. The Tartars made the Di- vision II semifinals before losing to Mission Viejo.
In Carson's victory over Frontier, Riannah Maulupe and Ahaanalee Titalii each went 5-for-5. Maulupe had four RBI's and scored four runs. Puni and Ruby Grapeda each had two hits and drove in three runs.
Carson's baseball team, which was CIF-L.A. City Sec- tion Open Division finalist, lost in the Southern California Regional Division II quarterfinals to host Crespi 11-4 on May 30 at Hartnian Park in Encino.
The Colts, who were last seed in the eight-team Divi- sion II playoffs, had two one-run leads but the Celtics came back and dominated the last three innings.
Carson made the L.A. City Open Division finals before losing to Lake Balboa Birmingham 3-1 on May 27 at Dodger Stadium. The Patriots lost to Calabasas 6-4 in the quarterfinals.
North coach Setts named Coach of Year
North Torrance head boys' basketball coach Wai Setts was selected as Daily Breeze South Bay Coach of the Year in the All-South Bay Teams, announced last week.
Setts helped the Saxons go from being 13-24, including 7-19 in the 2021-22 season, to winning the Pioneer League at 10-2 and finished 26-7 overall this past season. North made it to the CIF-Southern Section Division VAA semifinals before falling to eventual champion Rosemead Don Bosco Tech, which went on to upset top seed Lynwood in the final a week later. The Saxons entered the Division VAA playoffs as the No. 2 seed behind the Knights.
North would go on to lose to host Lynwood 85-59 in the Southern California Regional quarterfinals on March 2. The Knights went on to win the regionals over South Gate and the CIF-State Division V championship.
A big lift for Setts was hir- ing retired long time successful Westchester High head boys' basketball coach Ed Azzam. Azzam led the Comets to five CIF-State championships and 15 CIF-L.A. City crowns during his 42-year stent. Azzam was also a former Gardena High boys' basketball standout, where he graduated in 1972.
Player of the Year was Narbonne senior Marcus Adams, Jr. Adams sparked the Gauchos to the Marine League championship and to the CIF-L.A. City Section Open Division playoffs. The Gauchos advanced to the Southern California Regional Division II playoffs where they made the quarterfinals. Adams averaged 29.8 points, 8.2 rebounds and four assists per game. He had four triple doubles. He will resume his basketball career at University of Kansas in the fall.
Two North junior guards, Kai Bradley and Elliot Langston, made second-team all-area.
Local players on first team included three Bishop Montgomery players in Xavier Edmonds, Christian Jones and Will Smith.
Other second teamers were freshman forward-guard Maxmo Adams (Narbonne), Kelley Phipps (Bishop Montgomery), Amare Holmes (West Torrance) and Andre De Los Reyes (Torrance).
The Knights lost in the CIF- Southern Section Division I semifinals to Sherman Oaks Notre Dame and the Southern California Regional semifinals to Chatsworth Sierra Canyon, led by University of Southern California-bound Broney James, son of Los Angeles Laker standout LaBron James.
Surprisingly left out was Gardena standout Chase Williams, who made all-area the previous two seasons. Williams averaged 17 points per game and aided the Panthers to third place, behind champion Narbonne and runner-up San Pedro, in the Marine League. Gardena was eliminated in the first round of the CIF-Los Angeles City Section Division I playoffs in the first round by Los Angeles Center of Enriched Studies (LACES) 42-40. Williams made first-team all-Marine League.
Interestingly on second-team all-area was freshman Tahj Ariza from Playa del Rey St. Bernard, son of former National Basketball Association (including a stent with the Lakers) star Trevor Ariza. Trevor led Westchester High to L.A. City and state titles in 2002 and 2003.