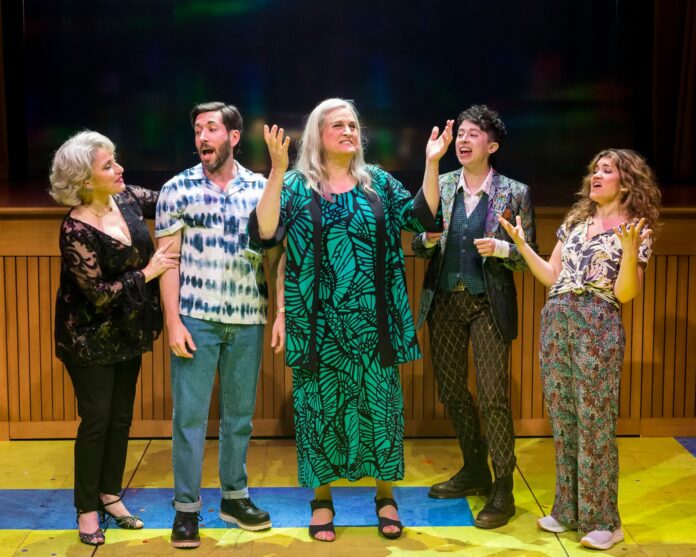 By Shari Barrett
From the creators of the hit Amazon series Transparent comes the groundbreaking and timely A Transparent Musical that is delightfully queer, unapologetically Jewish, and radically joyful. Now making its world premiere at the Mark Taper Forum through June 25, it marks the first time a story written by transgender and nonbinary artists, with book by MJ Kaufman and Joey Soloway and music and lyrics by Faith Soloway, will be at the Taper – and just in time for Pride month!
From the moment you enter the Taper, you are welcomed by actors portraying staff members at their local Jewish Community Center, some playing games, making announcements, but mostly waiting for the "Standing Order" of bagels and cream cheese to arrive for brunch. Audiences then follow the story through the Pfefferman family's youngest child Ali (Adina Verson in a tour-de-force performance), as they navigate the ups and downs of self-discovery. You see, Ali's Los Angeles Jewish family is filled with secrets, but when their father, played by Daya Curley, announces he is planning to transition to Maura, the transgender matriarch she always knew she was, the family is forced to confront their own identities and navigate their relationships with each other. Through their revelatory story of acceptance and self-expression, A Transparent Musical explores the intersection of Jewish and queer history while celebrating the imperfectly human and startlingly familiar aspects of a universally relatable family.
Along with Verson and Curley, the cast for this remarkable and totally entertaining theatrical experience includes Liz Larsen as the typical Jewish mother Shelly Pfefferman now leading a most untypical life who shines singing "The Secret to a Marriage" with her children and "Emergency Contact" with Maura. Zachary Prince is the overly-lustful and lonely son Josh Pfefferman, Sarah Stiles is unhappily married daughter Sarah Pfefferman, with featured ensemble members who portray JCC members and the fabulously entertaining Queerdos including Kasper (Ezra), Peppermint, a true shining star as Davina, and Murphy Taylor Smith (Rabbi Raquel), plus Samora la Perdida, Justin Rivers, Futaba Shioda, Robert Pieranunzi, Jimmy Ray Bennett, Pat Towne, Dahlya Glick, and Emily Goglia.
Directed with a great reverence to the individual personalities of the cast by Tina Landau, and filled with joyous choreography by James Alsop and absolutely fabulous costumes designed by James Alsop, clever scenic design by Adam Rigg allows for scenes to morph from the JCC multipurpose room to the Pfefferman homes as well as a gay cabaret in 1933 Germany thanks to projections designed by Yee Eun Nam and lighting designed by Jen Schriever. The rocking nine-piece orchestra is conducted by Music Director Julie McBride on keyboard 1 with Associate Music Director Noriko Olling on keyboard 2
A Transparent Musical tickets start at $35, available through CenterTheatreGroup.org, Audience Services at (213) 628-2772 or in person at the Center Theatre Group Box Offices (at the Ahmanson Theatre) at The Music Center, 135 N. Grand Avenue in Downtown L.A. 90012. Performances run Tuesday through Friday at 8 p.m., Saturday at 2:30 p.m. and 8 p.m., and Sunday at 1 p.m. and 6:30 p.m.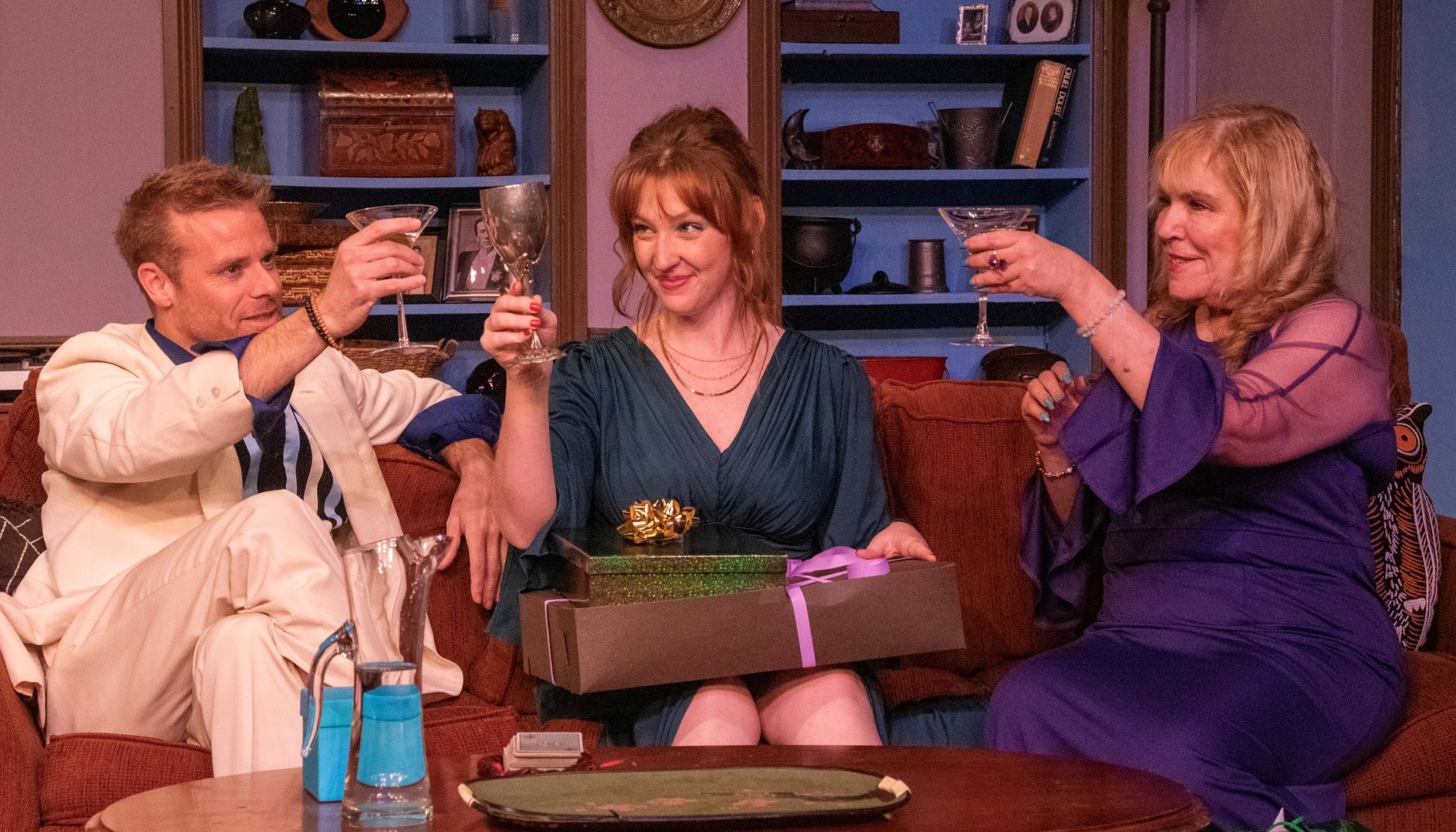 Who doesn't love watching a sorcerer cast spells, especially when love is involved? The enchanting comedy Bell, Book & Candle by John van Druten does so thanks to a magical cat named Pyewacket owned by Gillian Holroyd (tall and slinky Jasmine Haver), a modern witch who can cast spells but unfortunately cannot fall in love. This imperfection leads to a major difficulty when, encouraged by her Aunt Queenie (Laura Goldstein, perfect in a role made for her comedic talents) who is also a witch and Gillian's warlock brother Nicky (handsome Jeff Coppage), Gillian casts a spell on her unsuspecting and unattached neighbor Shep (Andrew Cereghino, the quintessential everyman), a publisher she finds very attractive. To keep him interested, Gillian promises to introduce him to an author of much renown in the spirit world, Sidney Redlitch (Michael Anthony Nozzi who enchants the audience with his sorcery and comedic timing), who Shep wants to sign for a book deal.
With all her magical charms, of course Shep falls head over heels in love with Gillian immediately and wants to marry her. But will Gillian decide to break off with her companions in witchery and choose love? And just what will she have to sacrifice if she does? With this witty 1950 play written in three acts, I hope future performances take the two breaks needed to better allow the stage crew to make all the necessary changes without asking the audience to sit and wait instead of being able to get up and stretch.
Directed by Brandon Polanco with a real reverence to the art of witchcraft, including using a cat statue for Pyewacket as was done in centuries past, Bell, Book & Candle is produced by Martha Hunter and Maria O'Connor for Theatre Palisades, with set and lighting design by Sherman Wayne (great spooky effects), costume design by Maria O'Connor and Hahnah Jackson, and great witchy background song selections by sound designer Susan Stangl.
Performances run through July 8 on Friday/Saturday 8 p.m., Sunday 2 p.m. at Theatre Palisades Pierson Playhouse, 941 Temescal Canyon Road, Pacific Palisades 90272. Free onsite parking. Tickets $22 general admission, $20 for seniors, students, and servicemen, available at theatrepalisades.org or (310) 454-1970.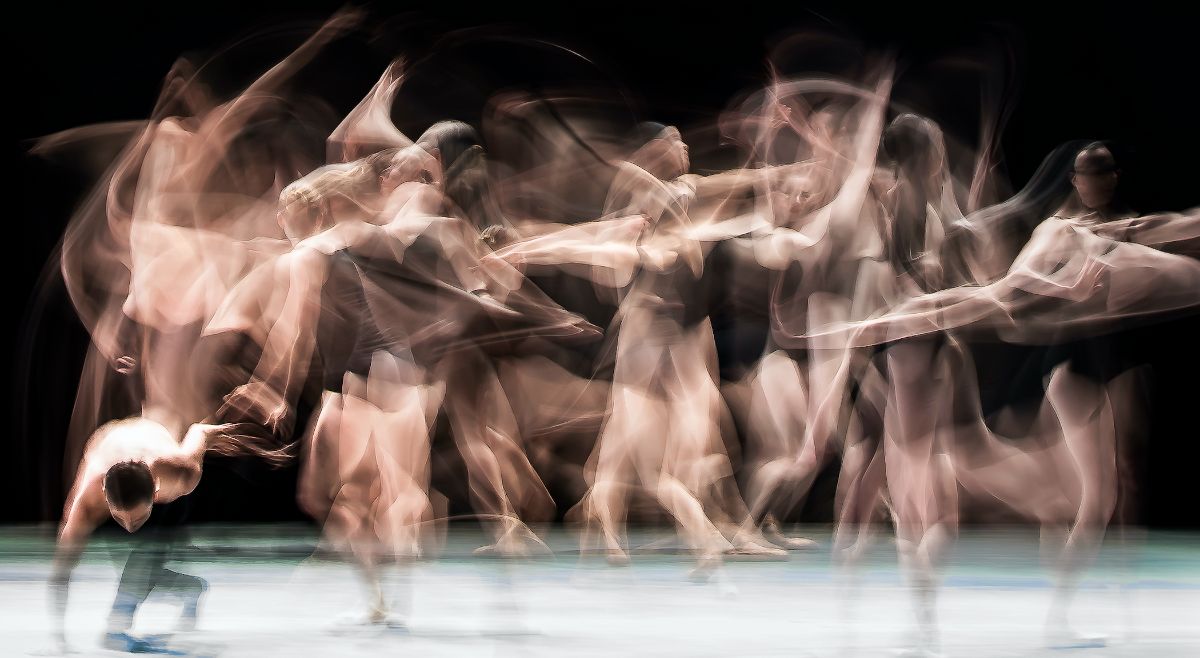 BroadStage presents the world premiere of Los Angeles Ballet's Memoryhouse, the first full-length ballet by Melissa Barak as Los Angeles Ballet's new Artistic Director, an abstract work composed of vignettes commemorating World War II and in particular, the Holocaust. The ballet is choreographed to Max Richter's powerful album in its entirety as recorded, featuring 18 movements set to the album tracks. Some movements connect with others while some live on their own, with all electronic voices, sounds, and touches being part of the original recording. Memoryhouse runs June 15-17 at 7:30 p.m. at The Eli and Edythe Broad Stage, 1310 11th St., Santa Monica 90401. Free onsite parking. Tickets start at $50, available at broadstage.org or by calling 310.434.3200. Memoryhouse is made possible by the generous support of The David and Janet Polak Foundation. A documentary film, The Creation of Memoryhouse produced by MikkoMia Productions will debut this summer.