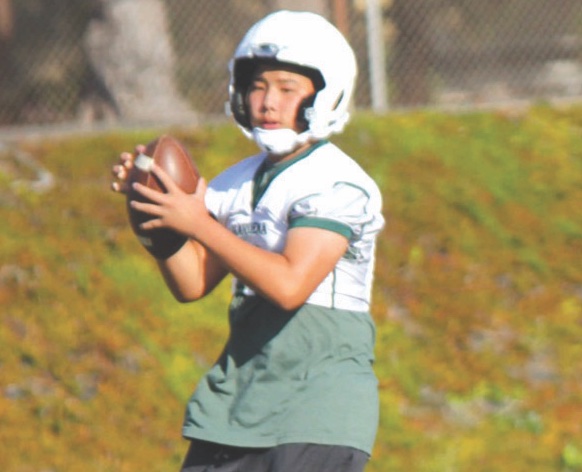 By Joe Snyder
Under first-year head coach Monty Gilbreath last season, Gardena High already started out with a very young and inexperienced football team that was coming off a 2020-21 season canceling due to the COVID-19 Pandemic.
The Panthers, which won the CIF-Los Angeles City Section Division III crown along with the Southern California Division VIIA title in 2019, started the season by winning their first two games before a rash of injuries, most of them in their third game in a double overtime loss to Compton Centennial, led to their downfall. Gardena, though, will remember on Oct. 15, 2021 in winning its first on-field Marine League game in six years, 12-6 over host Narbonne in Harbor City.
In the final six games, the Panthers were forced to start 17 freshmen and sophomores. With more injuries, Gardena was so shorthanded that it end- ed up canceling its league finale against Wilmington Banning on Oct. 29 and opted out of the CIF-L.A. City Section Division II playoffs.
This year, Gardena is hoping for better things and to get more physical and mentally tough. The Panthers return 18 starters and almost all of them are still underclassmen.
"We have only three or four seniors on our roster," Gilbreath, now in his second season, said. "We're young but very talented. We're inexperienced but competitive."
One of the very few seniors is wide receiver-cornerback-special teams star Maurice Henderson, a returning first-team all-Marine Leaguer. Last year, Henderson scored seven touchdowns, five on offense and two on special teams. He had three interceptions.
"He's a good all-around player," Gilbreath said.
Before an early season ending injury last year, sophomore Torey Pierce, now a junior, started at quarterback. This season, however, Pierce appears to moving to running back as sophomore Isaiah Kim, a transfer from North High in Torrance where he was starting quarterback for the Saxons' freshman team, will start at the position.
"Pierce is a type of guy we can move all over the field," Gilbreath said. "He has good talent."
The Panthers are expected to be strong at running back, also with the return of junior Pharrell Davis and sophomore Xavier Grant, a first-team all-leaguer.
Gardena's defense will have some key linemen back, including defensive tackle Jacob Willard, along with ends Zaceyue Marcus and Michael Browning.
"We have some guys that can compete," Gilbreath said. "They have one year of experience."
The Panthers begin their season at Maya Angelou High in South L.A. Friday at 7:30 p.m. Gardena's first home game is a week later against University Pathways High, located near UCLA, beginning at 7 p.m. before visiting Centennial in Compton on Sept. 1 at 6 p.m. The Panthers' final seven games start at 7:30 p.m.
They return home for two games against L.A.-Watts Jordan (Sept. 9) and former Marine League foe Washington (Sept. 16) before closing a non-league contest at King-Drew Medical Magnet in Willowbrook on Sept. 23.
Gardena begins the Marine League at home against Narbonne, last year's CIF-L.A. City Section Division III semifinalist and also much improved from last year, on Sept. 30. The Panthers' remaining league games are at San Pedro (Oct. 7), home against Wilmington Banning (Oct. 21) and at Carson (Oct. 28).
The Panthers will seek to return to the playoffs, most likely in Division II, but maybe higher if they can pull off some upsets.