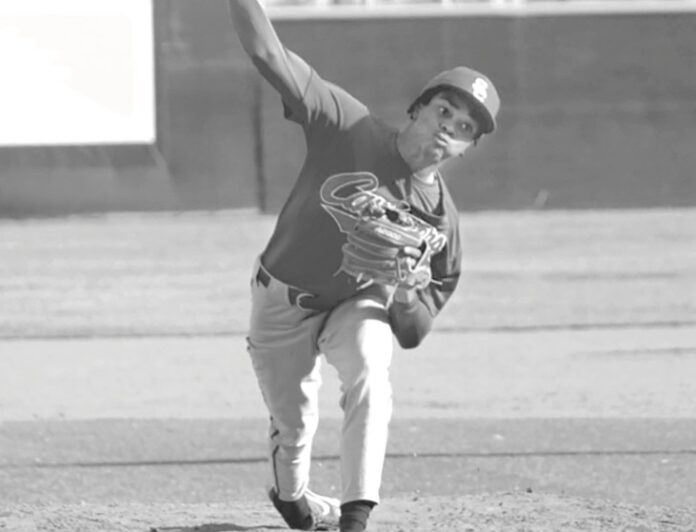 By Joe Snyder
Serra High's baseball team saw its losing streak reach seven games with a Del Rey League loss at Bishop Amat in La Puente on March 7 and non-league defeat at Mira Costa High in Manhattan Beach a day later.
Big innings continued to haunt the Cavaliers. At Bishop Amat, the Cavaliers, who fell to 2-8 overall and 0-2 in the Del Rey League, carried a 4-1 lead with two outs in the bottom of the seventh inning before seeing the Lancers rally for four runs to pull out a 5-4 win. At Mira Costa, starting pitcher Henry Sorman held the Mustangs scoreless in the first two innings before seeing them let loose for eight runs in the bottom of the third. The result was a 9-4 loss for Serra.
"We just have to finish," Serra head coach Art Perry, Jr. said. "We allowed four unearned runs in the seventh inning (to Bishop Amat)."
The Cavaliers have the talent and had a few highlights despite their loss to the Lancers. Cameron Smith went 3-for-3 and Hunter Backstrom added a two-run double. Pitcher Adrian Pineda had a fine performance allowing one earned run over 6 2/3 innings.
On the next day, Serra traveled to Mira Costa to take on the Bay League power Mustangs. After a scoreless first two innings, the Cavaliers scored first in the top ofthe third when Greg Hood scored on an error on a ball hit by Kelvin Martinez.
That was when Sorman ran into trouble in the bottom of the inning. After allowing a hit and another baserunner on an error, Truman Polich gave Mira Costa the lead for good with a three-run home run. The Mustangs continued to bat around in that inning
that was followed by a run-scoring base hit from Jake Holtz. Sorman was replaced by Finley Jones and things were not any better as the Mustangs tacked on three more runs that included a two-run double by Joe Brewer and a run-scoring single by Nycol Arnold.
Mira Costa, which is 5-5 over- all and has a four-game winning streak since its 1-5 start, added another run in the fourth behind an RBI double by Holtz for a 9-1 bulge.
Serra scored three runs in the top of the sixth behind a two-run double from Ethan Varela.
John Enriquez finished the game pitching two scoreless innings for the Cavaliers.
Serra, meanwhile, has former head coach Wilmer Aaron, cousin of the late Major League Baseball slugging star Henry Aaron (Mil- waukee-Atlanta Braves, 1954-74; Milwaukee Brewers, 1975-76). Henry Aaron died in January 2022. "I feel, we'll get better before the end of the season," Aaron said. "We are working on the kids' approach. They are young kids who don't understand about hitting."
Aaron was head coach for the Cavaliers from 2011-16 guiding them to the CIF-Southern Section Division III championship in 2013. That squad was led by now New York Mets player Dominic Smith.
Last Saturday, Serra had its league home game against Santa Fe Springs St. Paul postponed due to wet grounds from Friday's rain. It resumed Del Rey action on Wednesday at Paraclete in Lancaster but it could have been postponed because rain was forecasted for Tuesday and Wednesday.
The Cavaliers host the Spirits Friday at 3:15 p.m. Serra's next game is a non-league contest at Banning in Wilmington on March 25 at 6:30 p.m. and next league game is against Pasadena La Salle at Arcadia Regional Park on March 28 at 3:15 p.m.
North Torrance High's baseball team opened the Pioneer League by splitting games against El Segundo last week. At El Segundo on March 8, the Saxons fell to the Eagles 10-1. At North last Friday, the Saxons rallied for a 6-5 win with four runs in the bottom of the sixth.
Brymanei Waiolama sparked North by going 2-for-2 including a two-run home run in its win over the Eagles.
After visiting Banning in Wilmington on Tuesday, the Saxons travel to Tesoro in Rancho Santa Margarita for a 3:30 p.m. non-league game on Friday. North hosts Garfield from East LosAngeles in the El Segundo Tournament on Saturday before resuming league at Wiseburn-Da Vinci in El Segundo next Wednesday at 3:15 p.m.
Gardena played its first game since Feb. 17 at home against Hamilton but was routed 12-1 on March 7.
Despite the lopsided loss, the Panthers were led by Anthony Garcia who went 2-for-3 and Eric Romo who was 1-for-3 with one run batted in.
Gardena hosts King-Drew Medical Magnet today at 2:30 p.m., then visit Harbor Teacher Prep at L.A. Harbor College in Wilmington Saturday at 3 p.m. The Panthers open the Marine League at Rancho Dominguez Prep in Long Beach next Tuesday at 3 p.m.
Local athletes shine at Redondo Invite
Several local prep athletes had strong showings in last week's Redondo High-Nike Track and Field Invitational on Friday and Saturday.
North's boys were led by Spencer Cicarelli who tied for fourth place with Redondo's Louis Goodman in the pole vault at 13 feet, five inches on Friday. Winning the event was Redondo senior Dylan Curtis with a personal best mark of 15-9. Curtis is ranked one of the top pole vaulters in California.
North also had a strong showing by its boys' 4×400-meter relay team of Nathan Chic, Evan Kishaa, Logan Cole and Aden Gallagher who placed sixth overall timing three minutes and 39.28 seconds.
The Lady Saxons were led by Elle Jones who finished seventh in the long jump with a leap of 16-3.75 and Kaiana Katero who was 10th overall in the 400 in 59.56.
CIF-Los Angeles City Section power Carson continued to have a strong showing by its sprinters that included Christiana Gray who won the 100-meter dash timing 12.06 seconds.
The Bees were led by Kortney Nelson and Taryn Shelley with 13 points apiece.
Against the Broncos, CSDH trailed by one point (46-45) at halftime before turning things around by outscoring Pomona 22-4 in the third quarter. The Toros turned the game into a rout by outscoring the Broncos 19-12 in the fourth.
Williams sparked CSDH with 26 points, 11 rebounds and seven assists. Auren Isaacson contributed 12 points. Poland and Jordan each finished with 11 points.
If the Toros win the classic, they move on to the Elite Eight in St. Joseph, Missouri beginning on Friday. The Division II championship is in Dallas on March 25.
CSDH is 30-2 overall after going 21-1 in the CCAA.
CSUDH women hoopsters seek NCAA Division II regional crown
Cal State Dominguez Hills' women's basketball team came off winning the California Collegiate Athletic Association championship and hosted the NCAA Division II Western Regional Tournament from last Friday through Monday at the Toro Dome in Carson.
The Lady Toros were the top seed and they advanced to last Monday's championship against CCAA foe Cal State San Marcos from North San Diego County. CSDH began the classic last Friday by routing another CCAA rival, Cal Poly Pomona, 87-61, then finished off Montana State University at Billings 77-66 in the semifinals on Saturday.
Against MSUB, Asia Jordan sparked the Toros with 23 points and 10 rebounds. Nala Williams added 16 points and Deejanae Poland chipped in 11 points.
The Lady Colts' 4×100-meter relay team finished third clock- ing 49.09.
South Torrance High's Anthony Flowers won the boys' 100 at 10.67, the third best time in the state this season.