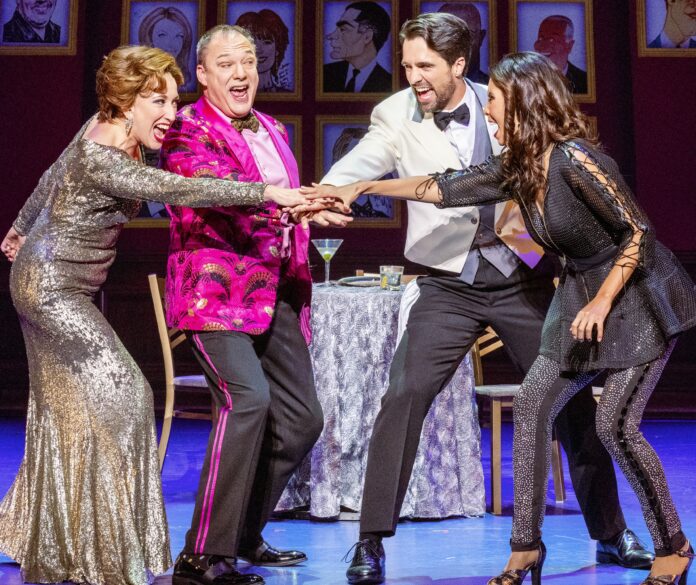 By Shari Barrett
The national tour of the 2019 hit Broadway musical THE PROM continues at the Ahmanson Theatre through Sept.11, 2022. It's a toe-tapping, get up and dance musical comedy about how big but now unemployed Broadway stars decide to go on a mission to change the world, proving how their own narcissistic natures can be replaced by the desire to do good for an underdog needing their help to succeed. Of course, that is an almost impossible task for someone needing to be in the spotlight, showing their own talent and need for personal recognition. But once united to start "Changing Lives" to prove that love and love and acceptance is the real key to happiness, they discover that real personal achievement is all about helping others, with a few high kicks thrown in for effect!
THE PROM stars Kaden Kearney as Emma, a high school student banned from her small-town Indiana high school prom for wanting to bring her girlfriend as her date; Kalyn West as Alyssa Greene, head of student council and Emma's secret love; belter extraordinaire and Tony Award® winning Courtney Balan as Dee Dee Allen, an aging Broadway diva; Patrick Wetzel as her former out-and-proud Broadway co-star Barry Glickman; Emily Borromeo as the long-legged, always a chorus girl never a star Angie Dickinson; Bud Weber as esteemed Julliard graduate/cater waiter Trent Oliver; Sinclair Mitchell as dedicated high school principal Mr. Hawkins; Ashanti J'Aria as Mrs. Greene, president of the PTA; and Shavey Brown as Sheldon Saperstein, Broadway's press agent with a plan to get his stars back on the Great White Way.
The high-spirited and energetic cast, directed and choreographed by Tony Award® winner Casey Nicholaw, features an incredibly talented ensemble who dance and prance their way into musical comedy nirvana, including Gabrielle Beckford, Ashley Bruce, Maurice Dawkins, Jordan De Leon, James Caleb Grice, Megan Grosso, Marie Gutierrez, Chloe Rae Kehm, Braden Allen King, Brandon J. Large, Alexa Margo, Daniel May, Christopher McCrewell, Adriana Negron, Marcus Phillips, Lexie Plath, Zoë Brooke Reed, Thad Turner Wilson and Josh Zacher. By the time the celebration reaches its zenith during "It's Time to Dance," I guarantee you will be ready to jump out of your seat and do just that!
Based on an original concept by Jack Viertel, the award-winning team behind THE PROM includes a book by Tony Award winner Bob Martin and Tony Award nominee Chad Beguelin, music by Tony Award nominee Matthew Sklar and lyrics by Tony Award nominee Chad Beguelin, with scenic design by Tony Award winner Scott Pask, costume design by Tony Award winner Ann Roth and Matthew Pachtman, lighting design by Tony Award winner Natasha Katz, sound design by Tony Award winner Brian Ronan, and orchestrations by Tony Award winner Larry Hochman. Their combined talents, along with a 12-piece rocking orchestra conducted by Dean Balan, bring this joyously inclusive Broadway hit fully to life onstage, which The New York Times declared "makes you believe in musical comedy again." 
Tickets for THE PROM are currently start at $35, available through CenterTheatreGroup.org, Audience Services at (213) 972-4400 or in person at the Center Theatre Group Box Offices (at the Ahmanson Theatre) at The Music Center, 135 N. Grand Ave. in Downtown L.A. 90012. Performances run Tuesday through Friday at 8 p.m., Saturday at 2 p.m. and 8 p.m., and Sunday at 1 p.m. and 6:30 p.m. No Monday performances. Exceptions: Additional student matinee performance at 2 p.m. on Sept. 8. No 6:30 p.m. performance on Sept. 11. For the time being, Center Theatre Group continues to require patrons and staff to wear masks at their venues. While full vaccination and booster shots are no longer required, they are strongly recommended.
Want to be part of the audience and make decisions on what happens to Shakespeare's star-crossed lovers and their friends? Join in the fun at the West Coast premiere of siblings Ann Fraistat and Shawn Fraistat's madcap, irreverent, and interactive take on the classic, ROMEO & JULIET: CHOOSE YOUR OWN ENDING, during which Romeo enlists the help of the audience to make a decision at three key moments on his journey to find true love. What will happen if Romeo stays hopelessly in love with Rosaline and doesn't notice Juliet?  Or what if Mercutio and Tybalt don't die, but get together instead? Or is it possible the classic tragedy could have a happy ending?  It's up to the audience to decide!
Directed by T.S. Barrios, this comedic romp features (in alphabetical order) Ariella Salinas Fiore, Kirsten Hansen, Kalond Irlanda, Natalie Kahn, Garret Kinstler, Damian Luciano, Mirai, Melodie S. Rivers, and Javon Willis, all of whom are ready to take on different roles and characters. Anything is possible when the audience gets to decide on whether or not everyone lives or dies during the 90-minute interactive play with 8 possible endings, but only one way to get to the original ending. And since no two performances will be the same, perhaps you will need to see it more than once to witness the story in different ways. But I assure you in whatever version you see, laughs will abound especially when modern slang enters the vocabulary of these well-known Shakespearean characters!
The technical team bringing excitement to the production includes producer Melodie S. Rivers, stage managers Bouket Fingerhut-Grant and Rachael May Arnoff, intimacy director Ariella Salinas Fiore, fight choreographer Joel D. Castro, costume designer Marlee Candell, lighting designer Aidan Mella, sound designer Hollister Starrett, sound board operator Haruna Yamamoto, technical director Bill Wilday, and resident dramaturg Melanie Anthony.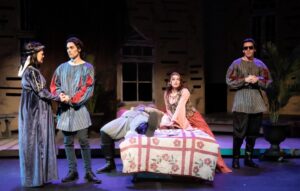 R&J: CYOE performances take place through Aug. 28, 2022 on Friday/Saturday at 8 p.m., Sunday at 2 p.m. at the Morgan-Mixson Theatre, 2627 Pico Blvd., Santa Monica 90405. Tickets are $15 adult, $10 senior/student/military, available online at morgan-wixson.org, by phone (310) 828-7519 or at the box office beginning one hour prior to curtain. See it once and receive discounted tickets when you attend again. All cast and crew members are required to be vaccinated, with all patrons and staff required to wear masks inside the theatre.