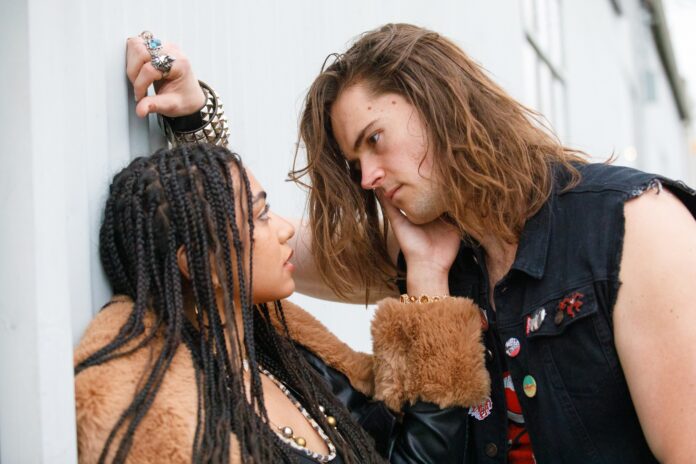 By Shari Barrett
Kentwood Players proudly presents Jonathan Larson's Pulitzer and Tony Award-winning rock opera RENT opening Friday, May 12 through Saturday, June 17 on Fridays and Saturdays at 8 p.m., and Sundays at 2 p.m. Beginning May 20, Saturday matinees at 2 p.m. will be added and continue through the rest of the run at the Westchester Playhouse, 8301 Hindry Avenue, Los Angeles 90045. There are no performances over Memorial Day weekend, May 26-27-28. 
Directed and choreographed by Marcus S. Daniel, musically directed by Gabrielle Maldonado, and produced by Alison Boole and Elizabeth Bouton Summerer for Kentwood Players, the cast features (in alphabetical order) Avery Bebon, Micah K. Blanks, Kyler Bray, Jayla Bryant, Kit DeZolt, Elijah Green, Sara Blanche Hayes, Delaney Holliday, Charles Keppler, Garrett LaSource, Emilie B. Mirvis, Kat Montanez, Jalana Phillips, Logan Rice, Donald Riddle, Julia Sison, Jillian Stern, and Ethan Trejo.
Loosely based on Puccini's La Boheme, Jonathan Larson's Rent is a rock opera set in New York's Lower East Side under the shadow of HIV/AIDS in the late 1980's and early 90's. The story follows Roger Davis, a songwriter-musician who is newly HIV positive; Mimi Márquez, an exotic dancer with HIV and Roger's girlfriend; Mark Cohen, a Jewish filmmaker who is Roger's roommate; Maureen Johnson, a bisexual performance artist; Joanne Jefferson, a lawyer who is Maureen's girlfriend; Tom Collins, a professor of technology at NYU who is living with AIDS; Angel Dumott Schunard, a transgender street musician who falls for Tom and who is also living with AIDS; and Benjamin Coffin III, Mark and Roger's landlord and former roommate. A multi-talented 10-member ensemble takes on many supporting roles.
Rent opened on Broadway in 1996 and ran for 12 years for a total of 5,123 performances, making it the 9th longest running show at the time. In 2005, it was adapted into a motion picture featuring most of the original cast members, and in 2019, it was presented as a live television special for NBC. And now Kentwood Players is pleased to bring this global phenomenon to the Westchester Playhouse through special arrangement with Musical Theatre International (MTI), made possible in part by the generous sponsorship of an anonymous donor.
Reserved seat tickets are $30 with a $4 discount for seniors and students, available online at www.kentwoodplayers.org, by emailing the box office at boxoffice@kentwoodplayers.org or calling (310) 645-5156. All box office emails and messages will be answered in the order received to confirm your ticket order, and any available tickets will be sold on site beginning a half hour prior to each performance. There will be a pay-what-you-can performance on Saturday, May 20 at 2pm with reservations recommended but not required. Metro Train riders can take the K Line to Kentwood, exiting at the Westchester/Veterans station at Florence and Hindry, just a short one block walk from the Westchester Playhouse. Riders who show their Metro TAP card when purchasing a full price ticket at the box office will receive a $5 discount. Drivers are asked to please read all traffic and parking signs carefully in the area.
For more information about Kentwood Players including their upcoming auditions for Ken Ludwig's backstage comedy Moon Over Buffalo this weekend on May 13 and 14, visit the Kentwood Players website at www.kentwoodplayers.org, or on Facebook, Twitter, Instagram and YouTube.
The new North American tour of Broadway's Tony Award-winning musical comedy phenomenon HAIRSPRAY has arrived in Los Angeles, helmed by original director Jack O'Brien and original choreographer Jerry Mitchell, produced by NETworks Presentations, and presented by Broadway in Hollywood at the Dolby Theatre through May 21 on Tuesday – Friday at 8pm, Saturday at 2pm & 8pm, and Sunday at 1pm & 6:30pm. Based on the New Line Cinema film written and directed by John Waters, who served as a creative consultant on the musical comedy, Hairspray features a book by Mark O'Donnell and Thomas Meehan, and an original score by Academy Award-nominated Marc Shaiman with lyrics by Marc Shaiman and Scott Wittman. 
It tells the story of 16-year-old Tracy Turnblad in 1960s Baltimore as she sets out to dance her way onto TV's most popular show, hosted by Corny Collins. But the show's producer, Velma Von Tussle has her own agenda for keeping the show on the air, most importantly to ensure her daughter Amber gets seen by entertainment executives. And when Tracy finally does make it onto the show, her desire to integrate the cast of dancers creates more problems for her than she could have ever imagined, including spending time in jail. Can a girl from the wrong side of the tracks with big dreams (and even bigger hair) change the world – and perhaps fall in love in the process? Of course, anything is possible in this feel-good musical with social commentary bite, featuring a beloved score of hit songs including "Welcome to the '60s," "Good Morning Baltimore," "Big, Blonde & Beautiful," and "You Can't Stop the Beat." 
The cast is led by Andrew Levitt aka Nina West (from "RuPaul's Drag Race") as Edna Turnblad and Niki Metcalf as Tracy Turnblad, exemplifying the type of supportive mother-daughter relationship every young girl wishes to have. Levitt is especially hysterical when they switch to speaking in a lower range during appropriate moments in song or dialogue. And Metcalf oozes an extraordinary energy level mirrored by everyone in the cast. Joining them are Charlie Bryant III as Seaweed J. Stubbs, Nick Cortazzo as the  show's wannabe rocker and handsome heartthrob Link Larkin, Ralph Prentice Daniel as Wilbur Turnblad, Billy Dawson as Corny Collins, Ryahn Evers as young blonde bubblehead Amber Von Tussle, Addison Garner as the conniving Velma Von Tussle, Emery Henderson as Tracy's friend Penny Pingleton, Joi D. McCoy as Little Inez, and the outrageous belter Sandie Lee as Motormouth Maybelle, with a talented ensemble of 24 performers.
Kudos to additional creative team members including Tour Director Matt Lenz, Tour Choreographer Robbie Roby, Set Designer David Rockwell, Lighting Designer Kenneth Posner, Tour Lighting Designer Paul Miller, Costume Designer William Ivey Long whose colorful creations perfectly match each character's personality and brighten every scene, Hair and Wig Designers Paul Huntley and Bernie Ardia, Sound Designer Shannon Slaton, Music Supervisor Keith Thompson, and Music Director Julius LaFlamme who conducts the live orchestra featuring many local musicians.
Hairspray tickets are available at www.BroadwayinHollywood.com, www.Ticketmaster.com, by phone at (800) 982-2787 or in person at The Dolby Theatre Box Office, 6801 Hollywood Blvd, Los Angeles 90028.
And locally, Culver City Public Theatre (CCPT) is holding open auditions for their summer production of The Enchanted Bookshop by Todd Walinger on Saturday, May 13 from 1 p.m.-4:30 p.m. at the Veterans Memorial Park Building, 4117 Overland Ave, Culver City 90230. Actors of all ages are needed. ​For a list of characters, visit ccpt.org Performances will take place at noon on Saturdays and Sundays, July 8 through July 30, outdoors in Dr. Paul Carlson Memorial Park. To learn more about CCPT, the public is invited to a free BBQ and snacks at the park, 10400 Braddock Dr. in Culver City, on Saturday, May 20 at 11 a.m. to see the location for this summer's family-friendly production, meet board members, hear about their future plans, and discover ways you can get involved as an actor, director, writer, stage manager, scenic designer, costumer, technical staff, or hospitality volunteer. Resumes always welcome via email to ccptheatre@hotmail.com