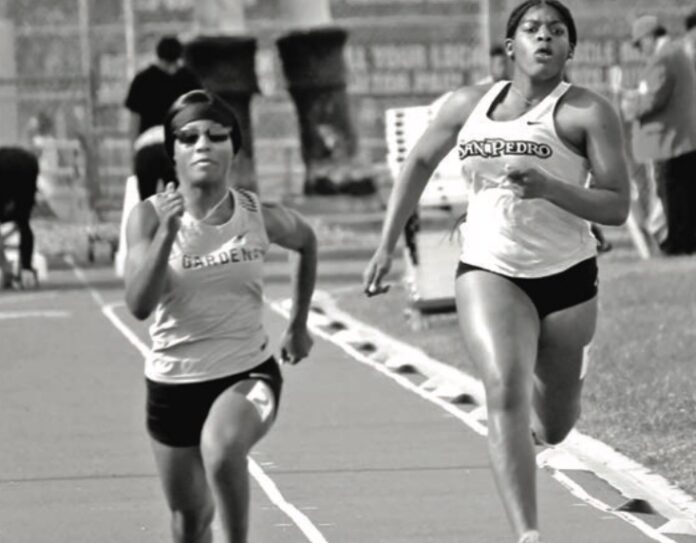 By Joe Snyder
Under the late Mike Ramos, Gardena High's boys' and girls' track and field programs enjoyed success that even included one CIF-Los Angeles City title for each program during the late 1990s and 2000s decade.
A series of strokes that eventually led to his death in 2010 forced Ramos to leave the program and, since then, the Panthers stumbled to the point of not even fielding teams.
This year, Gardena is under head coach Dorian Cervantes, who is also the Panthers' head cross country coach and junior varsity boys' soccer mentor.
Cervantes hopes to get the Panthers off the floor, but for now the programs are mostly down — they were overwhelmed by outstanding track and field programs by Marine League opponents Carson and San Pedro — but still, things look bright .
"This is the best track team we had in years," Cervantes said. "We're small but growing. I feel confident about next year. We're a young team."
In the Marine League Championships last Thursday at San Pedro High, the Panthers managed to get a handful of athletes into today's CIF-Los Angeles City Section Prelims at El Camino College.
Gardena's girls were led by sprinter Rickett Graham who finished fifth in the 200-meter dash at 27.71 seconds and sixth in the 100 clocking 12.89. Graham had to run against Carson's Reign Redmond, one of the top prep female sprinters in the United States who won the 100 and 200 in 11.86 and 23.84, in order.
The Lady Colts won CIF- L.A. City crowns in six consecutive seasons and were 2019 CIF-State Champions. Carson, along with last year's champion Gardena Serra, are, again expected to battle for the state crown. Graham qualified for the City Prelims in both events.
Gardena's boys' 4×400 relay also advanced after finishing third, behind champion Harbor City Narbonne and runner-up San Pedro, timing three minutes and 47.51 seconds. The squad included Steven Corona, Melvin Howard, Amari Hosea and Mitchell Linares. The Panthers managed to defeat one league opponent in Wilmington Banning (3:51.7). The Gauchos (3:36.2) won the race followed by the Pirates (3:38.0).
The Panthers' boys' frosh-=soph squad was sparked by Tremel Marshall who was third in the 100 (12.13) and 200 (23.96).
In the girls' frosh-soph division, Lauren Fuller was second in the 100 in 13.16.
The L.A. City Section Championships also included frosh-soph and Special Olympics (for athletes with special needs) divisions. There are no CIF-State Championships for these divisions.
Gardena has several special needs athletes who seek to excel in the L.A. City Championships. The CIF-L.A. City Section Championships is next Thursday at ECC.
In the CIF-Southern Section Division IV Prelims last Saturday at Carpinteria High, Serra High's boys' and girls' teams continued to contend to repeat as champions.
Serra's girls qualified three in the 100 and four in the 200, led by senior Brazil Neal. Neal had the top 100 time of 11.75 and was fourth overall in the 200 at 24.93. Brazil's teammate, Mia Flowers was third overall in the 100 (12.02) and 200 (24.88). Yakujah Wilson qualified in the 100 (fifth overall, 12.18) and 200 (sixth, 25.26) and Sadia Green advanced in the 200 (eighth, 25.43) and 400 (fourth, 57.66). Sienna Claiborne advanced in the 400 with a fifth-place overall finish clocking 58.01 in the 400.
Serra also advanced its 4×100 and 4×400 relays. The Lady Cavaliers' 400 relay team of Jaiya Fletcher, Flowers, Wilson and Neal recorded the meet's top time of 46.93. Serra's 1,600 squad of Savanna Mullins, Green, Claiborne and freshman Mecca Muhammad was fourth overall clocking 4:04.29.
Fletcher also qualified in the long jump (third, 17 feet, 5.25 inches) and triple jump (second, 36-3.75).
Also making the finals in two events were Lo'ani Atofau who was fifth in the shot put at 34-5 and discus (102-3).
Roderick Pleasant dominated the boys' sprints with wins in the 100 (10.4) and 200 (20.89). Pleasant's 200 time was his best this season. He will be seeking to, not only, break his personal best times of 10.14 in the 100 and 20.4 in the 200 he did in CIF-Southern Section Championships last year but become the first prep sprinter in the nation to break 20 seconds in the 200 and second to get under 10 in the 100.
Also having the top time in the meet was sophomore Otis "Tre" Harrison in the 300 intermediate hurdles in 40.32. Ryan Bembury was second overall in the 110 high hurdles timing 15.64.
In the Southern Section Di- vision III Prelims Saturday at Yorba Linda High, North Torrance's Spencer Ciccarelli moved to the finals in the pole vault at 13 feet.
The Southern Section Divisional Championships are Saturday, beginning at 10 a.m., at Moorpark High.
Tahquitz outlasts Serra in playoffs
Serra High's baseball team came into this season with high hopes of a CIF-Southern Section Division III crown but, despite scoring 13 runs, it all came to an end with a 14-13 loss to host Tahquitz High last Thursday in Hemet.
It was a see-saw contest the entire way. The Cavaliers, who ended their season at 12- 13, took a 5-1 lead in the top of the second inning but a seven-run third inning by the Titans changed the tide.
Tahquitz continued to lead but a solo home run by Malik Balloue gave Serra a 13-12 lead in the top of the sixth inning but Tahquitz scored one run each in the bottom of the sixth and seventh to pull the game out.
Also hitting a home run for Serra was Nigel Buckley, a two-run shot in the fifth.
"We had an up-and-down season," Serra head coach Art Perry, Jr. said. "We had some injuries. We finished second in a tough league."
When the Cavaliers started the season at 2-9, big innings bit them in many of their losses and last Thursday's playoff game was no exception.
From there, Serra won 10 of their next 11 games before losing its final league games to Del Rey champion La Puente Bishop Amat and a non-league game to Pasadena Maranatha, along with the playoff loss to Tahquitz.
Gardena is 0-9 in the Marine League after falling at home to Long Beach Rancho Dominguez Prep 8-2 on May 1 then a pair of losses to Harbor City Narbonne on the road on May 2, 13-0, and back at Gardena, 11-2, last Friday.
Highlighting the Panthers in their loss to the Lobos was Joseph Chavez who had a hit and scored both of their runs. Anthony Garcia and Adrian Altamirano each drove in a run.
Despite the shutout loss to the Gauchos, Jordy Hernandez and Anthony Herrera each had a double. Those were Gardena's only two hits.
Eric Mora and Damian Me- dina each had two hits and two runs batted in for Narbonne.
Chavez went 1-for-2 and scored once last Friday.
The Panthers closed league at home against San Pedro last Monday. Gardena plays at Roybal Learning Center in Downtown Los Angeles in a San Fernando Tournament finale Friday at 3 p.m.
Gardena is 2-19 overall.
ECC gets sweep; moves on to super baseball regionals
El Camino College's baseball team moved on to the Southern California Super Regionals after sweeping Mt. San Jacinto in the Regional playoffs last Friday and Saturday at ECC.
Last Friday, the Warriors had a fine pitching outing by David Chase in a 2-0 win. On Saturday, El Camino finished off Mt. San Jacinto with a 13-3 rout.
On Friday, Chase hurled a complete game two-hitter. He struck out 10 batters and walked three.
Both of ECC's runs were in the bottom of the seventh inning and were unearned. They were set up by a hit-by-pitch and error. Elijah Tolsma drove in Ethan Felix and Juan Carlos Camarena with a single. Tolsma went 2-for-3 with two runs batted in. He walked once.
On Saturday, the Warriors had a grand slam home run by Dylan Knowles in the top of the fifth inning to turn the game into a rout. El Camino al- ready built a 5-0 lead through four innings before. ECC added four unearned runs in the sixth.
Knowles went 3-for-6 with five RBIs. Carlos Camarena was 2-for-5 with three RBIs and walked twice. Connor Madreth and Brendan Mc Andrews each drove in two runs.
Snyder pitched seven innings, allowing two earned runs on two hits. He struck out seven batters and walked two.
The super regionals begin today when ECC faces Glendale College in the first round starting at 11 a.m. at Saddleback College in Mission Viejo. El Camino entered the regionals seeded 11th while the Vaqueros are seventh. The Warriors, however, defeated Glendale 9-2 in a non-conference game on April 6 at ECC.
The super regionals run through Saturday.
If El Camino can win the super regionals, it will advance to the Southern California sectionals which will be from May 18-20.
The Warriors are 30-12 overall after winning the South Coast Conference at 18-6.