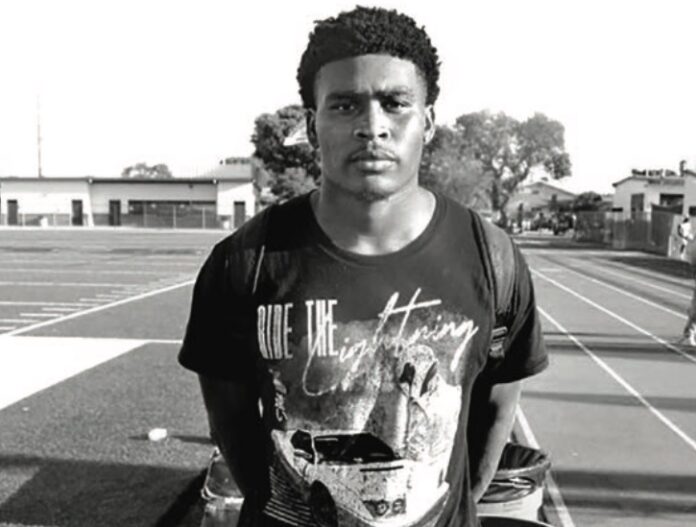 By Joe Snyder
As a junior running back last season, Serra High's Cincere Rhaney broke through with a big season.
He rushed for more than 1,800 yards and scored 18 touchdowns to key the Cavaliers to a second-place finish (behind champion Chatsworth Sierra Canyon) in the Mission League and the quarterfinals of the CIF- Southern Section Division II playoffs before falling to the eventual champion Trailblazers.
Among his 18 TDs in 2022 were 16 rushing and two receiving. He has more than 500 yards in catches. Rhaney was first-team all-Mission League, Daily Breeze all-South Bay and all-Southern Section Division II.
Rhaney is one of 14 returning starters for the Cavaliers, who return about 35 players and should have very good experience.
He will lead Serra into its 2023 season opener against Orange Lutheran High on Aug. 18 at Orange Coast College in Costa Mesa.
"I am looking for us to go to state this year," Rhaney said. "We had heartbreaking losses to Sierra Canyon and we are looking to return the favor this year."
Rhaney played football since he was five years old, spending most of his youth with the Carson Colts of the Pop Warner League but also played in the Snoopdog League in Corona with games played at Centennial, one of the top prep football powers in Southern California. He helped the Colts win five Pop Warner Super Bowl championships.
"He's one of the best backs in California," Serra head coach Scott Altenberg said of Rhaney. "I'm excited to have him. He's in great shape. He brought his weight down from 225 to 215 pounds."
According to Altenberg, Rhaney is being recruited by current PAC 12 universities, Utah and Washington. Next year as the PAC 12 appears to be at the end of the line by the end of the 2023-24 sports year, Washington is expected to join UCLA, University of Southern California and Oregon in moving to the prestigious Big 10. Utah, along with Colorado, Arizona and Arizona State, is expected to join the Big 12. Sources are that both conferences may have new names.
Rhaney is also a sprinter with the Cavalier track and field program.
Henry hopes to keep North competitive
Gone from North Torrance are a large majority of starters including quarterback Trevor Lagarde and wide receiver Dylan Williams that helped the Saxons place second, behind champion Lawndale, in the Pioneer League and make the CIF-Southern Section Division VI playoffs before falling in the first round to Oak Park.
One of the few stars left is senior linebacker Tristan Henry.
Henry comes from a family of Saxons. His father, Tyrone, played for North where he graduated in 1998. His uncle, Terrance, was a running back for the Saxons. He graduated from North in 2000.
Tristan had an outstanding 2022 season with a team- high 150 tackles. He scored one touchdown on a fumble recovery in a league game against El Segundo.
Henry is in his third season as a starter. Last year, he was first-team all-Pioneer League and Daily Breeze all-South Bay.
Despite his outstanding junior season, Henry did not have an interception. As a sophomore in 2021, he had three picks. "I want to have more picks this year," Henry said. "I had none last year."
Henry played his youth football for the Torrance Panthers of the Pop Warner League. He did not start playing tackle football until he was in the eighth grade.
This year's North squad has only seven starters back from last season, so lack of experience could hamper the Saxons this season.
"We want to do as good as we can," Henry said. "It will be a tough year. We need to stay disciplined."
Henry also is a starting guard for the Saxon boys' basketball team, who enjoyed its best season in decades by winning the Pioneer League, advancing to the CIF-Southern Section Division V semifinals and the Southern California Regional quarterfinals last winter. North returns nearly its entire squad this coming season and could be contenders for its first ever Southern Section and CIF-State crowns for 2023-24.
North begins its season on the road against a very good Long Beach Jordan team, led by speedy running back- wide receiver Jordan Washington (also one of the top track and field sprinters in California over the past two years), on Aug. 18 starting at 7 p.m.
PAC 12 down to PAC 4 as teams exit conference
For more than a century, the PAC 12 has enjoyed many successes in all major college sports.
However, things have changed a great deal, especially since several months ago when it was announced that UCLA and University of Southern California were leaving the PAC 12 to the more prestigious Big 10 Conference beginning next year.
It probably led to a bizarre happening last week. It began when University of Colorado opted to return to the Big 12, quickly followed by Utah, then University of Arizona and Arizona State. During that time, the Big 10 allowed two other premiere PAC 12 sports powers, University of Oregon and Washington to move in. Starting in the 2024-25 college sports year, the Big 10 will have 18 colleges and 16 for the Big 12. They could have new conference names.
Considered for the Big 10 to be changed to the Trans Continental Conference or Big 18 and the Big 12 to Big 16 or Trans America Conference. They will need to be divided into two to three divisions.
Big money, technology and television are among the reasons for the conference changes, making them bigger. Especially since college athletics became unionized a few years ago, a lot of what is going on was strongly considered.
Meanwhile, the four remaining PAC 12 universities, University of California, Stanford, Oregon State and Washington State will be looking for other conferences or they could just settle to go as independents. They could move into the Mountain West Conference that include the likes or San Diego State, Boise State in Idaho, University of Nevada, Nevada-Las Vegas, Hawaii and Brigham Young University in Salt Lake City, Utah. Many believe that Stanford and Cal could go independent with Oregon State and Washington State being moved to the Mountain West.
Enjoy what could be the PAC 12's final season as much as you can. It has been a great 100 years plus of having these regional conferences and great rivalries. Of course, UCLA and USC will continue. Both are expected to play, at least, one other former PAC 12 college in virtually all their sports, including football, basketball, baseball, volleyball, soccer, etc. Sources are that one of UCLA's 2024-25 non-conference football and men's and women's basketball games will be against UC rival California. Oregon is expected to continue to play Oregon State, and Washington vs. Washington State, whether it is conference or non-conference.
Last week was filled with surf; the United States Pro Surfing Championships in Huntington Beach and the 60th International Surf Festival in Torrance, Hermosa, Manhattan, and Redondo Beach.
A pair of Gardena residents had strong showings, behind 61-year-old swimmer Rikako Takei who won the women's 60-69-year-old division at the Hermosa to Manhattan Beach two-mile Pier-to-Pier Swim at 55 minutes and one second on Sunday morning.
Last Saturday morning in Hermosa Beach, 53-year- old James Toomey finished third in the men's 50-59 age group in the two-mile sand run clocking 17:50. Toomey was 26th overall out of more than 300 runners. Winning the division was 56-year-old Joseph Burschinger in 16:03, followed by second place Eggis Jakstas (age 50, Redondo Beach; 17:02).
Top overall winners for the swim were swept by El Segundo residents in the ocean swim. Eighteen-year-old Alexander Cole was the top male finisher timing 39:04 and Kelsey Cummings, 30, won the women's division in 42:48.
In the beach run, 17-year-old Issac Faynsod won the overall race clocking 13:12 and Manhattan Beach resident and former Mira Costa High standout distance runner Dalia Frias, 19, topped the women at 15:40.
In the pro surfing, shortboard winners included Eli Hannennan for the men and 17-year-old San Clemente resident Sawyer Lindblad for the women.
In the longboard, both winners were from Hawaii and were cousins. Winning for the men was Kamiela Stewart and the top female was Kelis Kaleopoa.