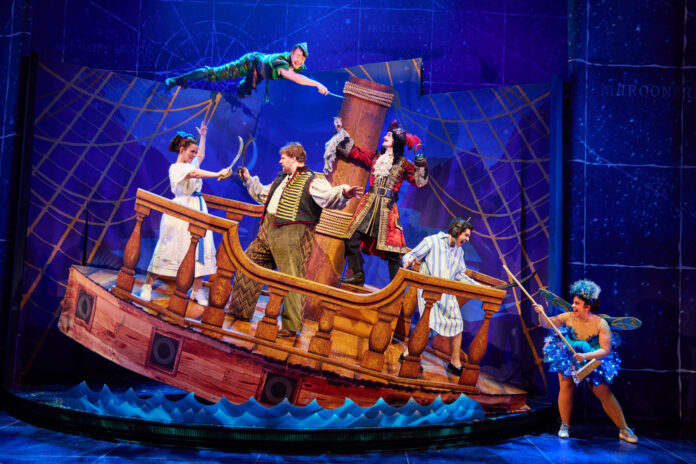 By Shari Barrett
Following a limited Broadway engagement, Mischief's international comedy sensation Peter Pan Goes Wrong has flown into Los Angeles with performances at Center Theatre Group / Ahmanson Theatre through September 10. Audiences are in for an awfully big adventure as the team behind the Tony Award-winning global hit The Play That Goes Wrong brings its trademark comic mayhem to the J.M. Barrie classic, co-written by Mischief company members Henry Lewis, Jonathan Sayer, and Henry Shields, each of whom take on major roles in this highly physical play-within-a-play comedy packed with finely-tuned and inspired slapstick always delivered with split-second timing and ambitiously daring stunts incorporating technical hitches, flying mishaps, and cast disputes as the Cornley Youth Theatre attempts to present J.M. Barrie's much-loved tale. 
The Los Angeles cast features Ryan Vincent Anderson as Gill, Matthew Cavendish as Max, Harry Kershaw as Francis, Chris Leask as Trevor, Henry Lewis as Robert, Ellie Morris as Lucy, Charlie Russell as Sandra, Jonathan Sayer as Dennis, Henry Shields as Chris, Greg Tannahill as Jonathan, and Nancy Zamit as Annie. The company is completed by Stephen James Anthony, Blair Baker, Bartley Booz, and Brenann Stacker, with each actor in the entire company playing at least two roles!
The organized pandemonium begins from the moment you arrive at the Ahmanson with actors roaming among the crowd outside and in the lobby as stage hands inside the theater attempt to get the show up and running. And that's all before the mayhem that is Peter Pan Goes Wrong even begins onstage! Brilliantly directed by Adam Meggido, with Emmy Award winning actor Bradley Whitford taking on the role of the glitter-throwing narrator through August 27 (with Daniel Dae Kim stepping into the role for the balance of the run August 30 – September 10), the energetic cast never stops for one moment as everything and anything that could go wrong, does go wrong, from Peter flying into scenery, the dog getting stuck in the doggy door, to characters being "injured" in ways you will not see coming. 
Special kudos to every dedicated and hard-working cast member, especially Charlie Russell as the spotlight stealing, overly dramatic diva Sandra who portrays Wendy, Greg Tannahill whose Peter Pan suffered greatly at the hands of the crew mishandling his flying harness, Henry Lewis who after getting stuck-in-the-doggy door took on more roles than I could count, Henry Shields whose Captain Hook was a master at improv interacting with the audience, Jonathan Sayer who takes on the role of youngest brother Michael and gets fed his lines over headphones (and usually repeats things he should not share to great comic effect), Ellie Morris who winds up on crutches after an accidental mishap with scenery, and Nancy Zamit who had the audience in hysterics as she morphed back and forth from the Mother to the Nanny and then into the attached-to-an-extension-cord Tinkerbell who often pulled the stage hand entrusted to light her up onstage after her.
Enhanced by Simon Scullion's three-scene, turntable set design (yes, even that goes wrong to perfection), thoroughly imaginative and often breakaway costumes by Roberto Surace, lighting by Matthew Haskins, sound by Ella Wahlström, and original music by Richard Baker and Rob Falconer, be ready to laugh from start to finish when you (and your kids) go see this hysterical production!
Tickets for Peter Pan Goes Wrong are available through CenterTheatreGroup.org, Audience Services at (213) 972-4400 or in person at the Center Theatre Group Box Offices (at the Ahmanson Theatre) at The Music Center, 135 N. Grand Avenue in Downtown L.A. 90012. Performances run Tuesday through Friday at 8 p.m., Saturday at 2 p.m. and 8 p.m., and Sunday at 1 p.m. and 6:30 p.m.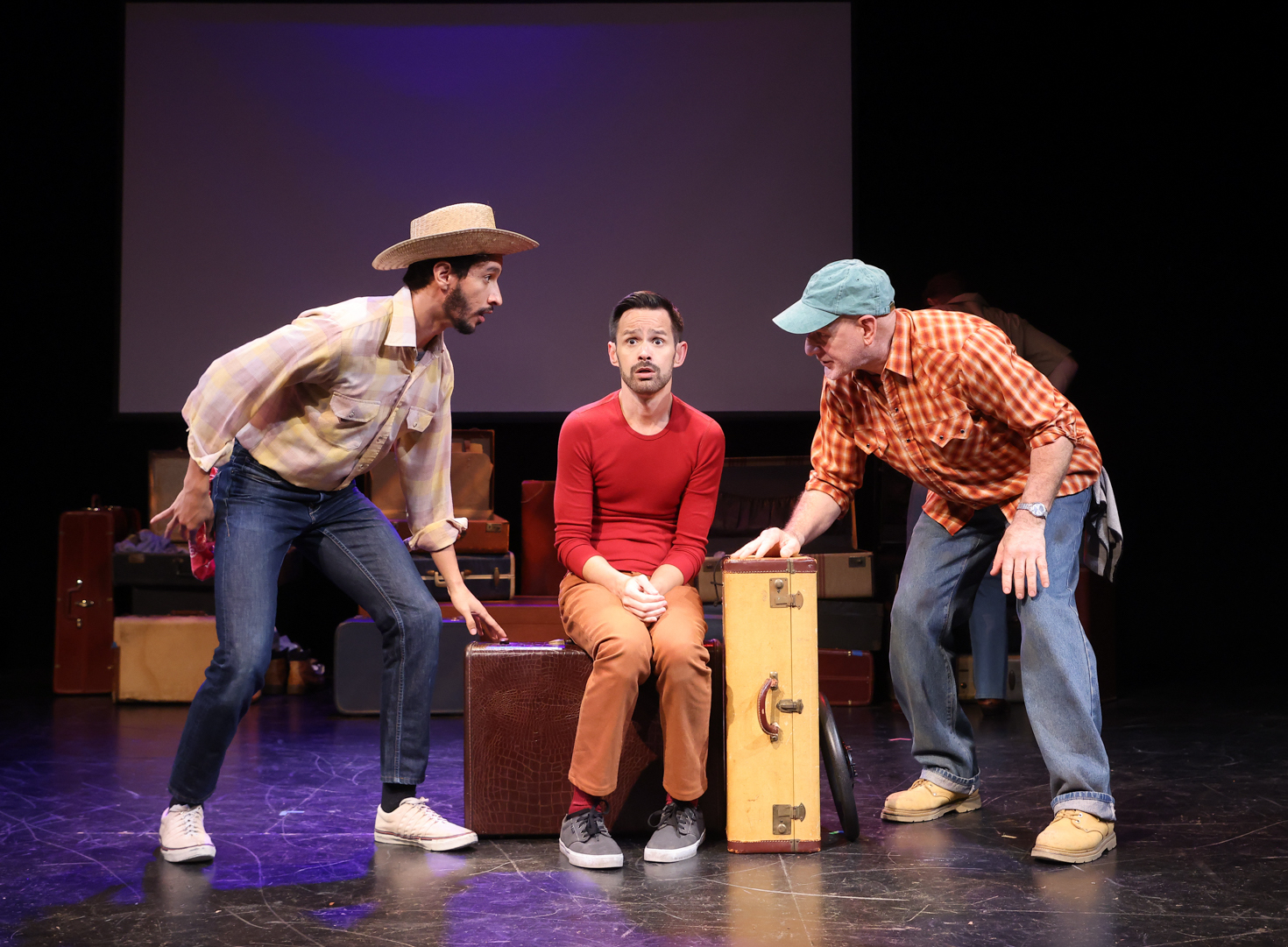 The Best Play winner in the Del Shores Foundation Writers Search, The Red Suitcase by Jiggs Burgess, follows the life of Pogue from his unusual birth through his childhood and early life, leading up to the death of his father. The play explores the often-difficult relationship between a father and his queer son growing up in small town Texas, a familiar location for Del Shores who directs the new play's world premiere production, presented by P3 Theatre Company in association with the Del Shores Foundation and Beard Collins Shores Productions.
As the play evolves, Pogue shares many memories and characters that influenced how he struggled with his identity before finally accepting himself and living his life away from home. Thanks to the brilliant character actor Emerson Collins, who morphs Pogue in body and spirit from ages 3 to 30, we are treated to moments that influenced how he learned to deal with life throwing him so many curveballs, thanks to his parents, brother, first love, and others from important moments in his life. Along with Collins, a multitude of characters are truthfully presented by the talented ensemble cast: Kristen McCullough as Pogue's mother April, Bruce Melena as Pogue's father Bud, Charlotte Louise White as Grandma Evans, and Mat Hayes as Player 1, Pam Trotter as Player 2, and Tiago Santos as Player 3 with each taking on 4-5 heartfelt roles. And special kudos to Krys Fehervari for designing Pogue's beloved dog as a puppet made from bits and pieces of everyday things, and to actors Hayes and Santos for their work bringing the pup to realistic life.
Pogue takes us along on his journey to literally unpack his memories, thanks to scenic and projection designer Jesus Hurtado who effectively uses suitcases for every part of the set including as storage for props and costumes, or tables, chairs, and beds. Director Shores and Assistant Director Blake McIver Ewing are to be commended for keeping the action moving, ultimately taking us through Pogue's life from believing "we are the sins of our ancestors" to "we are the hope of our ancestors." Ultimately, it's a universal story of family, survival, and finding ourselves in the memories that make us who we are.
The Red Suitcase performances take place on Friday/Saturday at 8 p.m., Sunday at 2 p.m. through September 3 with Q&A with cast/creatives after Sunday matinees at the Broadwater Mainstage Theatre, 1076 Lillian Way, Hollywood, 90038. Tickets are $38 Adults and $33 Seniors/Students/Military, available at the door or in advance at https://app.arts-people.com/index.php?preseason=p3tc Please note this production is recommended for those 16 years of age and older due to adult language and depictions of violence and abuse. 
Lola Boutée Presents has been bringing high-class burlesque and variety acts to local stages since 2008 featuring The Dollface Dames with show-stopping group routines, aerial and fire acts, sword-swallowing, sultry feathery fan dances and lots more! Their first show at their latest venue, The Write-Off Room at 11502 Ventura Blvd. in Studio City 91604, takes place Thursday, August 31. Doors open at 8 p.m. with the show beginning at 8:30pm. Tickets are $20 and patrons must be at least 21 years of age. On-site valet parking is $8, with Pablito's Taco Truck ready to serve you fresh food outside. This adds a Thursday night location to the group's already packed performance schedule around town. Tickets will go fast at https://www.eventbrite.com/…/the-dollface-dames-tickets… 
Get an early start on Halloween this year by joining The Dollface Dames on Saturday, October 14 for your favorite haunted, scary and sexy characters bought to life at Illusion Magic Lounge, 1418 4th Street, Santa Monica 90401, near city parking lot 5. Guests are invited to attend in costume. For additional dates, info/parties/special requests, visit https://dollfacedamesburlesque.com/los-angeles/ or email thedollfacedames@gmail.com.