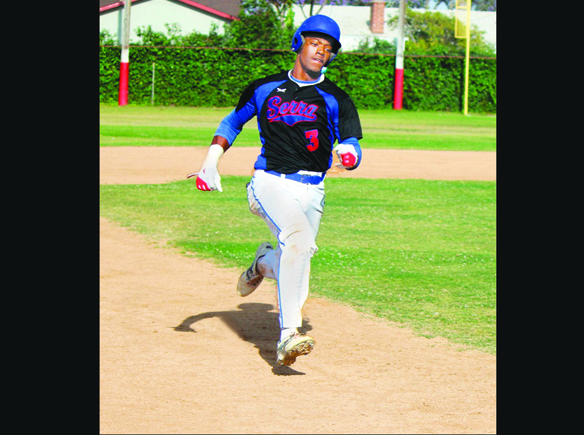 For the first time in six years, Serra High's baseball team is not going to the CIF-Southern Section Division III playoffs, but the Cavaliers' young squad gave Del Rey League co-champion Los Angeles Cathedral a glimpse of what they will be looking to do next year with a 10-1 rout in their season in a five-inning rain shortened game last Friday at Serra.
For the first time in six years, Serra High's baseball team is not going to the CIF-Southern Section Division III playoffs, but the Cavaliers' young squad gave Del Rey League co-champion Los Angeles Cathedral a glimpse of what they will be looking to do next year with a 10-1 rout in their season in a five-inning rain shortened game last Friday at Serra.
Due to the forecast of rain for last Thursday, the originally scheduled 3:15 p.m. contest was pushed back to 11 a.m. That meant the game was played when the students were in their classes although some could come over to the baseball area during their lunch break.
Unfortunately for the students and other fans, they did not get to see much as the game had to be stopped after the fifth inning due to the rain that began earlier than originally forecasted.
Serra's players gave them a good 2015 encore closing out its disappointing season with a big victory, especially one of its few seniors, Mateo Brambila.
Branbila went 2-for-3 with two runs batted in. Adrian Morales added a two-run double.
Winning pitcher Tommy Bothwell, who finished his junior season at 3-7 despite pitching very well with no or very little support from his offense and defense during most of the year, hurled a four-hitter, allowing one earned run. He struck out two batters and walked two.
Serra ended league at 3-7 and placed last and ended its season at 13-16. The Cavaliers, however, played a spoiler role to the Phantoms, who finished a three-way tie for the Del Rey title with defending CIF-Southern Section Division III champion La Puente Bishop Amat and Santa Fe Springs St. Paul. All ended league at 6-4 with Bishop Amat getting the league's No. 1 seed in this year's Division III playoffs, Cathedral being second and the Swordsmen third.
The Phantoms began the playoffs with a wildcard game at home against Santa Maria St. Joseph last Tuesday with the winner playing at Ocean League co-champion El Segundo today at 3:15 p.m.
Things did not go well with the Cavaliers in their two games against Pasadena La Salle on May 11 and 13. At La Salle on May 11, Serra fell to the Lancers 6-3. Two days later at Serra, La Salle hammered the Cavaliers 14-6.
At Serra, the Lancers started fast with a 6-0 second inning lead. The Cavaliers got as close as 6-4 but the Lancers scored two runs in the top of the fourth, then added six in the fifth to turn the game into a rout with a 14-4 bulge.
Brambila went 2-for-4 and drove in two runs. Adrian Morales was 3-for-4 with one RBI, including a triple. Tyler Morrison went 2-for-4 and drove in a run. Morgan Lomax went 1-for-2, scored a run and stole three bases.
"The kids are young and inexperienced," Serra head coach Wilmer Aaron said. "The need to learn a little bit more and play more. We have several freshmen."
Four errors plagued Serra in its loss at La Salle on May 11. Four of the Lancers' six runs were unearned.
Aaron hopes to get the Cavaliers to play American Legion baseball this summer. "I'm hoping that the kids will be able to play at the next level," Aaron said about his team's performance for next year.
_________________________
Serra Track and Field
Serra athletes advance to CIF final
By Joe Snyder
Sports Editor
Serra High's boys' and girls' track and field teams qualified a good number of athletes for this Saturday's CIF-Southern Section Division IV Track and Field Championships after top showings in last Saturday's Prelims at Carpinteria High in South Santa Barbara County.
The Cavaliers' young boys' and girls' teams failed to have No. 1 qualifying marks or times but each managed to get second best overall times in the 4×100-meter relay teams, each behind Oaks Christian from Westlake Village, who many feel will be favorites to win the division.
Serra's boys' 400 relay team of Zinovian Cannady, Tyron Johnson, Cameron Hayes and Malik Roberson finished at 43.42 seconds. Oaks Christian won clocking 42.98.
The Lady Cavaliers' 400 squad of Madison Golden, Jaela Williams, Kayla Pickens and Jasmin Reed was runner-up in 47.2. The Lions had the top time at 46.76.
Reed, who swept the 100- and 200-meter dashes at the Del Rey Championships on May 6 at St. Paul High in Santa Fe Springs, qualified in both races. She took fourth in the 100 in 12.15 and third in the 200 (24.78).
Williams also reached the CIF finals at the 100 hurdles with a second best overall finish at 15.38. She finished behind St. Mary's Kyra Anderson (15.09). Williams also advanced in the 100 with an eighth place rating clocking 12.36.
Madison Golden also made the finals in the 100 (ninth, 12.53) and 200 (eighth, 25.63).
Serra's 4×400 squad of Reed, Williams, Pickens and Golden were fifth overall in 4:07.39.
For the boys, Del Rey 110-meters high hurdles champion Zinovian Canady qualified with a fourth best time of 15.44 and teammate Jaiden Woobey advanced with a sixth best 15.49.
Canady also made the finals in the 300 intermediates placing ninth overall timing 41.63, but teammate Akinyele Turner turned in a fourth best time of 41.08.
Serra had two qualify for the 100 by Hayes (fifth, 11.12) and Roberson (ninth, 11.2).
Tyron Johnson advanced in the 200 (ninth, 22.73) and 400 (51.02).
The Cavaliers' 4×400 team of Cannady, Johnson, Akinyele Turner and David Hawkins moved on with a fourth overall best time of 3:29.05.
In the field events, Roderick Atkinson advanced in the long jump (third, 20 feet, 8.5 inches) and triple jump (fifth, 43-10).
The Divisional Championships begin at 11 a.m. at Cerritos College on Saturday. The top nine overall finishers move on to the Southern Section Masters Championships on May 29 at the same place. The California State Championships are on June 5 and 6 at Buchanan High's Memorial Stadium in Clovis.
__________________________
Sports Scoop (ECC Softball and Gardena Baseball-Softball)
ECC softballers fall in Super Regional final
By Joe Snyder
Sports Editor
El Camino College's softball team had one of its best seasons ever but it finally came to an end as it lost in the Southern California Super Regional championship game to host Palomar College 6-1 on May 11 in San Marcos.
The Comets moved on to the California State Final Four last weekend.
ECC began having to play three games on May 9, winning two and losing one. The Lady Warriors, who were seeded No. 5, won the first game over fourth seed Glendora Citrus 7-2, then lost to Palomar 10-2. On that Saturday night, El Camino rallied from a 7-2 deficit by scoring six runs in the bottom of the seventh inning to pull off an 8-7 victory, setting the stage for a second shot at the Comets in the May 11 (Monday) championship contest. The three games on May 9 were caused by the rainout a day earlier.
Perhaps the highlight was the dramatic come-from-behind victory over the Falcons, one of ECC's South Coast Conference rivals who placed second behind the Warriors. The rally was ignited when winning pitcher Reina Trejo (a 2013 graduate of Torrance High) hit a three-run home run. Samantha Lauro got ECC within a run on a run-scoring double, then Samantha Lauro finished off the Warriors' winning rally with a two-run single to right field.
Trejo had three complete games, winning two and losing the championship to Palomar. Trejo had complete game wins over Citrus and Cerritos.
Tori Garcia was named to the National Fastpitch Coaches Association (NFCA) All-American team. Garcia, a sophomore from San Pedro High, led the state with 40 stolen base. Garcia was second in the South Coast Conference in on-base percentage (.533) and runs scored at 50.
The Lady Warriors won the conference title for the first time since 1989 at 17-4 and ended their season at 34-12.
Gardena baseball, softball make playoffs: Gardena High's baseball and softball teams were not very impressive in the rigorous Marine League but managed to make postseason play.
The Panther boys finished in fifth place in Marine action at 2-8 and are 7-8 overall, but they enter the CIF-Los Angeles City Section Division II playoffs as the No. 5 seed as they opened at home against No. 12 Grant High from Van Nuys last Tuesday.
If Gardena wins, it will take on either host and No. 4 seed Reseda or 13th ranked Los Angeles at a site to be determined Friday at 3 p.m.
If the Panthers can make the finals, they will play on May 30 at Dodger Stadium for the City title. Game time is 10 a.m.
Gardena's softball team also placed fifth in Marine play but is 11th seed in Division III. The Lady Panthers visited sixth seed Los Angeles High last Tuesday.
The quarterfinals are on Friday, if the Lady Panthers advance.
Finals are on May 30 at Cal State Dominguez Hills in Carson.