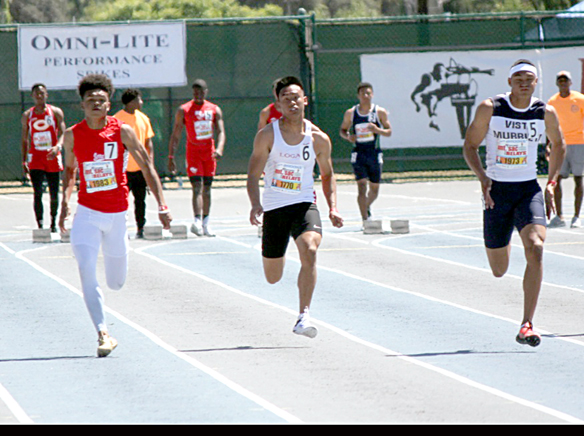 Serra High's girls' track and field team had two relays win the Mt. San Antonio College Relays Invitational championships last Saturday at Cerritos College.
Serra High's girls' track and field team had two relays win the Mt. San Antonio College Relays Invitational championships last Saturday at Cerritos College.
It started when the Lady Cavaliers' 4×100-meter squad of Madison Golden, Jasmin Reed, Jazmyne Frost and Kayla Pickens won at 46.01 seconds, defeating second place Oxnard Rio Mesa (46.45) and third place Upland (47.14). Serra's time is ranked sixth in the United States this year. Later in the day, Serra's girls sprinted away with a 1:38.07 timing for the title and the 10th best time in the nation. That team included Golden, Reed, Frost and Chanel Clark.
"We're trying to get the record," Golden said. "We were not pushed. Last week (in the Arcadia Invitational) we had a year best of 1:38.21 for 12th in the nation. We moved up to 10th."
Reed, a junior, also captured the girls' seeded 100-meter dash clocking 12.0. She edged Walnut's Kayla Richardson who was second in 12.05. Serra's Frost was sixth timing 12.25.
Serra's boys were led by Isaiah Diego-Williams who finished second in the 100 meters timing 10.59 and anchored the Cavaliers' to a heat win and third place overall finish in the seeded boys' 800 relay in 1:29.31. Other runners on Serra's team were Jermaine Houston, Anthony Richardson and Makarious Page. Finishing ahead of Serra, overall, were first place Murrieta Mesa (1:28.87) and runner-up Temecula Great Oak (1:28.92). Winning the 100 was premiere Vista Murrieta standout Michael Norman at 10.27. Norman already has the nation's top times in the 200 and 400 and is seeking, not only national records, but to be the first prep athlete to break 20 in the 200 and 45 at the 400. Norman, who reportedly committed to University of Southern California, plans to compete in the U.S. Olympic trials in June in an attempt to get a spot at this summer's Olympic Games in Rio de Janiero, Brazil.
Former Serra High standout Pete Lauderdale placed fourth in his heat of the college-open 400-meter dash clocking 48.07. Winning the heat was Troy Pollard at 46.53, but the overall winner was Emmanuel Dasor from University of Western Kentucky (46.43). Lauderdale helped Serra High's boys' 4×400 relay to a California state championship with a blazing time of 3:08.42, the third best time ever in the nation, in 2010. That squad was led by current National Football League player and former USC football-track and field standout Robert Woods. Lauderdale was with the UCLA and University of Arizona track and field teams. Lauderdale graduated from Serra in 2011.
Also involved in the Mt. SAC Relays was 2012 Olympic gold and silver medalist Carmelita Jeter in the women's college-open invitational. She finished seventh in her heat of the 200-meter dash clocking 23.07. Jeter, a former Gardena resident and 1998 graduate of Bishop Montgomery High in Torrance, represented the Nike team. Winning the heat was Josie Williams from Great Britain in 22.72.
________________________________________
Serra Baseball
Serra bats are silenced by La Salle pitching
By Joe Snyder
Sports Editor
Serra High's baseball team had some problems both on offense and defense in two losses to La Salle High from Pasadena last week.
At Serra on April 12, the Cavaliers were shut out by the Lancers 2-0. At Arcadia County Park last Thursday, one big inning proved costly in Serra's 5-1 loss.
Serra, which fell to 1-4 in the Del Rey League, had fine pitching performances from Tom Bothwell and Cardinal Fernandezees but the Cavalier offense could not give them any support.
In Serra's 2-0 loss, Bothwell allowed only one earned run on six hits but Serra struck out 14 times.
"We did not have good approach at swinging the bat," Serra assistant coach Artist Patton said. "We had plenty of opportunities. We had only two hits but several walks and a few hit by pitches."
Last Thursday, La Salle, which improved to 5-1 in league, scored all five of its runs in the top of the fourth inning, but only two were earned as the Cavalier defense committed four errors.
"We didn't play good baseball," Patton said.
Serra scored its only run in the top of the sixth on a RBI hit from sophomore Bryan Sanders.
The Cavaliers have a bye week and hope to regroup for two games against St. Paul next week. Serra visits the Swordsmen in Santa Fe Springs next Tuesday and hosts St. Paul next Thursday. Both Del Rey games begin at 3:15 p.m.
_______________________________________
Sports Scoop
Kobe's grand finale brings back the memories
By Joe Snyder
Sports Ediotr
Over the past 20 years, Los Angeles Laker fans enjoyed seeing the great plays of production of the legendary Kobe Bryant.
On April 13 at the Staples Center, "The Black Mamba" Bryant hung up his basketball shoes for the final time but he certainly went out with a bang. He exploded for 60 points to key the struggling Lakers to a dramatic come-from-behind 101-96 win over the Utah Jazz. The 37-year-old Bryant certainly brought back his old self from the days when scoring more than 40 points and even numerous times 50-plus from a few years back. He led the Lakers to National Basketball championships in the 1999-2000, 2000-01, 2001-02, 2008-09 and 2009-10 seasons.
Although the Lakers failed to win the NBA championship in the 2005-06 season, Bryant may have been at his peak with two phenomenal games. On Dec. 20, 2005, Kobe outscored the entire Dallas Maverick team 62-61 through three quarters. Just over a month later was his career high 81 points in the Lakers' 122-104 win over the Toronto Raptors. It was the second most points ever in a game; only behind the 100 points by Wilt Chamberlain of the Philadelphia (now Golden State) Warriors in a game in 1962. Bryant had four consecutive games where he scored 50 or more points against the Portland Trailblazers, Minnesota Timberwolves, Memphis Grizzlies and the New Orleans Hornets (now Pelicans) from March 16-23, 2007.
Bryant also was a key in the United States' men's basketball gold medals in the 2008 (Beijing, China) and 2012 (London, England) Olympics. He scored 20 points, including 13 in the fourth period, to key the U.S. to a 118-107 victory over Spain, led by one of Kobe's top Laker teammates Pau Gasol (now with the Chicago Bulls).
Kobe's 60 points definitely brought a memory of when Bryant led the Lakers to a come-from-behind win over the Portland Trailblazers in Game 7 of the 2000 NBA Western Conference finals where they rallied from a 15-point fourth quarter deficit to top Portland. He scored 23 of his 60 points against the Jazz in the fourth period and helped L.A. rally from a 14-point (82-68) fourth period deficit. His final field goal of his career with 31.6 seconds left in the game gave the Lakers a 97-96 lead. He would add two free throws for his 59th and 60th points and L.A. went on to avenge an embarrassing 123-75 loss to the host Utah Jazz from a week earlier.
Kobe was not only the Black Mamba but the "Emperor" of the NBA, being ahead of "King" Labron James of the Cleveland Cavaliers. Good bye, Kobe, we will miss you.
Now it's time for the Lakers, who had their worst record in franchise history and the NBA's second worst record at 17-65, to rebuild. They will have the NBA June draft's second pick, behind the worst record team Philadelphia 76'ers. Philadelphia's record of 10-72 tied the 76'ers for the second worst NBA 82-game season record with the 1981-82 Cavaliers. The 76'ers, though, earn the worst 82-game record of 9-73 they set in the 1972-73 season. Going reversal, the Golden State Warriors broke the best regular season record ever at 73-9, eclipsing the mark of 72-10 set in the 1995-96 season by the Michael Jordan-led Chicago Bulls when they routed the Memphis Grizzlies in their regular season finale on April 13 at the Oracle Arena in Oakland. The worst percentage record in a lockout shortened 2011-12 season was set by the Charlotte Bobcats who went 7-59 (.107) that year.
ECC baseballers lead SCC: El Camino College's baseball team took the lead in the South Coast Conference at 12-3 after completing a three-game sweep of rival Los Angeles Harbor College with a 10-3 win last Saturday at Harbor.
The Warriors display a very good 23-7 overall record after winning their ninth of their last 10 games.
After a 2-2 tie, ECC scored six runs in the top of the fifth inning behind runs batted in by Connor Underwood, Noah Barba and Nick Sablock.
At El Camino last Thursday, the Warriors downed the Seahawks 8-2. At Harbor on April 12, ECC defeated the Seahawks 17-8.
ECC is looking at its first conference title since 2010, when the Warriors advanced to the California state final four.