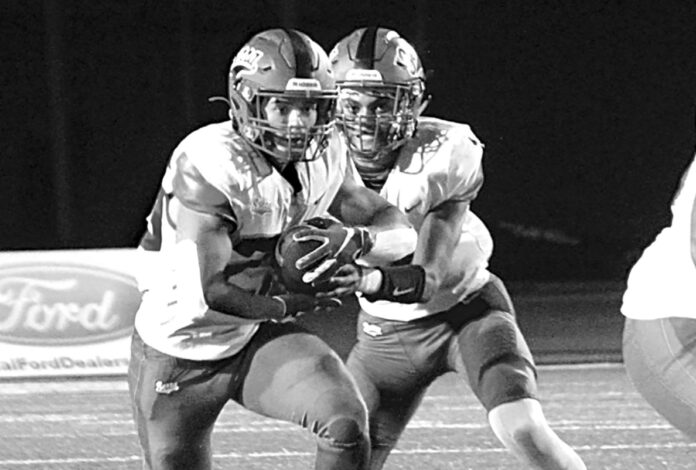 By Joe Snyder
In last Friday's non-league showdown against Long Beach Poly at Long Beach Veterans Stadium, Serra High's football team's offense seemed similar to today's California weather pattern; dry.
The Cavaliers mustered only a field goal by Kai Honda and just 128 total offensive yards in a 17-3 loss to the Jackrabbits. It was only Poly's second win over Serra in the two teams' eight meetings, dating back to 2012. It was also a revenge for the Jackrabbits, who lost both games to the Cavaliers; a 28-27 non-league loss and a 21-17 defeat in the Southern California Regional Division IA Bowl championship. Both games were at Serra.
Poly's only other win over the Cavaliers came in the unusual abbreviated spring 2021 season, that made up for the fall 2020 season that was delayed due to the COVID-19 Pandemic, when the Jackrabbits topped Serra 27- 21 at Long Beach Cabrillo High.
Most of the game was a defen- sive battle. Poly (2-0) scored first early in the second quarter on a 36-yard touchdown pass from quarterback Darius Curry to wide receiver Jaydn Robinson.
The Cavaliers' only score was set up by a fumbled punt by the Jackrabbits. Serra, though, only drove to the Poly 12-yard line where Honda connected on a 29-yard field goal midway in the second period.
The Jackrabbits took a 7-3 halftime lead and the second half continued to be predominantly defensive. Serra was able to stop Poly deep in Cavalier territory in the Jackrabbits' first drive of the second half on a fumble recovery. The second Poly drive was set up by a fumble by Serra quarterback Jason Mitchell. The Cavaliers, again, kept the Jackrabbits out of the end zone but managed to up their lead to 10-3 on a 23-yard field goal by Dylan Michel with 4:48 left in the third quarter.
Poly padded its lead to two touchdowns on a short 2-yard TD run from Devin Samples with 8:51 remaining in the game.
With the past three seasons' star quarterback Maalik Murphy moved on to the University of Texas, Mitchell continued to take on Serra's quarterback duties and struggled. He completed three of 13 passes for just 24 yards. The Cavaliers managed 104 yards rushing; 50 of those by junior running back Cincere Rhaney.
The Cavaliers, who are 0-2, hope that third time will be a charm as they host Cathedral High from the Downtown Los Angeles area in non-league play Friday at 7 p.m.