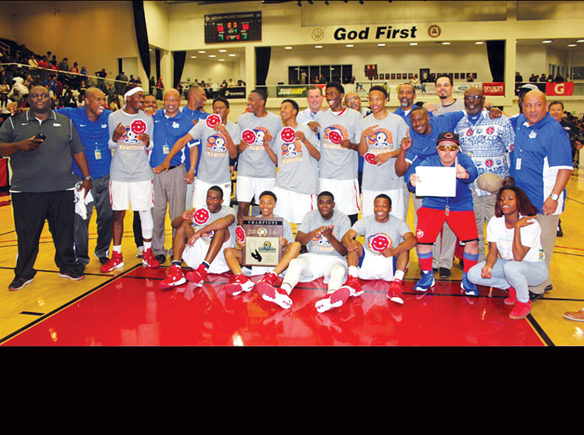 Last season, Serra High's boys' basketball team was placed in the CIF-Southern Section Division IAA and, due to a fourth place finish in the highly competitive Del Rey League, the Cavaliers missed the playoffs for just the third time in head coach Dwan Hurt's 27-year stint.
Last season, Serra High's boys' basketball team was placed in the CIF-Southern Section Division IAA and, due to a fourth place finish in the highly competitive Del Rey League, the Cavaliers missed the playoffs for just the third time in head coach Dwan Hurt's 27-year stint.
This year, the Cavaliers returned to the Southern Section Division IVAA and it was a turnaround. After tying for second place with rival Playa del Rey St. Bernard, behind champion and nationally ranked Torrance Bishop Montgomery, Serra got things going in the playoffs. After easy wins over Desert Hot Springs and Nipomo, the Cavaliers recorded a key 84-76 win over Serra High from San Juan Capistrano, before two dramatic come-from-behind victories. The first was on Feb. 26 when Serra rallied from an early 16-point deficit and was still down by three points before Ray Knight, Jr. was fouled on a three-point attempt. He made all three free throw shots to send the game into overtime where the Cavaliers topped host San Gabriel Academy 83-75. That sent Serra to last Friday's championship game against Notre Dame High from Sherman Oaks at Azusa Pacific University.
The Cavaliers started slow as they trailed the Knights 20-9 after the first quarter. From there, Serra steadily came back and rallied for a 53-50 victory to capture the Division IVAA title. Knight, Jr., again, was the hero. He led Serra (16-14) with a game-high 23 points and six rebounds to key the Cavaliers.
"We felt confident," Knight, Jr. said. "We felt that we needed to win the game. We had this experience before where we were down than came back."
Knight, Jr. and his teammates felt that it all started when Serra recorded a come-from-behind 83-72 victory over host Cathedral on Feb. 10 in Los Angeles. The Cavaliers were down early before storming back for the victory.
"Once we beat Cathedral, we got things going in the playoffs," Knight said.
Down by two points (28-26) at halftime, Serra finally took its first lead at 31-30 on Xavier Antoine's basket with about five minutes left in the third quarter. Knight's basket gave the Cavaliers a 42-39 lead by the end of the period.
Serra led by as many as seven points (53-46) late in the game before Notre Dame made a run with back-to-back baskets by Joshua Love and Samuel Holtze and nearly tied the game as Jonathan Stretesky made a three-pointer but it was nullified since it was about a second after an official blew the whistle as the shot clock ran out with about two seconds remaining in the game. Serra was able to run the clock out.
"It was a tough game," Serra head coach Dwan Hurt said. "We knew it was going to be tough. At the start, they took us off our rhythm. We made adjustments at halftime. We got more on the boards and applied pressure. I was proud of the way we came out in front. We're a young team. We had to get used to the atmosphere."
Knight, a junior guard, was Serra's only player to score in double figures. Sophomore guard Kobe Smith and junior Darrien Guyton each added eight points.
The Cavaliers enter the CIF-Southern California Regional playoffs as the third seed where they began on Wednesday at home against Venice, the CIF-L.A. City Section Division II runner-up. Top seed is Pomona Diamond Ranch, which edged Serra 55-53 in the Cavalier Extravaganza Classic in January, and Southern Section Division IIIA champion West Hills Chaminade is seeded No. 2.
___________________________________________
Serra Girls' Basketball
Lady Cavs fall to Alemany in Open consolation semis; begin regionals
By Joe Snyder
Sports Editor
Serra High's girls' basketball team had a cold shooting night as it was eliminated in the CIF-Southern Section Open Division semifinals by host Alemany 49-38 on March 1 in Mission Hills.
A bad third quarter plagued the Lady Cavaliers, who saw their record fall to 19-9. Down by just three points (21-18) at halftime, Serra was outscored by the Warriors 19-3 in that period as the Cavaliers fell behind by 19 (40-21). Alemany (24-9) led by as many as 21 (42-21) early in the final period. Serra was able to finish out the game with a run but the big hole was too much to dig out of.
Briana Johnson led the Cavaliers' scoring with 11 points. Alexis Tucker, Delauna Thomas and Lowendie Laporal each added six points.
Serra, though, is playing in Division I of the CIF-California State playoffs. The Cavaliers, who won the Del Rey League for the fourth straight year, are seeded No. 5 as they began at home against 12th seed Fairfax, the CIF-Los Angeles City Open Division semifinalist, on Wednesday. If Serra won that game, it could visit No. 4 Vista Murrieta Saturday at 7 p.m. The Cavaliers, if they win the quarterfinal, will be expected to visit top seed Bishop's in San Diego La Jolla in the semifinal. Last year, Serra lost in the Southern Section Open Division consolation final to Westlake Village Oaks Christian but made the California State Division I championship before losing in overtime to McClatchy of Sacramento. The Cavaliers won the Southern California Division I title with a 61-45 overtime win over Ventura.
­­­­­­­­___________________________________________________
Baseball Roundup
Serra, Gardena baseballers start season with wins
By Joe Snyder
Sports Editor
Serra and Gardena High's baseball teams, both under first year head coaches, began the 2016 season each with 2-0 records last week.
The Panthers, under new head mentor Tom Fox, started with a 13-6 victory over host Rancho Dominguez Prep on Feb. 24. Gardena, then, topped Harbor Teacher Prep from Wilmington 8-4 on March 2 at home.
Against Harbor Teacher, located on the campus of Los Angeles Harbor Community College, Gardena scored seven runs in the bottom of the first inning and coasted to the win. Pedro Trejo was the winning pitcher. He allowed four hits and two earned runs in five innings.
Daniel Herrera had a fine game in the Panthers' win over the Lobos.
Serra is currently playing in the El Segundo Tournament where it started with a 20-3 rout of Shalhevet, a Jewish school from L.A., last Friday. The Cavaliers, under new head coach Martel London, topped a very tough Palos Verdes team 4-2 on Saturday at P.V.
Third year starting junior Cardinal Fernandezees had an all-around fine game against the Sea Kings. He went five innings, allowing two hits and no earned runs. With the bat, he went 2-for-5 that included a double and two runs batted in.
Against Shalhevet, Rolando Nichols went five innings, allowing one earned run. He was 3-for-5. Antonio Gomez also had a fine game for the Cavaliers.
Serra plays in the El Segundo Tournament through Saturday, before visiting La Salle in Pasadena next Tuesday at 3:15 p.m.
In another El Segundo Tournament game last Friday at Narbonne, the Gauchos shut out Torrance 2-0. Bladimir Becelinor pitched a two-hit shutout for Narbonne, which improved to 1-2.
Also Friday in the El Segundo Tournament at Bishop Montgomery in Torrance, the Knights blanked Palisades 8-0. Nathan Draves hurled a three-hit shutout.