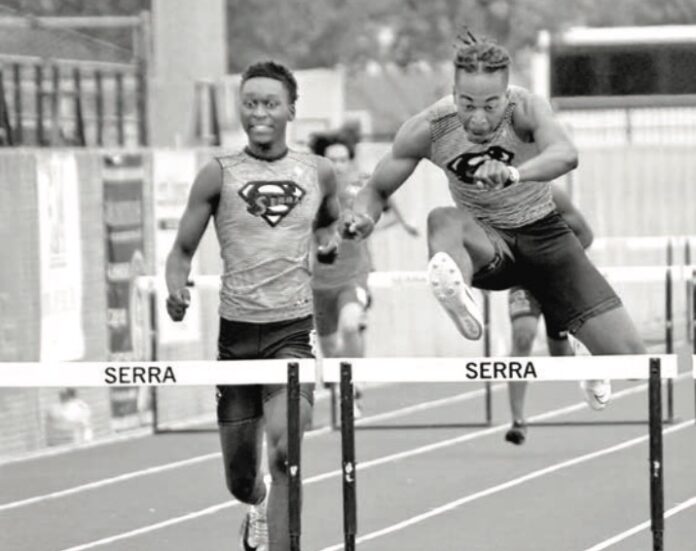 By Joe Snyder
When Christopher Mack took over the head coaching duties for Serra High's track and field program prior to the start of the season, he had high hopes at the Cavaliers' sweeping the CIF- Southern Section Division IV and CIF-State championships.
His dream is one step closer to reality.
Serra High's boys and girls made a splash in the Del Rey League Championships on May 26 at Serra, dominating the sprints, hurdles and some field events.
The defending CIF-State champion girls, who came off winning the highly regarded Mt. San Antonio College Relays in Walnut on April 15, continued to shine in the sprinting events that included a one-two-three-four sweep in the 200-meter dash and one-two-three at the 100. Brazil Neal showed why she is one of the top prep female sprinters in California and the United States by taking both the 100 and 200 with times of 11.61 and 23.82 seconds, in order.
Finishing second and third, respectively, for Serra in the 100 were Zakiyah Wilson (12.09) and Mia Flowers (12.18). Things were only better for the Lady Cavaliers in the 200 due to second, third and fourth place finishes by Wilson (24.94), Flowers (24.95) and Sadia Green (25.12).
Serra also enjoyed a one-two finish in the girls' 400 won by Green (56.87) and Sienna Claiborne (57.46). The two, along with Neal and Wilson, helped the Cavaliers top the 4×400-meter relay at 3:59.79.
The Lady Cavaliers, including Jaiya Fletcher, Flowers, Wilson and Neal, rolled to victory clocking 46.72 to 49.89 for runner-up Inglewood St. Mary's Academy.
Jordyn Brooks captured the long jump (18 feet, six inches) and triple jump (36-4).
Serra also had a pair of second place finishes from Fletcher (100-meter hurdles, 14.47) and Lo'ani Atofaa (shot put, 34-1).
The Cavalier boys are bringing hopes to continue to dominate the Southern Section Division IV title led by the nation's top ranked sprinter, Roderick Pleasant. Pleasant continued to dominate the 100 and 200 with easy wins. He topped the field in the 100 in 10.53 and the 200 timing 21.28, but he is seeking to get milestones in both events when he gets into the Southern Section, and, hopefully, the California State Championships of becoming the first prep sprinter to break 20 seconds in the 200 and the second to get under 10 in the 100.
The only runner to break 10 seconds in the 100 is Matthew Boling with a 9.98 he did in the Texas State Championships in 2019 at University of Texas in Austin. Boling, who ran prep track and field at Jesuit High in Houston, is currently a standout sprinter at University of Georgia and Pleasant had the chance to see him participate in the Mt. SAC Relays on April 15, where he placed fourth in both the 100 and 200 in the college open division.
Pleasant's fastest 100 time was 10.14 he did at the Southern Section Masters Championships and 20.4 in the 200 at the Division IV Finals, both last season on Moorpark High's fast track. He already has the state record in the 100. The state record in the 200 is 20.3 set in 2015 by 2021 Olympian Michael Norman from Vista Murrieta and the national record is 20.13 set in 1985 by Roy Martin from Dallas, TX Roosevelt High.
Serra's boys had a one-two-three sweep in the 100. Placing second was Otis "Tre" Harrison and Cameron Wilcot in 11.21 and 11.31, respectively.
The Cavaliers also won the 4×100 relay in 43.19. Runners were Dakoda Fields, Pleasant, Harrison and Wilcot.
Harrison won the 300-meter intermediate hurdles clocking 40.07 as his teammate Rylan Bemburn was second at 40.76. Bemburn won the 110-meter high hurdles clocking 15.11.
Serra's 4×400 relay took sec- ond timing 3:27.31. Runners included Devin Lewis, Harrison, Muhammed Sherrills and Elijah Flowers. Los Angeles Cathedral won the race in 3:22.63. Both qualify for the Southern Section Division IV Prelims.
The prelims will begin at 9 a.m. on Saturday at Carpinteria High in South Santa Barbara County, located a few miles past Ventura. The divisional finals will be on May 13 and the Masters on May 20, both at Moorpark High. The CIF-State Championships continue to be at Buchanan High in Clovis on May 26 and 27.
Cavs sweep St. Paul; finishes 2nd in Del Rey
Serra High's baseball team pulled out a second-place finish in the Del Rey League with a 7-5 record after sweeping last place St. Paul High last week.
At Serra on April 24, the Cava- liers rolled to a 16-6 victory over the Swordsmen. At St. Paul in Santa Fe Springs on April 26, Serra outlasted the Swordsmen 3-2 in nine innings. Returning to Serra last Thursday in a league make-up game due to an earlier rainout, the Cavaliers downed St. Paul 7-2. Last Friday, Serra visited Maranatha High at Jackie Robinson Park in Pasadena but was shut out 7-0.
The Cavaliers move on to the CIF-Southern Section Division III playoffs where they open at Tahquitz High in Hemet today at 3:15 p.m. The Titans won the Mountain Pass League and are 17-7 overall. Serra is currently 12-13.
North Torrance High's baseball team finished fifth in the Pioneer League at 6-6 and failed to advance to the CIF-Southern Section Division III playoffs after getting swept by cross town rival West Torrance last week.
Despite another outstanding performance from junior ace pitcher Brymner Waolama, the Saxons lost in eight innings to the host Warriors 1-0 on April 25. Waolama pitched seven innings allowing just four hits but West, which finished second, behind champion Torrance, in Pioneer action at 8-4, scored the winning run in the bottom of the eighth.
Last Thursday's contest at North also went eight innings. North and West were tied at five after the regulation seven innings but the Warriors let loose for seven runs in the top of the eighth en route to a 12-5 victory.
Trailing 5-2 entering the bottom of the fifth, the Saxons, who ended their season at 11-14, scored three runs in the bottom of the inning to tie the game at five.
West is playing in the Southern Section Division II where it visits Coastal Canyon League champion Simi Valley today at 3:15 p.m. Pioneer champion Torrance, which is 23-4 overall, hosts Pacifica High of Garden Grove in Division I on Friday at 3:15 p.m.
Gardena continues to struggle being winless in six Marine League game after lopsided losses to Carson last week. At Carson on April 25, the Colts rolled over the Panthers 10-1. Things were worse last Thursday at Gardena where the Panthers were crushed by Carson 22-0.
Gardena, however, ended its 16-game overall losing streak by routing Reseda 12-3 in a San Fernando Tournament game last Saturday at Gardena.
In the Panthers' win over the Regents, Robert Verardez went 2-for-3 with two runs batted in, two runs scored that included a run-scoring triple.
Winning pitcher Anthony Garcia had an RBI double. On the mound, Garcia allowed three earned runs and six hits. He struck out eight batters and walked one.
Brady Tanaka and Marco Vi- veros each drove in two runs.
Gardena hosted Rancho Dominguez Prep from Long Beach in a Marine League game last Monday but the score is still unavailable. The Panthers visited Narbonne last Tuesday and will host the Gauchos today at 3 p.m. Gardena will have a San Fernando Tournament game at Roybal Learning Center in Downtown L.A. Saturday at 11 a.m. before closing Marine at home against San Pedro Monday at 3 p.m. The Panthers are 2-16 overall.
North ends Pioneer in second; seeded third in Division II
North Torrance High's softball team closed the Pioneer League in second place, behind undefeated champion Torrance, at 10-2 after wins over South Torrance and West Torrance last week.
The Lady Saxons began last week with a 2-1 home win over South on April 24 and ended league by shutting out host West 3-0 two days later.
In North's win over the Spartans, the Saxons had a two-run double by Koshi McKenzie, who went 3-for-3.
Sophomore Jaelyn Tout went the distance with a four-hitter. She allowed one earned run with three strikeouts and two walks.
Tout threw a three-hit shutout against the Warriors on April 26. Koshi and Julia Diekmana each drove in one run. Nevaeh Respicio, Julieta Roa and Nichole Orzco each had two hits and scored once. North will host Hart High from Newhall, the second-place team from the Foothill League, in the first round today at 3:15 p.m. The Saxons are seeded third in the playoffs. Top seed Moorpark hosts one of North's Pioneer League rivals, El Segundo, in the first round at the same time.
Pioneer champion Torrance, which was CIF-Southern Section Division II semifinalist and Southern Section Division II finalist last season, is seeded fourth in Division I. The Tartars begin at home but could have one of two tough opponents in either Huntington Beach or Westlake in the first round today at 3:15 p.m. Torrance finished league with wins over El Segundo and South last week.
Gardena High's softball team received a big break due to forfeit wins over San Pedro from two weeks ago. The Lady Panthers lost both games on the field to theMarine League power Pirates but San Pedro was discovered that it used an ineligible player forcing the Pirates to forfeit five league wins, including two against Gardena.
Last week, the Panthers began with a 7-5 loss to host Banning on April 25 in Wilmington but bounced back with blowout home wins over Harbor City Narbonne 17-4 on April 26 and 13-1 against Long Beach Rancho Dominguez Prep last Thursday. Due to the forfeit wins, Gardena moved up to second place in league, behind leader Carson, at 6-2 and is 8-3 overall.
Against Narbonne, which sits in last place at 0-7, Jocelyn Mo- rales went 3-for-3 with four RBI's, two runs and two doubles. Lillian Leslie was 3-for-4 with two RBI's and three runs. Leslie had a double and triple. Natly Alfaro had a three-run double and scored a run.
The Panthers closed league with home games against Carson on Tuesday and Banning Wednesday, seeking revenges on earlier league losses.