By Shari Barrett
The Tony Award-winning musical THE KING AND I with book and lyrics by Oscar Hammerstein II, and music by Richard Rodgers, is set in Bangkok, Siam in the 1860s, based on the true story of Anna Leonowens, a widowed schoolteacher from Wales, who travels to Siam with her son Louis to teach the King's many children. Her effect on the kingdom and the kingdom's effect on her are the basis of this beautiful and classic Broadway musical. And despite their differences, Anna and the King create a unique relationship during which they gain a deeper understanding and mutual respect despite their culture clash, most notably about the place of women in society.
The famous score includes musical hits "Getting to Know You," "Hello, Young Lovers," and "Whistle A Happy Tune," all performed to perfection by the talented cast of 46, led by Anastasia Barzee as Anna, a very modern-thinking woman forced to step into a world where she is seen as a second class citizen, no more than a servant to the King, and Paul Nakauchi who embodies the heart and soul of a King caught between loving his culture yet wanting to be accepted as a modern man. And near the end, you can feel the sparks fly between them when the King first puts his arm around her waist and pulls Anna closer to him in the magical "Shall We Dance" number.
Other outstanding cast members include Luke Naphat as heir apparent Prince Chulalongkorn, all young bravado with an eye to his somewhat scary future role; Joan Almedilla as #1 wife Lady Thiang who works with Anna to update the other wives to great comic effect when Sir Edward Ramsey (Kevin Symons) arrives to visit; and Paulina Yeung as Tuptim, a young woman from Burma given to the King as a "gift" of reconciliation whose love for Lun Tha (Ethan Le Phong) romantically unfolds during their beautiful duet "I Have Dreamed." Twelve-year-old Oliver Stewart portrays rambunctious Louis Leonowens to a tee, adding his childlike spirit in his duets "Whistle a Happy Tune" and "A Puzzlement."
But the real highlight of the production was the magical The Small House of Uncle Thomas Ballet, presented to the British visitors, directed by Tuptim, presented as her very personal message to let the King know slavery is not how women should be treated. Kudos to the ballet's amazing dancers: Michiko Takemasa (Eliza), Chad Takeda (Uncle Thomas), Arielle Dettmer (Angel George), Callula Dang (Topsy), Cristyn Dang (Simon of Legree), Angel Strittmater (Little Eva), and choreographer Rumi Oyama.
The adorable King's children and royal wives are introduced to Anna during "The March of the Royal Siamese Children" during which each child was given their moment in the spotlight, much to the amusement of not only the King and Anna but to many in the audience. Special recognition to the entire set, costume, lighting, sound, and hair/wig/make-up design teams for effectively taking us on a journey to the many locales necessary in the show.
The La Mirada Theatre for the Performing Arts and McCoy Rigby Entertainment production is directed with great reverence to the classic Broadway hit by Glenn Casale, who stepped in to replace Peggy Hickey originally slated to direct and choreograph the production prior to her untimely passing on January 22, and musically directed by Dennis Castellano who conducts the 17-piece orchestra to perfection. 
The King and I runs through Sunday, May 14 on Thursdays at 7:30 p.m.; Fridays at 8 p.m.; Saturdays at 2 p.m. and 8 p.m. and Sundays at 1:30 p.m. and 6:30 p.m. at La Mirada Theatre for the Performing Arts, 14900 La Mirada Blvd in La Mirada. There will be an Open-Captioned performance on Saturday, May 6 at 2 p.m.. Tickets range from $19 – $95 at www.LaMiradaTheatre.com or by calling the La Mirada Theatre Box Office at (562) 944-9801 or (714) 994-6310. Children under 3 will not be admitted into the theatre. Free onsite parking.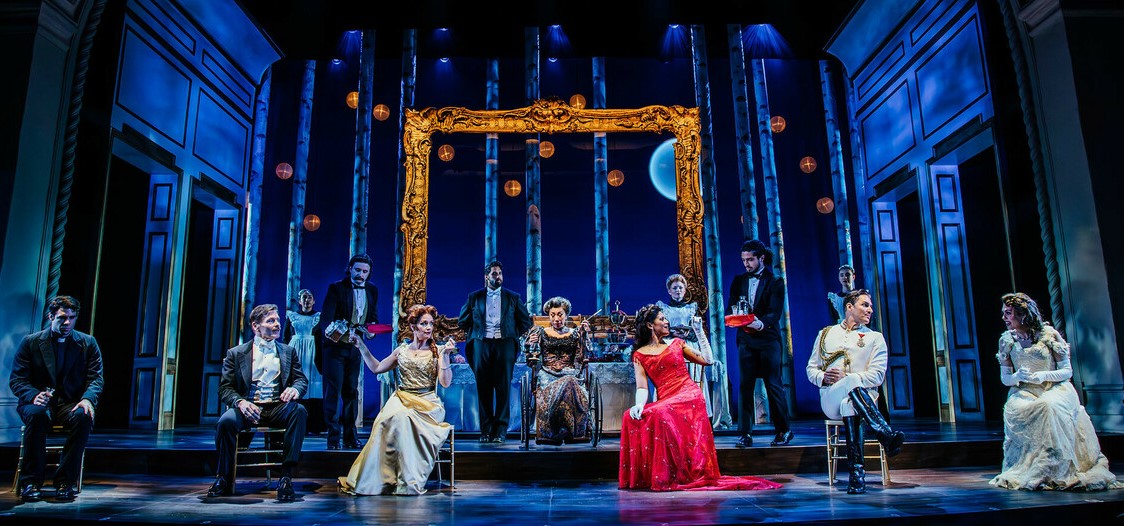 Featuring a book by Hugh Wheeler, music and lyrics by Stephen Sondheim, A LITTLE NIGHT MUSIC was suggested by Ingmar Bergman's 1955 film, Smiles of a Summer Night, and was one of the composer's greatest commercial successes, winning three Tony Awards including Best Musical, Best Book of a Musical, and Best Original Score. In honor of its 50th Anniversary, the Pasadena Playhouse is presenting a true Broadway quality production of the 1973 sensation with its full and soaring orchestration performed by an operatic-quality cast. Boasting one of the most singular and sumptuous scores in Broadway history, Sondheim's enchanting, hilarious romantic farce has certainly become a bona-fide classic of American musical theater. And this is a must-see production!
Set in 1900 Sweden, A Little Night Music explores the tangled web of affairs centered around actress Desirée Armfeldt (stunningly luminous Merle Dandridge), and the men who love her: a lawyer by the name of Fredrik Egerman (Michael Hayden) and the Count Carl-Magnus Malcom (Ryan Silverman). When the traveling actress performs in Fredrik's town, the estranged lovers' passion rekindles. This strikes a flurry of jealousy and suspicion between Desirée, Fredrik, Fredrik's young wife, Anne (Kaley Ann Voorhees), Desirée's current lover, the Count, and the Count's wife, Charlotte (Sarah Errata Berry). And to complicate matters, will Anne ever realize her cello-playing stepson Henrik (Chase Del Rey) is madly in love with her?
As these characters lives become entangled to the point of no return, both men – as well as their jealous wives – agree to join Desirée and her family for a weekend in the country at Desirée's mother's estate, the cynical Madame Armfeldt (Jodi Long). With everyone in one place, infinite possibilities of new romances and second chances bring endless surprises amid soaring performances as webs are woven and spells broken!
Also featured in the talented cast are Makara Gamble as young Frederika Armfeldt, Ruby Lewis as Petra (the Egerman maid) who delightfully performed "The Miller's Wife" after seducing Adam James King as Frid (Madame Armfeldt's butler).  Her live-for-today perspective adds quite the upstairs/downstairs viewpoint of life to all the shenanigans taking place. The Greek Chorus quintet, Georgia Belmont as Mrs. Nordstrom, Jared Bybee as Mr. Lindquist, Kimberly Dawson as Mrs. Segstrom, Oriana Falla as Mrs. Anderssen, and Arnold Geis as Mr. Erlanson, weave their way in and out of the story, offering background and insight in almost every scene. And such glorious voices!
Rounding out the cast as the Armfeldt butlers and maids are Brandon Borkowsky as Bertrand, Mikaela Celeste as Osa, Danny Cron as Ingmar, and Audrey Williams as Mala. Christanna Rowader as a standby for Countess Charlotte Malcolm and Desirée Armfeldt. 
Technical credits are equally outstanding as the cast and orchestra, including scenic design by Wilson Chin, incredibly beautiful costume design by Kate Bergh, wig design by Christopher Enlow, lighting design by Jared A. Sayeg, and sound design by Danny Erdberg and Ursula Kwong-Brown which allowed every song lyric to be heard crystal clear over the full orchestra onstage, with music supervision by Darryl Archibald and music direction by Alby Potts.
Ultimate kudos to director David Lee, choreographer Mark Esposito, and technical director/production supervisor Brad Enlow for their skill in bringing such a quality 50th anniversary production of A Little Night Music to the Pasadena Playhouse. It's one of the best Sondheim musicals I have ever attended, and I encourage everyone, especially Sondheim fans, to get your tickets ASAP.  Performances on Tuesday-Friday at 8 p.m., Saturday at 2 p.m. and 8 p.m.; Sunday at 2 p.m. and 7 p.m. through May 28 at Pasadena Playhouse, 39 South El Molino Avenue, Pasadena 91101. Tickets start at $39, available at PasadenaPlayhouse.org, by phone at 626-356-7529, or in person at the box office.