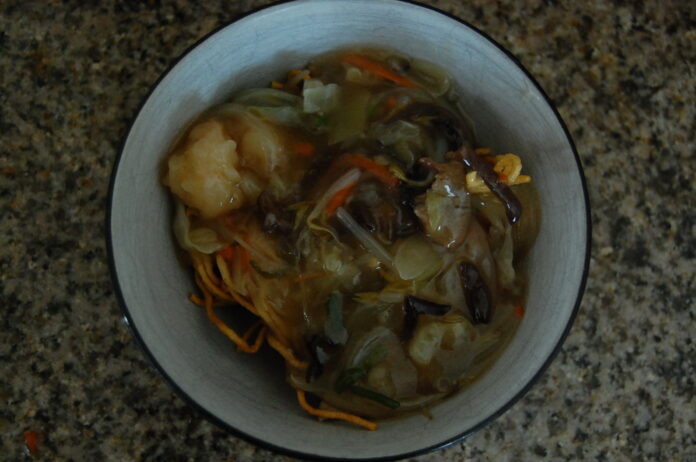 By Brett Callwood
Japanese ramen, sort of like its Vietnamese counterpart pho, sounds like it's a simple dish. In both cases, there are restaurants serving it all over Southern California and likely the United States. It's a noodle soup, with other stuff in there to amp up the fun. But like all dishes that look simple, ramen is very easy to get wrong. Fortunately, Umemura has no such worries. 
The restaurant is very chill and casual. The staff is friendly right away, and customers drop in for a warm bowl of ramen before leaving again to get on with their day. In that way, it's almost a bar-like vibe. 
The many ramen choices on the menu all look great, and the aroma in the place suggests that they all smell and taste great too. The Shoyu Ramen has sliced pork, egg and vegetables, while the Tan Tan Ramen has ground pork, soy bean paste and veg. All are tempting, but we went with the Kata Yakisoba, a non-ramen dish.
Frankly, we wanted to try something on the menu that seemed a little out of the ordinary, rather than going the tried and tested route. It turned out to be an inspired choice. 
The dish is served on a large bed of crispy fried noodles – golden brown and tasty, though not greasy. It might be unusual to some to have their hot dish served on crispy rather than soft noodles, but it really works. The sauce soaks into the noodles just enough to blend the flavors, though the noodles retain a welcome crunch.
The main part of the meal features pork, shrimp and vegetables in a thick sauce. On the  menu, the sauce is described as "salt flavored," though that's not really accurate. It's seasoned, but it's not simply salty. The flavor of the meat and shrimp blends beautifully with the veg to create a soy-ish stock. It really is quite magnificent.
While not a ramen soup, the Kata Yakisoba shares some of the same elements, the same ingredients, it's just cooked down to a thick sauce. Above all, the is hearty and warm as we enter winter and, even here in California, that can be very welcome. So whether you're going in for one of their specialty ramen soups, or something like the Kata Yakisoba, Umemura is worth a visit. 
Umemura is located at 1724 W. Redondo Beach Blvd., Gardena 90247. Call 310-217-0970.