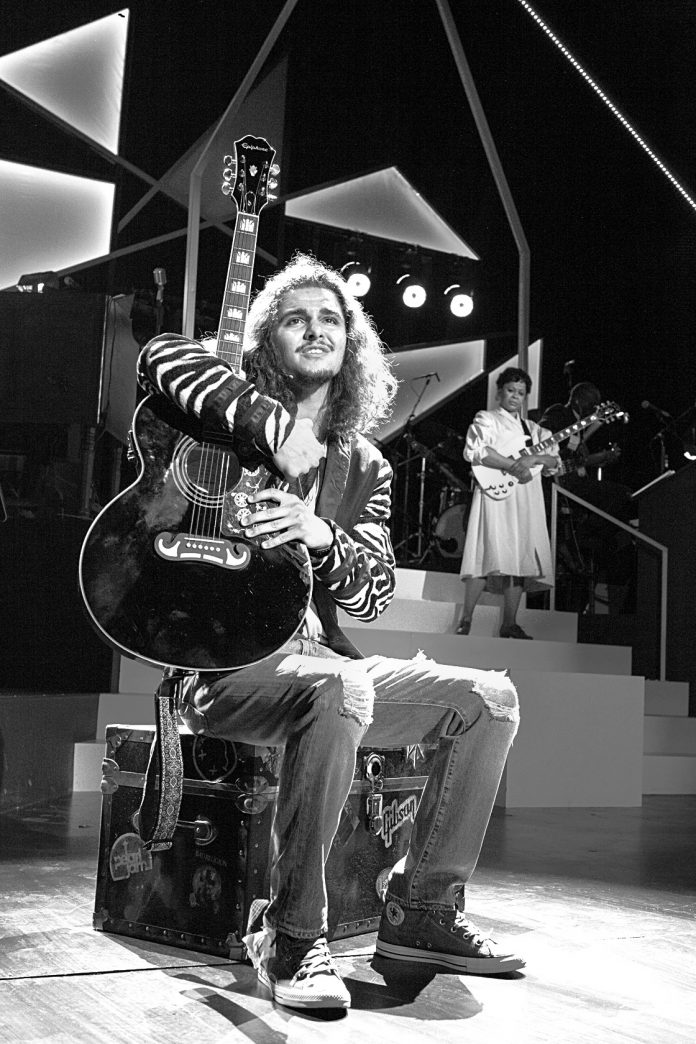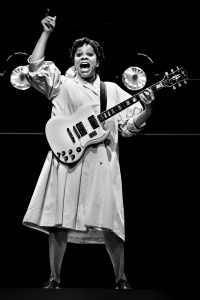 'Shout Sister Shout!' rocks the Pasadena Playhouse
By Theda Kleinhans Reichman
Entertainment Editor
'Shout Sister Shout!' rocks the Pasadena Playhouse
By Theda Kleinhans Reichman
Entertainment Editor
Probably the name Sister Rosetta Tharpe doesn't ring a bell, but long before there were women in the world of rock and roll she became a star in spectacular fashion. She was born in Cotton Plant, Arkansas in 1915 and became gospel's first superstar, the preeminent crossover figure of its "golden age."  Eventually her flamboyance, skill on the guitar and rhythmic showmanship influenced artists like Chuck Berry, Elvis Presley, Little Richard and Johnny Cash. Not bad, not bad at all.
If you aren't familiar with her musical contributions Randy Johnson and Cheryl L. West bring her to vibrant life in "Shout Sister Shout," currently playing at the Pasadena Playhouse through Sunday, Aug, 20.
Their show is based on Gayle Wald's book "Shout Sister Shout: The Untold Story of Rock and Roll Trailblazer Sister Rosetta Tharpe."  It begins with a rousing musical number somewhere in the nether world — somewhere between heaven and earth. It turns out that Rosetta (Tracy Nicole Chapman) is waiting for God to bring her inside the Pearly Gates.
Suddenly a mighty voice informs her that she must return to earth to save the soul of Isaiah (Logan Charles), who to her disdain, is a disheveled white kid who looks like a bum. The voice of God gives her 24 hours to share her life story with him in order to give him hope and a reason to live. Since it's God talking, she complies reluctantly.
Isaiah isn't impressed either, but he does remember that his mother had loved Rosetta's music — her favorite song being "Jericho," which Tharpe also wrote.
As Isaiah sits on the sideline, Rosetta's life unfolds. We see her love for God, for the Church and for singing music that praises the Lord. We also meet her first husband, Rev. Tharpe (Michael A. Shepperd), who turns out to be a jerk. Isaiah concurs, and eventually they start to bond. He begins to see life through her eyes.
She never gives up her love for God and music. Through good times and bad she carries on, singing  her heart out to the very end. The music is sung by Tracy Nicole Chapman as Tharpe and by a gospel church choir in golden robes, who clap and shout out to encourage us in the audience to sing along with them — and we do. Hallelujah!
The show, in two acts, is filled to the brim with gospel songs and rock music tinged with soul. Many of the songs performed were written by Tharpe, such as "Jericho," "Sit Down," "Walk All Over God's Heaven" and more. Other songs include "Shout Sister Shout," "This Lonesome Road" and "Life I Sing About." There is also original material by Melissa Manchester, "Somebody's Got to Know" and "When I Look through You."
This production is particularly meaningful for Sheldon Epps who will make his theatrical exit as Artistic Director after 20 years with the Pasadena Playhouse. We who love theatre wish him a warm hail and farewell.
Another milestone is the fact that the Playhouse is celebrating its centennial. Congratulations on 100 years of theatre–from musicals and comedy to drama. Soon their 2017- 2018 Season will begin with the following productions: "Our Town," "Pirates of "Penzance," "Bordertown Now," "King Charles III" and one play to be revealed at a later date.
The Pasadena Playhouse is located at 395 El Molino Ave., Pasadena. Ticket prices range from $25 to $115 and can be purchased on line at PasadenaPlayhouse.org or by phone at  (626) 356-7529.