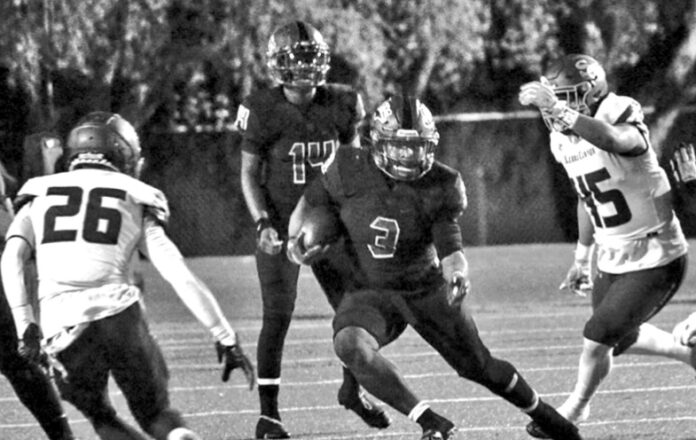 By Joe Snyder
When the CIF-Southern Section Division II football playoffs were announced on Oct. 30, Serra High's football team, which finished second behind champion Chatsworth Sierra Canyon in the Mission League, was the top seed while the Trailblazers were eighth.
That was due to going by Max- preps Southern Section rankings. After host Sierra Canyon rallied to edge Downey Warren 22-21 in the first round of the playoffs on Nov. 4, the Trailblazers visited the Cavaliers in the quarterfinals. In league play on Oct. 14 at Serra, Sierra Canyon defeated the Cavaliers 35-21 behind two late touchdowns.
Seeking to avenge that loss, Serra wasted little time on the Trailblazers as the speedy Roderick Pleasant returned the opening kickoff 83 yards to the Sierra Canyon 12-yard line. Two plays later, junior running back Cincere Rhaney gave the Cavaliers the early 7-0 lead on a 6-yard touchdown run.
Things looked good for Serra's attempted revenge win but, from there, that was all stopped by the Trailblazers. On the pursuing drive, Sierra Canyon's standout sophomore running back, Dane Dunn, took advantage of his speed and large line to aid him to score his first of four TDs on an 8-yard run that tied the game from there and the Trailblazers took over the game from there en route to a 42-16 win ending the Cavaliers' hopes of a second straight Southern Section and CIF-State championships.
After winning the Southern Section Division III crown with a 31-3 win over host Apple Valley, Southern California Division IA title with a 21-17 home victory over Long Beach Poly at Serra and the California State Division IA championship with a 21-16 win against Bakersfield Liberty at Saddleback College in Mission Viejo last season, Serra was moved up to the Southern Section Division II and it knew it was going to be tougher.
Sierra Canyon (9-3 overall) would go on for a 35-2 run to take a 35-9 lead after three quarters. Dunn, who rushed for 271 yards on 20 carries, scored his second touchdown run from two yards out and the Trailblazers went into halftime with a 14-7 lead.
As in many other big games, the Cavaliers, who ended their season at 7-5, were hoping to make a second half rally, but Sierra Canyon continued to pull away. On the Trailblazers' second half opening drive, Dunn scored on a 20-yard run to give his team a 21-7 lead.
Serra managed to drive to the Sierra Canyon 35-yard line but was stopped on a fourth down, forcing Kai Honda to punt. His punt went to the one-yard line. On the second play, several Cavalier tacklers brought down Dunn in his own end zone for a safety.
That made the Trailblazers free kick to the Cavaliers. Serra's drive, though, was quickly stopped on an interception off quarterback Jimmy Butler by Xavier White. A few plays later, Sierra Canyon quarterback Damont Wrightster found Dunn from 10 yards out extending its lead to 28-9. Dunn also added a 23-yard scoring run to give the Trailblazers a 35-9 lead with 9:23 left in the game.
Less than two minutes later, Rhaney scored his second touchdown on a 12-yard run but the game was already well in hand for Sierra Canyon.
The Trailblazers put an exclamation mark on the game when Tyrell Cooks scored on a short 2-yard run. Cooks rushed for 92 yards and one TD on just four carries.
Sierra Canyon moved on to the semifinals where it visited another Mission foe, Bishop Amat, Friday at 7 p.m. in La Puente. The Lancers advanced to the semifinals by routing host Hesperia Oak Hills 64-27 last Friday.