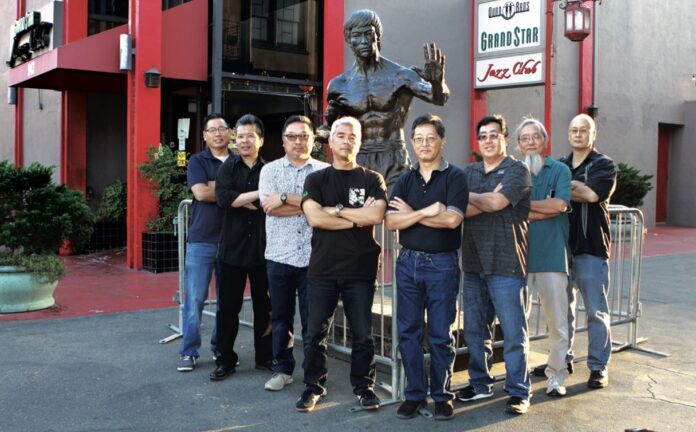 By Gary Luster and Gary Kohatsu
For the first time since 2019, before the pandemic closures, the Gardena Valley Japanese Cultural Institute will feature live music for those who can't get enough of the pop-rock, R&B-Motown sounds of the 1960s and '70s.
The (JCI) will host the 6th annual Elemental Funk fundraiser Saturday, Nov. 12 from 3 to 7 p.m. at the JCI's Main Hall.
"The last concert fundraiser was held in 2019… [we] are so happy to be able to bring it back this year," Cathy Lee, director of Development and Marketing for the Gardena Valley JCI, said.
The hope is Saturday's concert will bring in at least $5,000 for the JCI.
Elemental Funk, which has played as part of the JCI fundraiser since 2015, focuses on old school '70s R&B and pop, with some jazz, rock and standards mixed in and is comprised of local musicians.
The band came together 17 years ago to play for the South Bay FOR (Friends of Richard) basketball tournament fundraiser.
"Elemental Funk was formed around 2005, [when] we got together to play for one of the Japanese American Youth Basketball Tournament parent-social," EF lead singer and frontman Brian Yamamoto told the GVN by email this week.
The group harmonized well enough to remain together.
Besides Yamamoto, a 1982 alumnus of Culver City High School, the band is comprised of Danny Hirota (lead guitar), Ed Shimizu (keyboards), Wade Inouye (trumpet, vocals), Dan Masuda (bass), Jeff Ng (drums), Miles Watanabe (trombone, sax, vocals), and Jon Matsunaga (sax and wind instruments).
Five members are alums of Gardena High School.
He said Elemental Funk is a cover band that is known for its emphasis on old-school R&B and soul dance music.
"But we also do pop, rock, and standards. I loved the great bands of the '60s and '70s, Beach Boys, Beatles, etc.," Yamamoto, 58, said. "Since we have a muliti-piece horn section, we do Chicago, Tower of Power, Average White Band and Earth Wind & Fire," he added.
During the pandemic, Elemental Funk kept busy with online performances.
"We have done several virtual gigs, which was an interesting technological challenge with good and bad results," he said.
All EF band members have a long, personal history with the JCI, Yamamoto said.
"Since most of us reside in the South Bay and are [Japanese American], we are tied to the JCI and its connection with the community," he said. "We all participated in sports and martial arts and of course, would attend the JCI Carnival every year. Love the dango (sweet Japanese rice dumpling)."
Yamamoto said music wasn't his passion in high school, but was drawn to performing later in life.
Besides crediting great R&B and Motown singers, including Marvin Gaye, Stevie Wonder and Donny Hathaway as huge influences, another of Yamamoto's musical inspirations was a family relative.
"My Auntie Mia Yamamoto is a prominent LA defense attorney and she had a rock band full of lawyers back in the day, I was inspired by her passion," he said.
Elemental Funk continues to perform regularly at community events, fundraisers, dances and private parties throughout the South Bay, Los Angeles, and the Orange County areas. The group recently played at a Gardena candlelight dinner for seniors and in September, was one of three bands to entertain guests at the Gardena Food, Wine & Brew festival.
General admission tickets can be bought for Saturday's concert online at the JCI website or can be purchased for $40 at the door and there are also limited quantities of tables for 10 people available for purchase.
Lee said the money raised by the EF concert will go toward supporting all GVJCI programs and services. The fundraisers produced by the JCI will enable the organization to continue providing programs for free or at a low cost to the community.
In terms of COVID-19 protocols at the concert, masking and being current on vaccinations is strongly recommended, but not mandatory.
Lee said that upcoming events for the JCI include a scarf sewing workshop, a holiday succulent workshop, a beginner bonsai workshop, an Oshogatsu celebration and an Ikenobo Ikebana workshop.
For more information on these upcoming events, visit the Gardena Valley JCI website at www.jci-gardena.org.
The 2022 Gardena Valley JCI Elemental Funk Fundraiser will be held at the JCI's Main Hall located at 1964 W. 162nd St., Gardena. You must be at least 21 years old to attend.
For Elemental Funk booking info, please contact Wade Inouye (wdinouye@gmail.com) or Brian Yamamoto (bri_yama@ yahoo.com) or look for them on Instagram and Facebook.