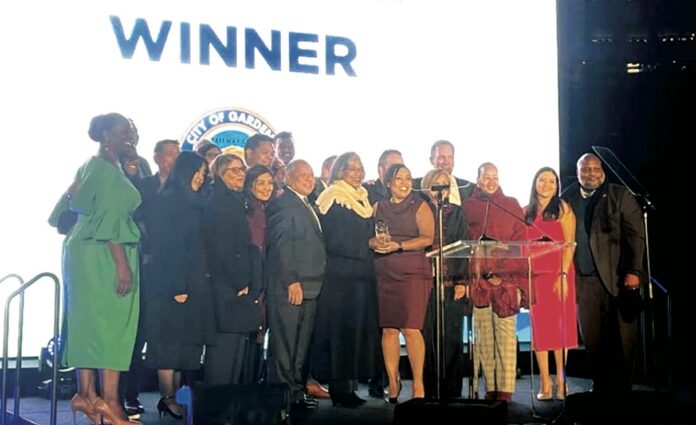 By Brett Callwood
The City of Gardena was awarded the Eddy Award for "Most Business-Friendly City" at a prestigious event at So-Fi Stadium on November 9.
"The Eddy Awards is a cocktail reception, dinner, and awards gala to support the fulfillment of the LAEDC [Los Angeles county Economic Development Corporation] 's mission of reinventing our economy to collaboratively advance growth and prosperity for all," reads the LAEDC's website.
Following the event, Mayor Tasha Cerda spoke to the News to explain what put Gardena over the top.
"They look at what cities have done as far as being innovative, and during COVID what sort of things we were doing to help our businesses out," Mayor Cerda said. "For instance, outdoor dining and we also had financial assistance to help businesses that were struggling. We have a portal, so a lot of things can be done via the internet. Streamlining the appointments so the wait time is a lot less."
The City Council knew that Gardena was a finalist going into the event, this being the third time that the city has been a finalist in this category.
"We were going up against the cities of Carson, Santa Clarita and Norwalk," Cerda said. "It was just a really exciting moment when we heard our name get called. We were on cloud 9. It was just like winning the Emmys."
The City applied to enter through the Economic Development Director, and had to showcase what the city is doing that would make it deserving. There isn't a financial prize, but the title "Most Business-Friendly City" is reward enough, making it an attractive destination for potential new businesses. 
Mayor Cerda is planning on having signs placed around the city with the new title on them – a just reward for the good work that Gardena has done.
"If you look around, Gardena has a lot of small mom and pop-type businesses," she said. "It's very welcoming to be here, and you hear that a lot not only from our residents but from our business owners. It's a large city but we still have that small town feel. We're a City Council of five with a population of 60,000 so if a business owner comes to us, we're open to hearing concerns to see what we can do to help. Outdoor dining was a big concern, and it helped the survival of our restaurants here as well as the fact that, as a council, we can make these policy changes to help out local businesses."
Find out more about the LAEDC at laedc.org.