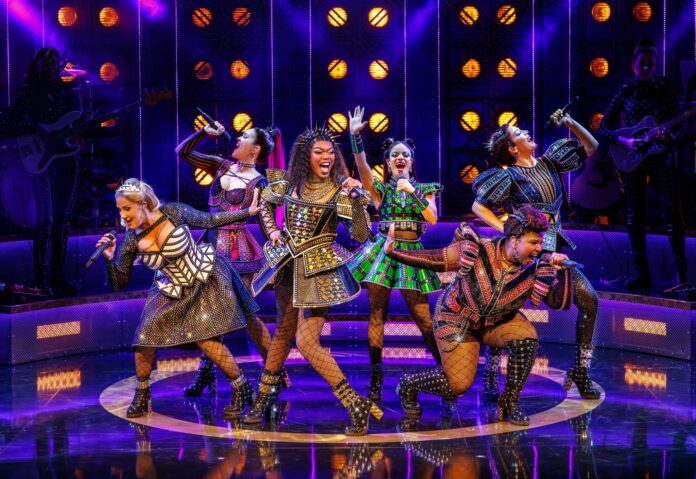 By Shari Barrett
The electrifying new musical phenomenon SIX by Tony Award winners Toby Marlow and Lucy Moss, who devised the original concept and started writing it when they were students at Cambridge University in early 2017, is wowing audiences at the Hollywood Pantages thanks to the U.S. touring company co-directed by Lucy Moss and Jamie Armitage. Featuring highly stylized and character-specific choreography by Carrie-Anne Ingrouille, the 90-minute spectacular feels like a rock concert with Beyoncé leading the high energy ensemble into an astonishing display of belting singers who move with great skill and attitude while blending their voices into incredible harmonies. 
Always reminding us of their status as the "divorced, beheaded, died, divorced, beheaded, survived" SIX wives of King Henry VIII, each actor is a testament to perfectly matched triple-threat performers, with each delivering their amazing solos as noted: Kahaila Wilcoxon as Catherine of Aragon (Rocking "No Way" in the style of Beyoncé and Shakira), Storm Lever as Anne Boleyn ("Don't Lose Ur Head" in the style of Lily Allen and Avril Lavigne), Natalie Paris as Jane Seymour ("Heart of Stone" in the style of Adele and Sia), Olivia Donalson as a beautifully curvy Anna of Cleves ("Get Down" in the style of Nicki Minaj and Rihanna), Courtney Mack as Katherine Howard ("All You Wanna Do" in the style of Ariana Grande and Britney Spears), and Gabriela Carrillo as Catherine Parr ("I Don't Need Your Love" in the style of Alicia Keyes and Emeli Sandé). Their extraordinary performances had the audience cheering, clapping their hands, and eventually dancing in their seats as little-known facts from each of the wives HER-story were revealed!
Kudos to the design team who add to the impressive arena-style show, including Emma Bailey (Set Design), Tony Award-Winner Gabriella Slade (Costume Design), Paul Gatehouse (Sound Design), and Tim Deiling (Lighting Design). The score features orchestrations in the style of hard rock, pop, jazz, and blues by Tom Curran with music supervision and vocal arrangements by Joe Beighton, and U.S. Music Supervision by Roberta Duchak. The onstage Ladies in Waiting band is conducted by Music Director Valerie Maze on keyboard, Janetta Goines on bass, Rose Laguana on guitars, and Paige Durr keeping the beat on drums. 
SIX plays for five weeks at the Hollywood Pantages Theatre from May 9 to June 10 on Tuesday-Friday at 8 p.m., Saturday at 2 p.m. and 8 p.m., Sunday at 1 p.m. and 6:30 p.m., with added weekday matinees at 2 p.m. on Wednesday, June 6 and Friday, June 9.
Tickets are available at www.BroadwayInHollywood.com and www.Ticketmaster.com or by phone at (800) 982-2787.The show then plays for two weeks at the Segerstrom Center for the Arts in Costa Mesa on Tuesday-Friday at 7:30 p.m., Saturday at 2 p.m. and 7:30 p.m., and Sunday at 1 p.m. and 6:30 p.m., from June 13 to 25 with tickets available at www.scfta.org and by phone at 1-714-556-2787.  SIX is produced in the United States by Kenny Wax, Wendy & Andy Barnes, George Stiles, and Kevin McCollum, with Theater Matters as General Manager, Sam Levy as Associate Producer and Lucas McMahon as U.S. Executive Producer. Get your tickets as soon as you can and be ready to rock out with these incredible ladies!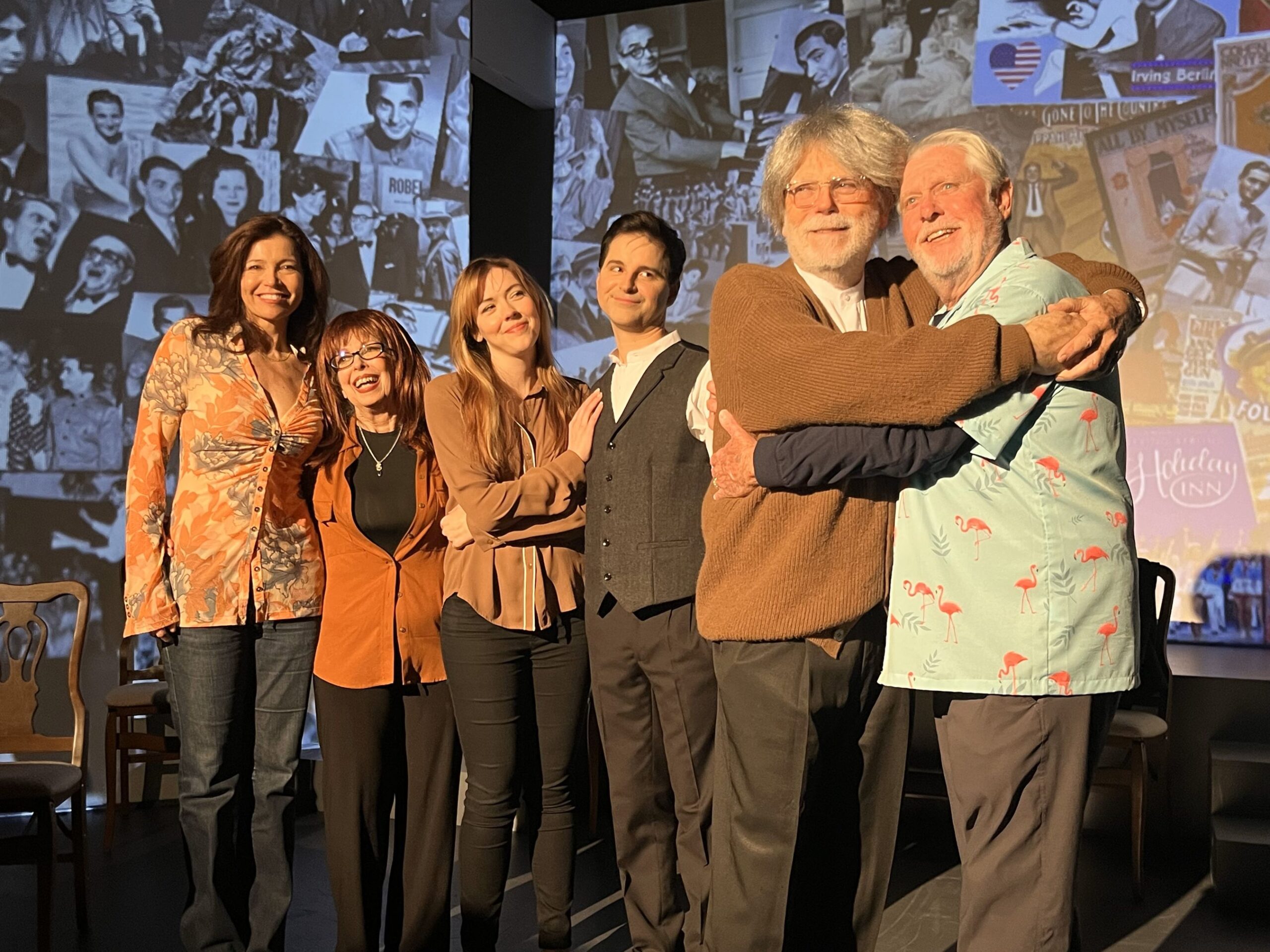 Playwright Jerry Mayer has written and/or produced for many popular TV shows, among them The Facts of Life, M*A*S*H, Bewitched, Tabitha, All in the Family, Punky Brewster, Room 222, The Jonathan Winters Show, Bridget Loves Bernie, McHale's Navy, and specials for Mitzi Gaynor, Perry Como and Don Knotts. His first play, Almost Perfect, debuted at Santa Monica Playhouse in 1986. And now the World Premiere of his new comedy JEWS R 2 MUCH FUN marks #12 in his long line of hits presented there.
Chris DeCarlo directs, having helmed ten of Jerry Mayer's world premiere comedies, and shares "Jerry Mayer's plays are a joy for a director, a cast and of course, an audience, touching on issues to which we can all relate – love, romance, marriage, financial woes, parents, infidelity, aging, and friendship. Experiencing a Jerry Mayer play brings us that much closer to the realization that turning the frown upside down is the best way to navigate through life's most serious issues, big or small. The Santa Monica Playhouse Jewish Heritage Series is proud to present the world premiere of Jerry's newest play, a serious comedy about one of the ugliest issues imaginable." And that is antisemitism, again rearing its ugly head around the world.
Jews R 2 Much Fun uses humor to tell the story of two families, one Jewish and one Catholic, brought together when their children, Kathy and Stanley, fall deeply in love and want to get married. But Kathy is Catholic and Stanley is Jewish – and to complicate matters, Kathy's father Chris considers Stanley's father Marv to be his hated, sworn enemy and Marv hates Chris for not attending his bar mitzvah, which ended their friendship. So how will the kids convince their fathers to not derail their happiness? As usual, the wives come up with the plan!
Here's where Mayer's comedic writing skill comes into focus, especially with his witty dialogue and timing. Stanley's family, aided by Kathy's mother Mary, give Chris a very special education by offering not only a fabulous bowl of homemade matzo ball soup made by Stanley's mother, but with a series of skits about famous Jewish people from history whose contributions to the worlds of entertainment, business and science have made a real difference in society. Packed with laughter, these skits are the heartbeat of the play, complete with fast costume changes, songs, and banter that had the audience laughing from start to finish.
Featured in the cast are Patrick Censoplano and Tara Brown as the betrothed Stanley and Kathy, Jamie Gallo and Evelyn Rudie as the always-wise mothers wanting the best for their families, and Paul Linke and Chris DeCarlo as the feuding fathers who finally agree to put their differences aside and create one big happy family for the sake of their kids – as well as keeping the peace with their wives. If only the rest of the world could be as easily convinced that hatred has no place here. And kudos to the technical creative staff, including set, lighting and multimedia designs by James Cooper, costume design by Ashley Hayes, incidental music by Steve Mayer, with a tip of the hat to Technical Director George J. Vennes III and Video Consultant Fritz Davis for all the scene-changing visuals.
While I am not a fan of the play's title and would prefer to see it changed, I do admit the actors in this play prove through the series of comical and educational skits that it is fun to learn about how much Jewish culture permeates our society in such positive ways. It makes the play a perfect match for Santa Monica Playhouse's Jewish Heritage Series, with 2023 marking the Fiftieth Anniversary of Chris DeCarlo's and Evelyn Rudie's continuing tenures as Co-Artistic Directors of Santa Monica Playhouse. 
Performances take place at the intimate The Other Space at the Santa Monica Playhouse,1211 Fourth St., Santa Monica 90401, on Saturday at 7 p.m. and Sunday at 2:30 p.m. through Sunday, June 25. There is parking available in a municipal structure directly across the street or at meters. Tickets are $35, available at the door prior to each performance, or in advance at www.santamonicaplayhouse.com or by phone at (310) 394-9779 ext. 1. Discounts are available for students, teachers, seniors, veterans, active military, and groups of 8 or more.