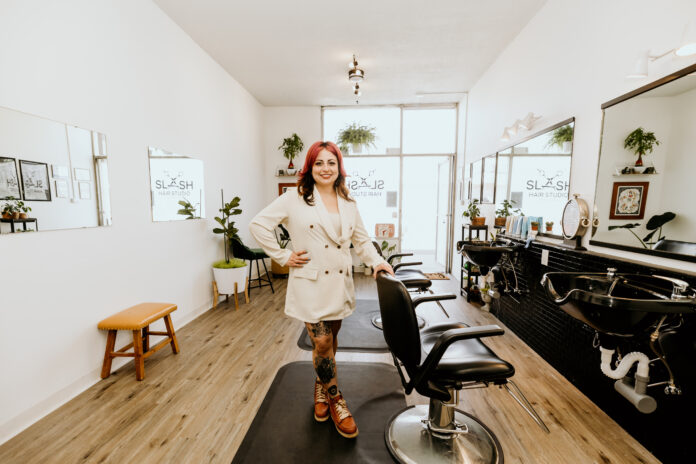 By Brett Callwood
Gardena residents are likely familiar with Leo's Clip Joint, the barber shop located at W. Redondo Beach Boulevard for half a century. While Leo's is now sadly closed, it's great to know that the same location is still dealing with hair thanks to the opening of the Slash Hair Studio.
Darlena Lawrason is the owner, an ingenuitive soul who started cutting her Barbie's hair when she was kid, then moved on to giving everyone Mohawks in high school.
"Following high school I started attending Redondo Beach Beauty College where I completed state requirements to test for license," Lawrason said. "After becoming a licensed cosmetologist I worked for Floyd's Barbershop, Mar Vista location on Venice Blvd."
Lawrason worked at Floyd's for five years, then started working at Rudy's on Main Street, Santa Monica. 
"Rudy's sold California locations to Fellow Barber and I worked at their Highland Park and Silverlake location," she said. "I moved to Riverside and rented a booth where I blossomed more into color. I missed the beach and my hometown. When I came back I was searching for a place I fit in close to home. I have always wanted to work with Leo (Leo's Clip Joint) but he preferred to work solo. When he retired and the space was available I jumped right on it. I wanted to bring all the knowledge I had acquired and my passion for hair to the neighborhood I love so much."
Lawrason is a local – she grew up in Torrance and Gardena where she attended Gardena High and North Torrance High. 
"After commuting to the west side and downtown L.A. for so many years, it was time to open a local hair studio where men, women, and kids can get a great haircut in a positive atmosphere," she said. 
Very knowledgeable about the history of Leo's, Lawrason is respectful of the memories that people have of the place.
"Leo's Clip Joint has been in the area for over 50 years, a well known spot to locals," she said. "Leo maintained it himself. Leo's was a collection of history and memories. People drove all over not just for a haircut but to enjoy his company."
Everyone is welcome at Slash Hair Studio – Lawrason can do it all.
"I do custom cuts and color catered to the individual's style and image," she said. "I do classic scissor cuts, edgy textured cuts, fades, tapers, face framing, fringe, bangs, and blunts cuts. I create highlights, root/gray coverage and absolutely love vivid colors."
Slash Hair Studio is located at 1601 W Redondo Beach Blvd, Ste 116, Gardena 90247. Call (424) 340-2550 for an appointment.