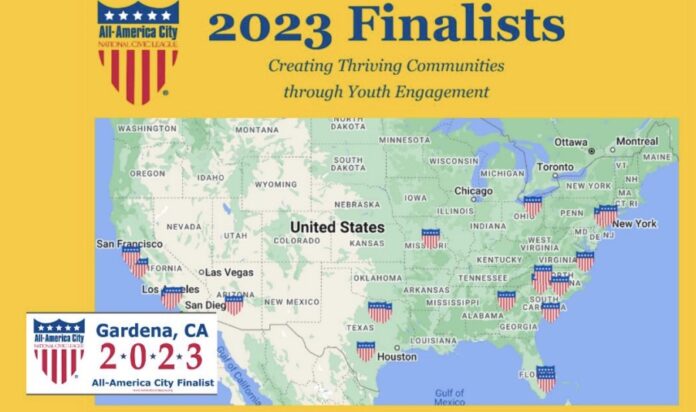 The City of Gardena has been selected as a finalist for the prestigious 2023 All-America City Award by the National Civic League (NCL). The All-America City Award recognizes communities that leverage civic engagement, collaboration, inclusiveness and innovation to successfully address local issues.
This year, a total of twenty finalists are being recognized for their work to improve the health and well-being of young people and, by extension, all residents. A primary focus was placed on communities that are authentically involving and welcoming youth in this work.
The application was prepared by the Recreation and Human Services Department in collaboration with the Gardena Police Department's Juvenile Justice and Intervention program.
For the next steps, the selected finalists will have to make a presentation at the NCL Conference to a jury which will be responsible for making the final selections. A total of ten communities will receive the All-America City Award. The conference will be held on June 9-11, 2023, in Denver, Colorado.
The City of Gardena is extremely excited about the prospect of our city being selected for the All-America City Award. The last time we received this prestigious award was in 1980, over 40 years ago.
To learn more about the All-America City Award, please visit: https://www.nationalcivicleague.org/2023-finalists/.