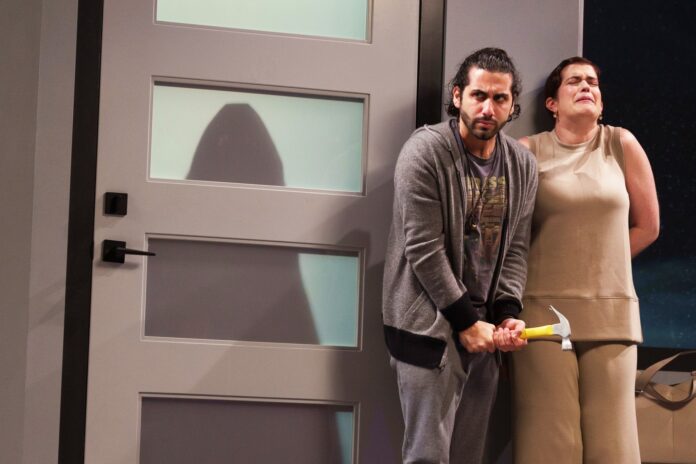 By Shari Barrett
THE ANTS by Ramiz Monsef takes place in a breathtaking safe house on a hill, complete with the most state-of-the-art security that excessive wealth can buy. But what should feel like a refuge for Nami, whose recent firing and eviction have forced him to crash at his brother and sister-in-law's luxury home run by The Brain, turns out to be anything but. For on this dark and fateful night, a violent uprising outside leaves them trapped in what they think is an impenetrable fortress in this spine-tingling allegorical social commentary that asks why we spend so much money protecting ourselves instead of investing in the betterment of our shared humanity.  
Perhaps you remember during the 2020 lockdown feeling trapped indoors while so many others gathered in the streets protesting social injustice, or how the number of homeless people increased. Were you scared about someone breaking into your place? Monsef goes one step further in The Ants, which takes place in the not-too-distant future when the real social apocalypse takes place, with thousands of homeless people working like ants to achieve a goal – to be indoors and feel protected in whatever homes they choose to take over. And, as it turns out, not even a secure fortress on top of a hill can offer as much protection as its occupants think it can.
Directed at a fast clip by Pirronne Yousefzadeh, moments of terror mix with horror as caged human beings fall apart mentally as the only available food starts to run out with no way to safely get more. Monsef's allegorical play offers audiences a close-up journey through not only fear for our own safety in this crazy world, but also how the determination to survive and keep what is yours, no matter the cost to others, ultimately can work against you. 
Featured in the cast are Hugo Armstrong as the voice of The Brain; Nicky Boulos as the fearlessly determined Nami; Megan Hill who gives a tour-de-force performance as the mentally-unstable Meredith, whose fear of strangers (xenophobia) intensifies as her home gets surrounded by the homeless; Jeremy Radin as The Pizza Guy (whose front door delivery is anything but normal); and Ryan Shrime as Shahid, the husband whose desire to always agree to his wife's wishes to keep her, the breadwinner, happy ultimately proves to be his fatal flaw. The production team includes Scenic Designer Carolyn Mraz, Costume Designer Dominique Fawn Hill, Lighting Designer Pablo Santiago, Sound Designer John Nobori, and Projection Designer Hana S. Kim. Their creative efforts together will keep your rapt attention as the plot twists and turns as people unravel before your eyes.
Performances of The Ants continue through July 30 on Tuesday – Friday: 8 p.m., Saturday: 3 and 8 p.m., Sunday: 2 and 7 p.m. at the Audrey Skirball Kenis Theater at Geffen Playhouse, 10886 Le Conte Avenue, Los Angeles 90024. Run time is 2 hours and 30 minutes, including one intermission. Tickets are priced at $39 – $129, available by phone at 310.208.2028 or online at www.geffenplayhouse.org  The show contain theatrical haze, loud music and sound effects, and strobe lighting effects. Due to profanity, it is recommended for ages 16+.  All Geffen Playhouse productions are intended for an adult audience; children under 10 years of age will not be admitted.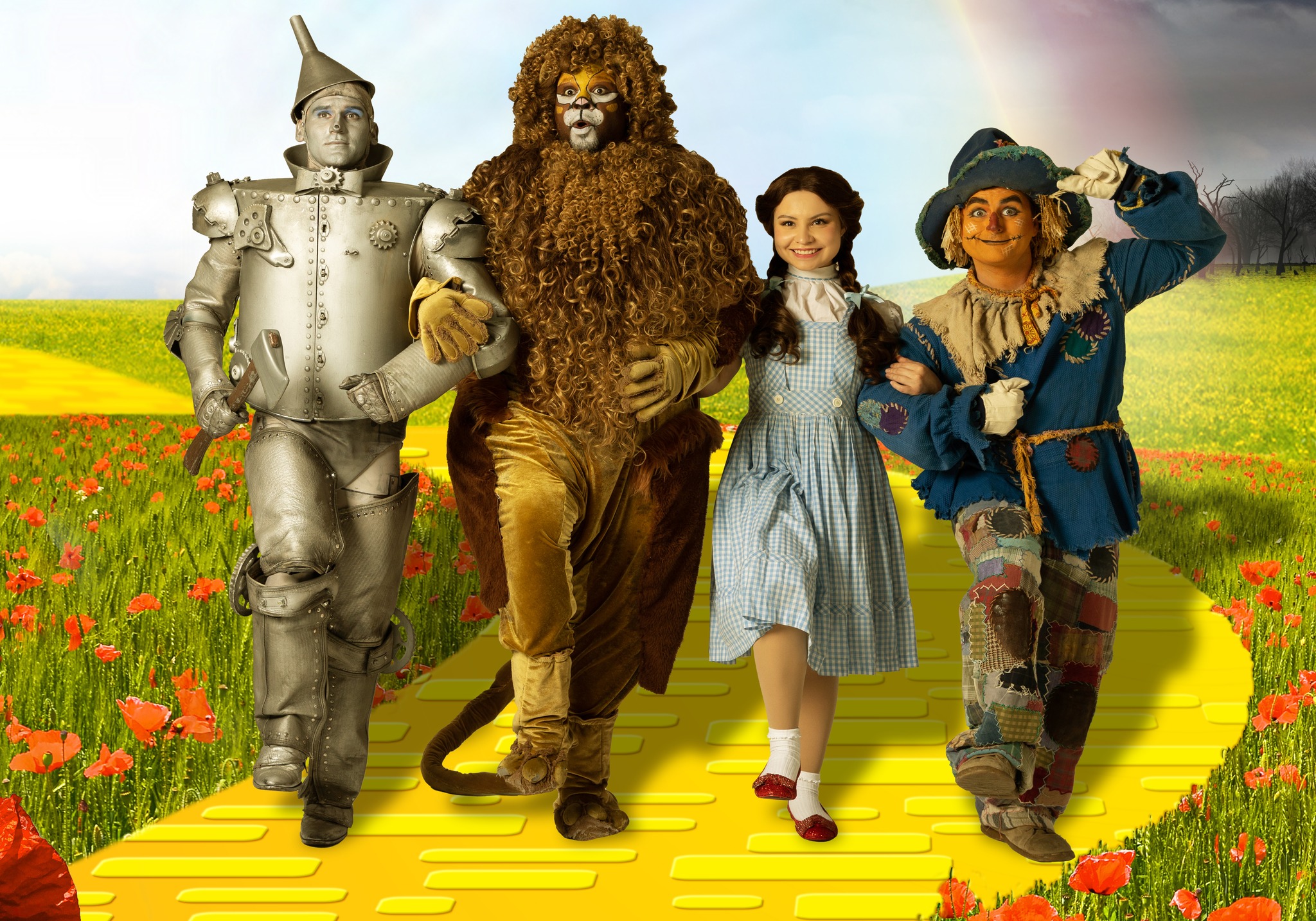 No doubt the classic 1939 film starring Judy Garland ranks among the all-time favorites with families around the world. And for good reason, given its message that no matter how far you roam, there's no place like home. Now I urge you to join Dorothy, The Tinman, The Cowardly Lion, The Scarecrow, and Toto too as they find friendship, courage, heart, and magic on the way to the Emerald City in Musical Theatre West's 2023 summer production of THE WIZARD OF OZ with Book by L. Frank Baum, Music and Lyrics by Harold Arlen and E.Y. Harburg, with Background Music by Kerber Stothart. The brilliantly staged and delightfully entertaining musical at the Carpenter Center for the Performing Arts in Long Beach is directed to perfection by Paige Price, with music direction by Ryan O'Connell and spectacular choreography by Jimmy Locust, and is a must-see for families of all ages!
Featured in the triple-threat, multi-generational cast are Leianna Weaver as Dorothy Gale, Erik Scott Romney as The Scarecrow, Michael James as The Tinman, William Hartery as The Cowardly Lion, Sarah Uriarte Berry as sparkly Glinda the Good Witch (who gets lowered like an angel coming to Dorothy's rescue), Erica Hanrahan as the green-skinned Wicked Witch of the West (who menacingly cackles as she flies over), versatile Jason Graae as Professor Marvel/the comical Gatekeeper/The Wizard of Oz, and Dennis Holland as Uncle Henry, with a multi-generational 22-member ensemble. And even more amazing, Toto is portrayed by Hank, a real-life terrier who plays the part to perfection! But then, so does every member of this extraordinary cast, even the youngsters who portray the Munchkins right down to the ballet-dancing Lullaby League and tough guy Lollipop Guild ruffians. And, of course, there are flying Monkeys, Scarecrow-threatening Crows, and angry apple-throwing Trees.
Leianna Weaver gives a tour-de-force performance as Dorothy, her innocence and trusting nature put to the test at every twist and turn. Weaver's comfort sharing scenes with Hank (Toto) thrilled the audience as did her wonderful renditions of classic songs such as "Over the Rainbow," with her effervescent character portrayal and movement a highlight during "We're Off To See The Wizard" and so many more! Romney, James, and Hartery bring the forever lovable Scarecrow, Tinman, and Cowardly Lion fully to life, each a triple-threat performer giving heartfelt renditions of their introductory songs, "If I Only Had a Brain," "If I Only Had a Heart," "If I Only Had the Nerve," with Hartery brilliantly regal singing "If I Were King of the Forest." Kudos to Musical Director/Conductor Ryan O'Connell and his 18-piece live orchestra for adding so much musical magic throughout the production that I guarantee you will feel like singing along on many occasions!
Adding to the wonder of the four skipping down the yellow brick road together, the curved stage apron in front to the orchestra pit is lit to resemble the yellow bricks needed for the four to dance their way to the Wizard of Oz, thanks to Scenic Designer David Arsenault and Lighting Designer Paul Black. And after being captured by the Wicked Witch, the same bricks turn a menacing red – then green when entering the Emerald City. The closeness of the apron to the audience really makes you feel as if the characters are your good friends taking you along on their journey to Oz together. 
Technical Director Kevin Clowes is to be congratulated for assembling such a magnificent creative team, each of whom add to the Broadway-caliber production. Kudos to Sound Designer July Ferrin, Bradley Allen Lock who accomplished the Herculean task of costuming so many characters to colorful perfection, and the backstage team for making sure so many scenes and costume changes are accomplished quickly.
The Wizard of Oz continues through July 23, including a special ASL-interpreted performance on July 14, at the Carpenter Performing Arts Center at Cal State Long Beach, 6200 E Atherton St, Long Beach 90815. Tickets are $20 – $135, available online at musical.org or by calling 562-856-1999. $15 student rush tickets available with ID at the door 1 hour prior to showtime. For more information, a full line-up of performances, and additional details visit https://musical.org/the-wizard-of-oz/ This is one of the top family-friendly musicals I have seen, and I encourage you to get tickets and take your entire family to make a magical, shared experience memory that will last forever! And be sure to take some souvenir photos in Oz-themed spots around the theatre lobby.