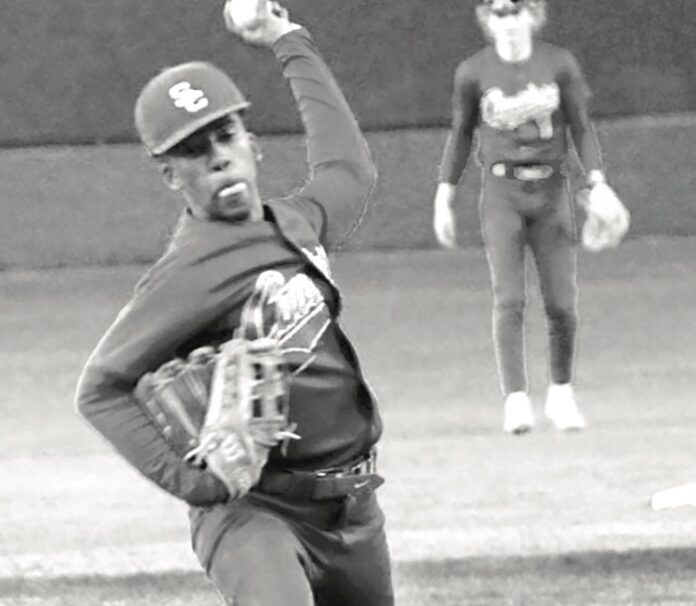 By Joe Snyder
After a poor start, Serra High's baseball team is finally reaching its expectations of being a top contender for the CIF- Southern Section Division III and Del Rey League championships with a large majority of its team returned from last year's league championship squad.
After a 1-9 start, including 0-3 in the Del Rey League, the Cavaliers won seven of their last eight games that includes a four-game league winning streak.
Last week, Serra began with a 5-0 non-league loss at Aquinas High in San Bernardino on April 3 but bounced back for a key 6-3 non-league win at Redondo on April 5. Last Saturday, the Cavaliers came home and won a 2-1 make-up Del Rey game over Lancaster Paraclete, a game that was postponed earlier due to rain.
On April 5, the Cavaliers, who improved to 8-10 over- all and 4-3 in league, jumped quickly on Redondo taking advantage of two Sea Hawk errors and three walks, along with two Serra hits, for three runs in the top of the first inning.
In a game where most of the overall runs were scored on walks, errors, hit batsmen and wild pitches, Redondo, which fell to 8-9 overall and is currently 4-2 in the Bay League, bounced back with two runs to cut Serra's lead to 3-2.
The Cavaliers, though, steadily pulled away with one run in the top of the third and two more in the fifth.
In the contest, the Sea Hawks used mostly their young and inexperienced pitchers and it showed, especially in the fifth inning when both Serra runs were scored on bases loaded walks. The Cavaliers scored two runs on one hit in that inning.
Redondo managed to score its last run by Matthew Hammond in the bottom of the seventh on a wild pitch but Serra relief pitcher Malik Balloue was able to hold down the Sea Hawks to avenge its 4-2 home loss on March 7.
"We got some good plays today," Serra head coach Art Per- ry, Jr. said on April 5. "It was a slow first inning as things tightened up. Redondo scored all of its runs without hits."
In all, the Cavaliers had eight hits to five for the Sea Hawks but both teams' pitchers combined for 19 bases-on-balls; 11 by Redondo and eight from Serra. Hunter Backstrom and Kelvin Martinez each had two hits for the Cavaliers. Backstrom drove in a run. Nigel Buckley and Cameron Smith each had a run-scoring hit.
Buckley drove in both Serra runs on a double in the bottom of the first in its win over the Spirits.
Serra will host Culver City in a non-league game Saturday at 2 p.m.
The Cavaliers resume league with two critical ones against Del Rey power Bishop Amat next week. Serra hosts the Lancers next Tuesday and visits Bishop Amat in La Puente on April 21 in 3:15 p.m. league games.
Last week, Gardena continued to struggle as it lost all three games in a Revival of Baseball in the Inner Cities Classic at the Los Angeles Dodgers Urban Youth Baseball Academy in Compton. The Panthers began on April 3 losing to Maywood Academy 5-2. On April 5, Gardena fell to Fremont 11-9. Last Friday, the Panthers lost their tournament finale to Bravo from East Los Angeles 7-3.
Against Fremont, sophomore Anthony Garcia sparked Gardena's offense by going 2-for-4 with two runs batted in and one run scored. Sophomore Marco Viveros had a hit and drove in three runs. Nate Guzman went 1-for-3 and scored two runs.
Senior Jerry Ramirez and freshman James Harris each had three hits for the Pathfinders. Ramirez drove in three runs and scored twice.
Against Bravo, senior Joseph Chavez went 3-for-3 with two RBI's, including a triple. Garcia was 2-for-3.
After visiting Rancho Dominguez Prep in Long Beach on Wednesday, the Panthers host Los Angeles Center of Enriched Studies (LACES) in a San Fernando Tournament game Saturday at 11 a.m. Gardena, which is 0-1 in the Marine League, returns to league action next Tuesday when it hosts Banning at 3 p.m.
In a non-league game at Bishop Montgomery in Torrance on April 4, Knight sophomore pitcher Pierson Howe threw a no-hitter as Bishop Montgomery defeated North Torrance 4-1.
The Saxons scored their only run off two Knight errors and two walks in the top of the fourth inning.
Pierson finished with eight strikeouts and three bases-on-balls.
North began its Pioneer League series against cross town rival and league leading Torrance on Wednesday at Torrance Park. The Saxons host the Tartars Friday at 3:30 p.m. North visits Lawndale next Wednesday at the same time. North is 4-12 overall and 2-4 in league. Torrance is unbeaten in six league games and are 14-2 overall.
Lady Cavs top Hawthorne in tough non-league game
Serra High's softball team picked up a key 6-4 home win over defending Ocean League champion Hawthorne on April 3.
The Lady Cavaliers improved to 4-4 overall and are 1-3 in the Camino Real League.
Serra hosted Bishop Conaty-Loretto High from Los Angeles in CRL play on Tuesday and will visit St. Joseph High in Lakewood in league Saturday at 10 a.m. The Cavaliers return home for a double-header against Pasadena La Salle next Tuesday. The first game begins at 1:30 p.m. and the second contest is expected to start at 3:30 p.m. The first contest against the Lancers and last Saturday's game against the Jesters are make-ups from earlier rainouts.
Neither Gardena nor North Torrance played games last week.
The Lady Panthers won their first Marine League game at Narbonne 27-6 on March 28 and visited Rancho Dominguez Prep in Long Beach last Tuesday. Gardena will be tested at Marine power Carson today and at home against San Pedro, currently ranked third in the CIF- Los Angeles City Section by Maxpreps, next Tuesday.
Both league games begin at 3:15 p.m. North's last game was on March 31 where it defeated host El Segundo 8-4 in a highly competitive Pioneer League game. The Lady Saxons hosted Wise- burn-Da Vinci from El Segundo last Tuesday and are at home for a non-league game against Bay League contender Manhattan Beach Mira Costa today at 3:30 p.m. North visits Wiseburn-Da Vinci Friday, before home games against West Torrance and league leading Torrance on Monday and Wednesday, in order, at 3:30 p.m. Both will be good league showdowns.
Area teams outstanding at Arcadia Invitational
Serra High's boys' and girls' track and field teams continued to not have it all there but did compete well in the prestigious nationally ranked Arcadia Invitational on Friday and Saturday.
Many were expecting Roderick Pleasant to compete in the 100- and 200-meter dashes being ranked among the tops in the United States in both events but, unfortunately, it did not happen.
The only event that Pleasant competed in was as anchor runner in the boys' 4×100-meter relay team as he, along with Cameron Williams, Dakoda Fields and Tre Harrison teamed for a second-place finish in the Invitational Division at 41.85 seconds. The Cavaliers finished behind winner Granada Hills Charter from the CIF-Los Angeles City Section which won the race with a national best time of 40.28. A week earlier, Pleasant en
tered his only 100 at the Trabuco Hills Invitational in Mission Viejo and won clocking 10.4. He ran just one 200 on March 25 in the Pasadena Relays at SouthPasadena High and won despite a subpar time of 21.88 due to heavy head winds that slowed down numerous races. As a junior last year, Pleasant had national best times of 10.14 in the 100 and 20.4 in the 200 and is still seeking to make history of breaking 10 seconds in the 100 and 20 in the 200.
When it comes to the CIF- State Track and Field Champi- onships on June 2-3 at Buchan- an High in Clovis, in fact, Serra will be concerned about the topprograms in the CIF-L.A. City Section. The Lady Cavaliers will be feared by Carson and the Colts, which also recorded the No. 1 time in California and the United States by rolling to a 45.51 timing to win the 4×100 relay. Runners included freshman Christina Gray, senior Ta Ahjah Fann, sophomore Kaitlyn Williams and senior Reign Redmond, also a nationally ranked sprinter.
With extremely stiff compe- tition in the 400 relay, Serra, which still is one of the tops in the state at this event, had to settle for the seeded division and won in 46.32. The team consisted of senior Brazil Neal, junior Mia Flowers and seniors Jaiya Fletcher and Zakuyah Wilson.
In the girls 100, Carson's Redmond finished third timing 11.56 and Neal placed sixth in 11.78.
Led by Neal, Serra's girls' 800-meter sprint medley relay team took third clocking 1:44.79. The Cavaliers' CIF-Southern Section Division IV rival Westlake Village Oaks Christian won the race at 1:44.41.
North Torrance High senior Spencer Cicarelli is climbing big in the pole vault after placing second in the boys' open division with a personal best mark of 14 feet, 10 inches and that mark is reportedly already a school record. He will be aiming for 15 feet or higher when he competes in the South Bay Track and Field Championships Saturday at West High in Torrance.
South Torrance High's Anthony Flowers also had a fine showing at the meet after finishing second in the open boys' 200 (21.81) and sixth at the 100 (10.66).
The Lady Colts, who already won CIF-L.A. City titles over the past four seasons and a California state championship in 2019, had outstanding performances in the field events. Lauren Williams had a third-place finish in the shot put with a toss of 38 feet, eight inches and Mi'ah Molette finished fourth at 37-5.
Most of the top athletes, par- ticularly from Serra and Carson, will compete in the Mt. San Antonio Relays in Walnut on Friday and Saturday.
Others are expected to compete in the South Bay Championships Saturday at West. Top events are expected to begin at 4 p.m.