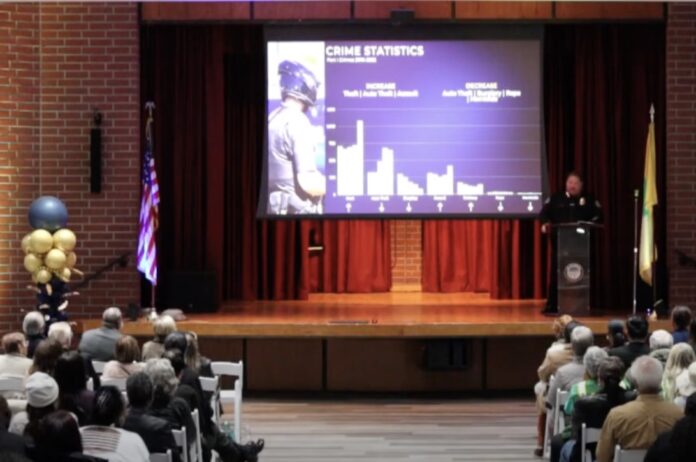 By Brett Callwood
Following Mayor Tasha Cerda's deservedly celebratory speech at last week's State of the City event, Chief of Police Mike Saffell took to the stage to express his love for the city that he serves.
Saffell thanked the City Council and staff, and detailed the success of the volunteer program, the explorers program, and the bike patrols. Chief Saffell then explained how the crime numbers fell in 2022.
"We at the Gardena Police Department appreciate this community, and the trust and relationships that we have built here year after year. With that, I'd like to thank this City Council for its leadership and vision that keeps us on track," Saffell said in opening.
He went on to praise the community for valuing our differences during a very divisive time.
"The idea that we can be hard on the issues but not on each other is a pillar of this community," Saffell said.
As for the crime statistics, Saffell pointed out that in 2022, the Gardena PD handled approximately 55,000 incidents.
"Of those 55,000 incidents, 32,424 involved face-to-face contact between one of our employees and a member of the community. So with regard to those 32,424 incidents, use of force only occurred in 0.136 percent of those interactions… arrest only occurred in 4 percent of those interactions. This is a significant accomplishment that demonstrates the professionalism of this police department."
Saffell concluded by praising his department for their community interactions, preventing a cycle of incarceration.
To view the full video, visit youtube.com/@CityofGardena