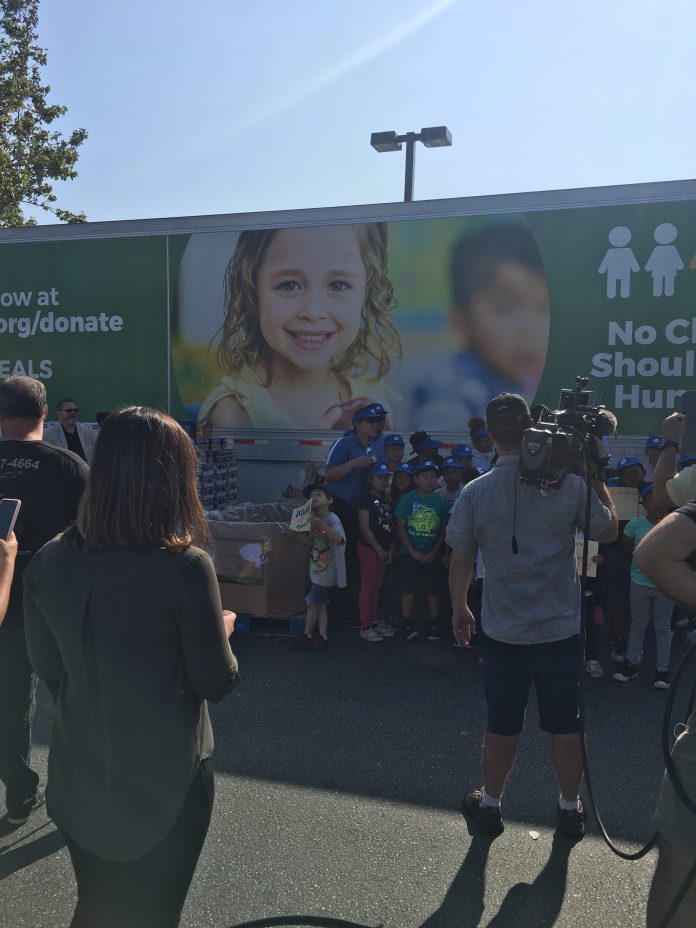 In the parking lot of an Albertsons in Gardena, CA, a "Stuff-A-Truck" food drive event was held to encourage donations towards the 8th annual "Feed SoCal Food Drive" on June 14.
The "Stuff-A-Truck" food drive event is a small component of the Feed Socal campaign in which spectators and participants are rallied to contribute to the drive by either donating cash to purchase $5 pre-planned meals for those in need or donate non-perishable food items.
A common misperception that pertains to people that receive assistance from food drives is that the majority of those individuals that receive it are homeless. Michael Flood, the president and CEO of the Los Angeles Regional Food Bank, highlighted some statistics that would suggest otherwise.
"The new homeless count showed (that) approximately 59,000 people [who] are experiencing homelessness," Flood said. "When you look at hunger, which is called food insecurity, it's more like 1.4 million people in LA county that are experiencing it, so it's you know something like 1 in 7 to 1 in 8 residents of LA county are struggling with food insecurity."
Those who are near or below the poverty line often struggle to provide sufficient meals to themselves or their household. When the majority of one's income goes toward housing, that leaves a hole in being able to provide sufficient supplies of food for oneself or a household.
The majority of individuals from LA county that experience food insecurity in fact have housing, but the difficulty affording it is what cuts through many people's spending power and, as a result, the ability to buy food.
"There are a lot of reasons why people may need food assistance, there could be health issues, it could be losing a job, but the number one issue, recently, that has come up over and over again, is the cost of housing," Flood said.
The definition of food insecurity boils down to the state of being without reliable access to a sufficient quantity of food, which means that these people do not necessarily have to be hungry everyday in order to fall under the category. But the essence of the issue is that these demographics are not consistently reaching the nutritional standards that every individual should be able to.
Food insecurity severely affects the Los Angeles county in which the region has some of the highest numbers when it comes to food insecurity for kids, adults, and seniors.
Melissa Hill, a community relations officer that helps coordinate food drive events, explained the incentives she had to participate in food drives beyond the positive and rewarding feelings she would get from aiding those in need.
"We have customers that come up and share with us that they want to donate because at one point in time, they've been a recipient of a food bank or a food pantry and they promised themselves that when they were able to, they would give back," Hill said. "So it's stories like that, that let you know you're helping the community and making a difference."
Every single Vons, Albertsons, and Pavilions in southern California will be participating in the food drive in which customers can purchase $5 meals which would be donated to those in need or have the option to donate non-perishable items.
The food drive campaign has been running since May 29 and will continue in the participating grocery stores until July 2.
Other organizations that have partnered up for the Feed Socal campaign are ABC7, Subaru, ESPN LA 710 and other southern california Regional Food Banks.
The Los Angeles Regional Food Bank is designed to bring in as much nutritious food as possible and get that out to the community and is involved in policy work. There are more than 37,000 volunteers that get involved with the organization.
For those interested in volunteering, visit the www.lafoodbank.org website which lists all the prerequisites and necessary steps to become part of the team. Ana Martinez, the organization's volunteer director, can also be contacted at (323) 234-3030.