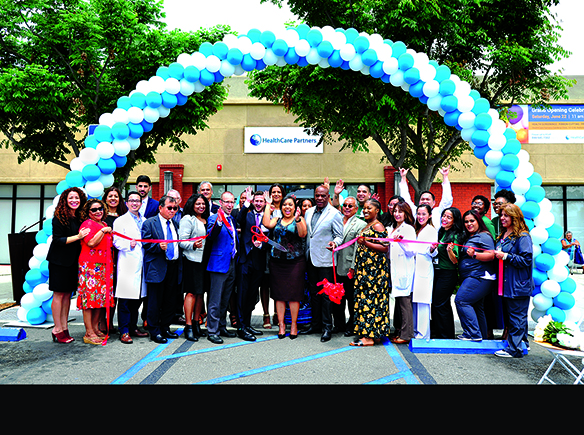 By Gary Kohatsu
Despite the June gloom on Saturday, HealthCare Partners officials threw a ribbon-cutting party and a portion of the community, including dignitaries and elected officials, came out to learn what the hoopla was about. The new clinic at 1212 W. Redondo Beach Blvd., features "updated exam rooms within a larger, single-story space and ample ground-level parking near the entrance for greater patient convenience," an HCP spokesperson said.
Visitors from the Gardena area picked up a "passport," which allowed them to visit various vendors at the celebration and earn raffle prizes.
"The new Gardena (clinic) supports primary care services, which, in addition to medical appointments, includes drawing blood and other tests, administering vaccines, x-ray services and providing appointment scheduling assistance with specialists or other health care service providers," a HCP official said.
Sen. Steve Bradford was on hand to present a certificate of recognition. Gardena mayor Tasha Cerda and Councilman Rodney Tanaka presented a certificate of congratulations, and various field reps were also on hand to honor HCP.
To serve the needs of the local Gardena community, the clinic is staffed with "teammates who speak Tagalog, Spanish, Hindi, Punjabi and Urdu."
Citizens had an opportunity to get free screenings, including tests for bone density, blood pressure and glucose, win raffle prizes, get their picture taken at a photo booth, enjoy a taco lunch, and tour the new clinic.
The Gardena clinic staff was introduced to the public, including Keith Ebilane, MD, and Dilpreet Julka, MD, both of Internal Medicine. A ribbon-cutting ceremony capped the afternoon celebration.
PHOTO CUTLINE
A GRAND OPENING TO YOUR HEALTH
Dignitaries and HealthCare Partners officials and staff gather to cut the ribbon to the Gardena Clinic's grand opening Saturday at 1212 W. Redondo Beach Blvd., Gardena. The celebration included a health fair, with health screenings, a deejay, more than 15 local vendors, a photo booth, raffle prizes and free food. VIP facility tours were also available, and the event was open to the community.
Photo by Gary Kohatsu