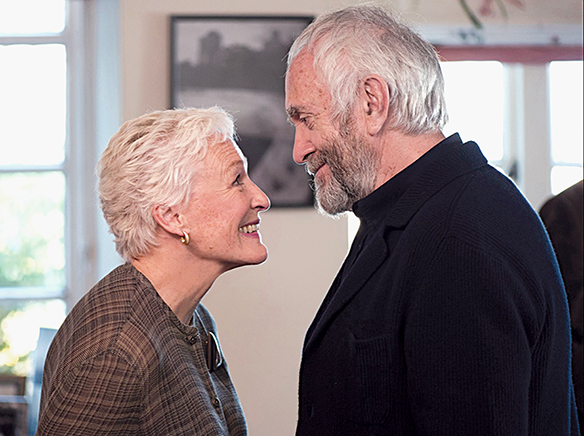 'Cats' purrs away at the Pantages
By Theda Kleinhans Reichman
Jane Anderson wrote the screenplay for "The Wife," based on Meg Wolitzer's popular novel. It is a bittersweet story about Joan and Joe Castleman (Glenn Close and Jonathan Pryce), who have been together for 40 years. The film begins as Joe gets a phone call telling him he has won the Nobel Prize for literature. He is obviously overjoyed, Joan seems less so. The reason for her stoic, reserved reaction to the good news becomes clear through a series of flashback.
Soon the couple are on their way to Stockholm to accept the coveted award along with their son David (Max Irons, the son of Jeremy Irons), an aspiring writer. It is clear that David wants to receive some recognition for his work from his self-absorbed father, but it is Joan who reassures him, not dear old dad.
On their flight to Sweden, they are approached by Nathaniel Bone (Christian Slater), who is eager to write Joe's biography. Joe doesn't want to be botherd, but Joan, ever the diplomat, tells Bone that this is not a good time to talk about it.
Through the flashbacks we learn that Joe was Joan's writing professor at Smith College. Unhappy in his marriage, he begins to lavish his attention on his prize student. The young Joan, who bears a striking resemblance to Close, is played by her daughter Annie Starke. Harry Lloyd is young Joe.
The flashbacks are interspersed between scenes in Stockholm prior to the Awards ceremony. Joe receives all the attention for his brilliant writing skills, while Joan is relegated to the background—ever the stoic good wife. But things eventually heat up at the hotel as verbal fights ensue and secrets are revealed.
Close's performance is subtle, yet powerful. Even when silent, her eyes and facial expressions speak volumes. Pryce, an excellent actor, is also pitch perfect as the husband.
"The Wife," rated R for language and some sexual content, is now available on DVD. Running time: 1 hour, 40 minutes.
*****
They say cats have nine lives, and composer Andrew Lloyd Webber's musical "Cats" is proof that singing and dancing cats have longevity as well. "Cats" ended its long Broadway run June 19,1997 after 6,138 performances. Now a touring production has come to the Pantages, bringing these Jellicle cats back to life yet again.
"Cats" is based on "Old Possum's Book of Practical Cats" by T.S. Eliot. Sir Andrew Lloyd Webber, a cat lover himself, set Eliot's whimsical poetry to music–and the result is "Cats." The most memorable song in the show is "Memory," sung by Grizabela (Keri Rene Fuller), a once glamorous cat who 'meows' sadly about better days which are now only memories. As always it is a highlight.
However if you have seen "Cats" before you will notice something very special is missing involving Asparagus, the old theatre cat (Timothy Gulan). Gus still sings briefly about the old days, but the clever Puccini like opera that made him a star in his youth has been completely removed in this touring production.
"Cats" at the Hollywood Pantages Theatre, 6233 Hollywood Blvd. L.A. ends March 24. For info, call 800-982-2787.