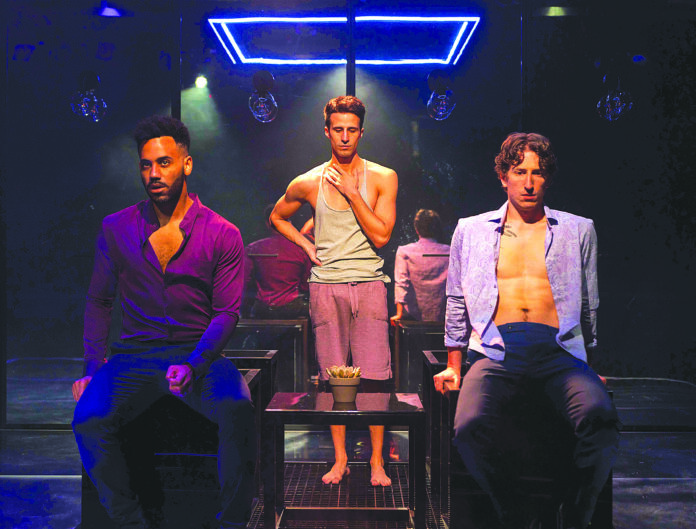 'Afterglow', the international hit sensation, is a raw, one-act play exploring the emotional, intellectual, and physical connections between three men and the broader implications within their relationships. When Josh (Noah Bridgestock) and Alex (James Hayden Rodriguez), a married couple in an open relationship, invite Darius (Nathan Mohebbi) to share their bed one night, a new intimate connection begins to form and all three men must come to terms with their individual definitions of love, loyalty, and trust as futures are questioned, relationships are shaken, and commitments are challenged.
This outstanding production features total male nudity, with all three men often appearing in their birthday suits from bed to shower to just walking around without an ounce of self-consciousness. And while that titillating aspect of the play might bring you in, I can guarantee that after the initial shock wears off, the totally heartfelt performances by all three actors whose chiseled physiques are just one aspect of their acting prowess will envelop you into the story. Their emotional journeys will astound you, pulling you into experiencing their fears as well as all the love and lust in their souls.
Ultimately, the play is about what happens when an open polyamorous marriage faces the challenge of an outsider whose casual hookup winds up shaking the foundation of that marriage. And while the three characters in this play are male, the story about relationships is universal. Just think about how many marriages you have seen end due to one of the partners falling in love with someone else and walking away.
The production features the original Off-Broadway team of designers whose artistry will astound your senses with their incredible technical wonders. Yes, I did say there are shower scenes thanks to the incredible set design by Ann Beyersdorfer which includes a fully functional, center stage shower that morphs from the large bed in which we first meet the three men! And every scene change is accomplished by the three actors, all done in character either clothed or not or somewhere in between. Lighting designed by Jamie Roderick is to be commended for all the incredible effects which take audiences from the steamy bedroom to a star-filled night up on the roof, to psychedelically lit, emotion-filled shower scenes.
Written and directed to perfection by S. Asher Gelman, 'Afterglow' has been extended through Sunday, July 24, 2022 on Thursdays at 8pm; Fridays at 8pm; Saturdays at 8pm & Sundays at 7pm on the Main Stage of the Hudson Theatre, located at 6539 Santa Monica Blvd., on Hollywood's Theater Row. Valet parking is available; please read neighborhood street parking signs carefully.
Ticket prices are $48 for General Admission; $69 for Premium Admission: Select your seat at time of purchase from our Premium Admission section. This ticket reserves one of the best seats in the house and includes a souvenir program!  There will be a talkback with writer/director S. Asher Gelman on Sunday, June 26 following the 7pm performance and an "influencer" performance on Thursday, June 30 at 8pm. For tickets or more information, please visit www.afterglowtheplay.com
The world premiere production of Rajiv Joseph's new work 'King James' at Center Theatre Group / Mark Taper Forum continues through July 3, directed by Tony® and Obie Award-winning director Kenny Leon, co-commissioned by Center Theatre Group and Steppenwolf Theatre Company. The cast features Glenn Davis as Shawn and Chris Perfetti as Matt, two friends who communicate best when they are talking and arguing about sports.
Basketball great "King" LeBron James' reign in Cleveland brings promise, prosperity and renewal to a city in desperate need of all three. His legacy brings Shawn and Matt together in an intimate exploration of the place that sports and athletes occupy in our emotional lives and relationships. It explores the star player's impact on Cleveland, from his rookie season to the city's historic championship, and the lives of two unlikely friends whose turbulent relationship is best navigated through their shared love of the sport in a verbal game of one-on-one. And although he is never seen in the show, LeBron James serves as a symbol for the hopes, desires and fears that these two characters have bottled up since childhood.
Tickets for 'King James' are currently on sale starting at $30. They are available through CenterTheatreGroup.org, Audience Services at (213) 628-2772 or in person at the Center Theatre Group Box Offices (at the Ahmanson Theatre) at The Music Center, 135 N. Grand Avenue in Downtown L.A. 90012. Performances run Tuesday through Friday at 8 p.m., Saturday at 2:30 p.m. and 8 p.m., and Sunday at 1 p.m. and 6:30 p.m. For the time being, Center Theatre Group will continue to require masks, along with proof of full vaccination, and a government- or education-issued ID at all their venues.
And don't forget the Hollywood Fringe Festival is taking place at 18 different venues, many with more than one theater, through June 26. For a complete list of shows by genre (Cabaret and Variety; Comedy; Drama; Events and Workshops; Immersive and Games; Musicals and Operas; Solo and Two Person Performances), location, date and time, visit www.hollywoodfringe.org. And be sure to pick up a copy of the Fringe guide at any of the festival venues you visit.