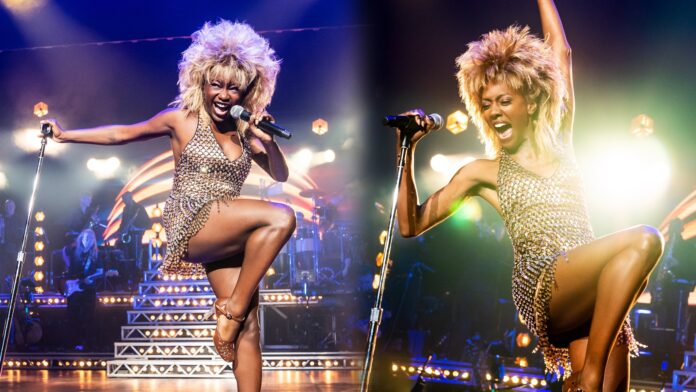 By Shari Barrett
An uplifting comeback story like no other, TINA – THE TINA TURNER MUSICAL is, to put it mildly, simply the best! It's an electrifying sensation that brings the essence of her stunning stage presence to life, set to the pulse-pounding soundtrack of her most beloved hits, including Let's Stay Together, Better Be Good to Me, I Want to Take You Higher, River Deep – Mountain High, Private Dancer, Proud Mary and What's Love Got to Do With It? One of the world's best-selling artists of all time, Tina Turner won 12 Grammy Awards and her live shows were seen by millions (this writer included) with more concert tickets sold than any other solo performer in music history. When she was inducted into the Rock and Roll Hall of Fame in October, 2021, Tina became one of only three women in the institution's history to be inducted twice (first in 1991 alongside Ike Turner).
Before her recent passing on May 23, Tina was deeply involved with the development of the Broadway musical that shares her inspiring journey from cotton fields in the South to a woman who broke barriers and became the Queen of Rock n' Roll. The hardships she endured from a cold-hearted mother and drunken father, her abusive relationship with Ike Turner who discovered Tina (then Anna-Mae Bullock) in St. Louis at age 17, to record executives who would not sign her simply due to the color of her skin, once she found the courage to stand up for herself and what SHE wanted to do with her life, there was no stopping Tina from becoming a worldwide sensation, working her way up the ladder as a single mother with two sons. And each step is told with brilliantly written and staged clarity to make you weep tears of both joy and heartbreak.
The cast is led by Naomi Rodgers (the talented triple-threat performer on the night I attended) and Broadway's Zurin Villanueva who evenly share the role of Tina Turner, each playing four (of eight) performances a week. Rodgers totally captivated the audience with her sincere portrayal of Tina's hardships and impeccably stunning stage presence stepping into Tina's performance shoes and sparkling costumes worn by the beloved singer. Honestly, each time Rodgers took to the stage singing, it felt just like seeing Tina in person again!
Featured among the strong supporting cast is Ayvah Johnson from Slidell, Lousiana, stunning in her portrayal of the young Anna-Mae learning to share her voice from revival meetings as a child through her early years picking cotton in the fields. Among her many Broadway roles, Johnson portrayed both young Anna-Mae and her sister Alline as a child in the original Broadway production. Other cast standouts include Garrett Turner as Ike Turner, Roz White as Zelma Bullock, Ann Nesby as Gran Georgeanna and Lael Van Keuren as Rhonda (manager of the Ike and Tina Turner review as well as Tina on her own), Parris Lewis as Tina's sister Alline, Zachary Freier-Harrison as Roger Davies, and Max Falls as Erwin Bach, Tina's husband she met in London at the start of her solo career. Aliyah Caldwell, Reyna Guerra, Takia Hopson and Parris Lewis add bursts of excitement as Tina's rocking back-up dancers.
Tina — The Tina Turner Musical is brilliantly written by Pulitzer Prize-winning playwright Katori Hall and directed to stunning perfection by Tony Award nominee Phyllida Lloyd with choreography by Tony Award nominee Anthony van Laast, extraordinary set and costume designs by Tony Award nominee Mark Thompson, musical Music Supervision, Arrangements & Incidental Music by Nicholas Skilbeck, eye-popping lighting by Tony Award nominee Bruno Poet, sound by Tony Award nominee Nevin Steinberg, wondrous projection design by Tony Award nominee Jeff Sugg, orchestrations by Tony Award nominee Ethan Popp, wigs, hair and makeup design by Drama Desk Award winner Campbell Young Associates, with superb casting by The Telsey Office.
Tina — The Tina Turner Musical originally opened on Broadway on November 7, 2019, and was nominated for 12 Tony Awards including Best Musical. DO NOT MISS your chance to experience this absolutely fantastic on-all-levels production locally at the Hollywood Pantages Theatre from June 13 – July 9 with tickets available at www.BroadwayInHollywood.com and www.Ticketmaster.com or by phone at (800) 982-2787. The show will then play two weeks in Costa Mesa at the Segerstrom Center for the Arts from July 11-23, 2023, with tickets available at www.scfta.org and by phone at 1-714-556-2787. Due to subject matter and depiction of physical abuse, this musical is appropriate for ages 14+.
Katori Hall's Olivier Award–winning drama THE MOUNTAINTOP reimagines what Dr. Martin Luther King's last night on Earth could have been after returning to the Lorraine Motel following the delivery of his history-altering "I've Been to the Mountaintop" speech. Settling in for night, King orders coffee from room service and encounters Camae, a mysterious maid with some surprising news. And as a lightning storm rages outside, the legacy of America's most revered civil rights leader is laid bare to reveal his profound humanity.
Tony Award nominee Jon Michael Hill portrays Dr. Martin Luther King, Jr. and Amanda Warren is Camae. Both give tour-de-force performances, with Warren delivering Camae's final quick-paced, future-revealing monologue with all the fiery emotional impact this call-to-action play so richly deserves. Hill embodies King's emphatic preaching style with enough deep-felt spirituality to make you feel as if you are attending one of his "grab the baton and run with it" sermons. 
Immaculately directed by Patricia McGregor, with scenic design by Rachel Myers, costume design by Mylette Nora, mood-enhancing lighting design by Lap Chi Chu, sound design by Cricket S. Myers, and incredible projection design by Yee Eun Nam, this is one production not to be missed, especially for admirers of King's impact on our culture.
Performances continue at the Geffen Playhouse, 10886 Le Conte Ave, Los Angeles 90024 through July 9 except dark on Tuesday nights. Run time is 90 minutes with no intermission. This production contains profanity and discussions of adult subject matter including violence and infidelity, herbal cigarette smoke, and strobe lighting effects. All Geffen Playhouse productions are intended for an adult audience; children under 10 years of age will not be admitted. Tickets at https://www.geffenplayhouse.org/shows/the-mountaintop/