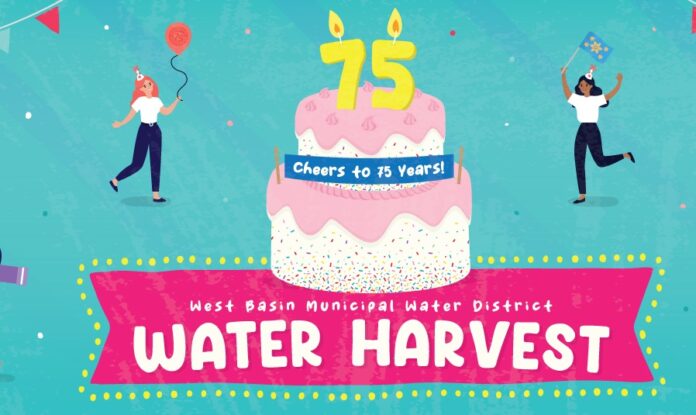 By Gary Luster
For the past 75 years, the West Basin Municipal Water District has been providing imported drinking water, recycled water, and water conservation information to more than 1 million people in 17 cities and un- incorporated areas of Los Angeles County. To celebrate the district's diamond jubilee year, a birthday theme will be part of its annual Water Harvest festival on Saturday, Oct. 22 from 10 a.m. to 2 p.m. at their El Segundo facility.
The free family-friendly event will feature interactive gardening booths, a costume contest for kids, aquarium touch tanks, stage shows, a lizard petting zoo, a painted rain barrel display, food trucks, prize giveaways, and water recycling facility tours.
"We have the stage shows "What's Your Water Footprint?" and "Water Wasters & Savers" to teach festival goers how to figure out how much water everyday activities use," said Amy Rocha, Manager of Communications for the West Basin Municipal Water District. "West Basin staff will show visitors how it turns wastewater into water for local irrigation purposes. Opportunity drawings include painted rain barrels, a water-efficient washing machine and toys donated by El Segundo based Mattel, among other prizes. There will also be a kids costume contest, and a new exhibit, the Wyland Foundation mobile learning experience, will be on-site."
Some of the agencies participating in this event will be the California Department of Water Resources, the Metropolitan Water District of Southern California, the Los Angeles County Sanitation District, and UC Master Gardeners.
Rocha said that in addition to local agencies, several local city officials will also be in attendance.
"We are expecting Mayor Pro Tem Dan Medina and Councilmember Wanda Love to attend the festivities," Rocha said. "West Basin Division V Director, and former Gardena Mayor and Councilmember, Donald L. Dear will be in attendance to represent the city of Gardena. In addition, due to redistricting this year, West Basin Division II Director Gloria D. Gray now also represents portions of Gardena. She will be in attendance as well."
Past Water Festivals have had as many in 1,200 in attendance and Rocha said they expect the same level of attendance this year.
In addition to the fun and games that normally occur at the annual Water Festival, is the important information for all Los Angeles County residents regarding water usage. Rocha said that an informed public is one of the goals of its annual Water Festival.
"When you know where your water comes from, the current level of these supplies – and in the third year of drought, they are low! – and how to be more ef-ficient with your water, then our communities tend to save more water to get us through the dry years," she said.
As for local residents, Rocha said that the way to stay informed is by maintaining regular contact with the water district so that they will be aware of any and all changes and updates so that they can grow in their knowledge of how their local water company works.
"We encourage our residents to connect with West Basin, Golden State Water Company and Metropolitan Water District so that they know what programs, rebates and incentives are available to them to help save water," Rocha said. "There are many free or lower-cost devices to save water both indoors and outdoors. One of the programs where there is still funding available while it lasts is a rebate starting at $3 for every square foot of grass replaced with drought-friendly landscaping. In some cases, Gardena residents may be eligible for free design assistance and a drought-tolerant tree."
The West Basin Municipal Water District was formed in 1947 after a vote to make local water supplies more reliable through the protection of local groundwater sources and identification of new water sources.
West Basin is a wholesale water agency that not only serves one million residents, but through its Water for Tomorrow Program, is committed to protecting, diversifying, and securing the local water supply for the future while continuing to educate the public on the importance of water conservation.
The Water Harvest Festival will take place at the West Basin Edward C. Little Water Recycling Facility at 1935 S. Hughes Way in El Segundo.
For a full schedule of events, please visit westbasin.org/waterharvest.