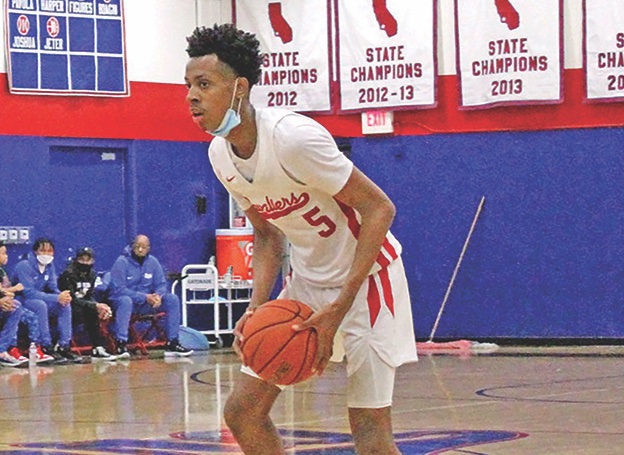 By Joe Snyder
Last season, Serra High's boys' basketball team had a good showing by advancing to the CIF-Southern Section Division IIAA quarterfinals before falling to host Village Christian High in Sun Valley.
The Cavaliers lost most of their team that included three-time all-CIF Southern Section player Jeremy Dent-Smith, who moves on to play basketball at Cal State Dominguez Hills in Carson next season.
Serra High head coach Bernard McCrumby is faced with mostly a young and inexperienced squad but does have some talent. Among those is returning starting senior Laqwon Cole. Cole averaged about 11 points per game as a junior last season, that saw the Cavaliers tie for third place with Long Beach St. Anthony in the brutal Del Rey League.
Other players to watch appear to be returners, senior Joel Balthazar and sophomore Andre Brown.
"We're a young team," McCrumby said. "We graduated eight players. We're young but talented. We have a lot of underclassmen who have to grow in their new positions."
Over the summer, Serra played in the Section 7 Tournament in Glendale, Ariz. The Cavaliers lost all four games in that classic, which included some of the top teams in the United States.
The Cavaliers played in their own tournament, at Mira Costa in Manhattan Beach and South Pasadena High. Serra managed to win eight of their last nine summer games including an eight-game winning streak until falling to Lakewood Mayfair 53- 49 last Thursday at Serra.
Earlier that day, the Cavaliers downed El Segundo Wiseburn Da Vinci 60-46.
The Cavaliers begin the 2022- 23 season in November. Serra will continue to play in the rigid Del Rey League, led by Playa del Rey St. Bernard, Torrance Bishop Montgomery and St. Anthony.