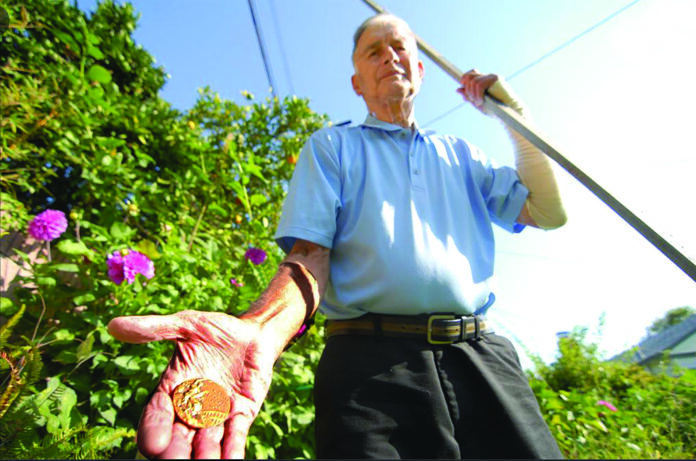 Everyone has a talent, whether it be in singing, acting, science, or technology. However, just because one has a talent doesn't mean that they will use it to its full potential.
Gardena resident George Stanich is different.
Having discovered a talent for athletics early in life, Stanich, 92, poured all of his effort and energy into excelling in that arena to the point where he not only played for legendary UCLA college basketball coach John Wooden, but also did a stint as a professional baseball player with the Oakland Oaks, the farm team for the Oakland A's, and competed in the 1948 Olympics as a high jumper.
During his first year at UCLA, Stanich's track team went to Minnesota to participate in the Olympic trials. Elvin Drake, the namesake of UCLA's Drake Stadium, was Stanich's track and field coach.
Unfortunately, Stanich did not qualify for the trials in Minnesota, but he had one more opportunity to make the Olympic team in Milwaukee. Stanich came in 8th, but two previous jumpers had already qualified so he made it in as the last qualifier out of a field of 12.
He took an 8-day boat trip to London and on the way met several of the athletes competing in various other sports.
For a guy who barely made the '48 United States Olympic team, Stanich did pretty well in London: he won the bronze medal in the high jump event. representing the United State as well as the Los Angeles Athletic Club. 
According to his Wikipedia page, Stanich was one of 26 participants in the high jump trials and one of four competitors who cleared 6 ft 4.75 in (1.95 m). Officials from the International Amateur Athletic Federation initially announced that fewer misses would be used to determine the finishing places of the four tied jumpers; the IAAF then announced all four would share second place and the silver medal.
Days later they reversed themselves again, and Stanich became the bronze medal winner. The gold medal was won with a jump of 6 ft 6 in (1.98 m).
As a young man growing up in Sacramento, he was always into athletics. He attended  Sacramento High School and Sacramento junior college before transferring to UCLA where he played three sports: track and field, baseball, and basketball his first year at UCLA in 1947. 
"Most athletes just play one sport and some rare athletes played two but I was one who had good God-given athletic talents and I ended up playing three sports," Stanich said.
Stanich played basketball at UCLA as a guard a year before legendary UCLA basketball coach John Wooden came to the school and when Stanich came back from the Olympics, Wooden was his coach. During his senior year, Stanich became the first of 24 Bruins to be named as a first team all-American player by Converse and his team went to the NCAA tournament, giving UCLA their first appearance there in 50 years. 
As a Bruin baseball player, Stanich was a pitcher for 3 seasons, including throwing a 5-hit shutout as a sophomore as UCLA beat USC for the first time in five years. He went on to join pro baseball as a pitcher for the Oakland A's farm team the Oakland Oaks who signed him. He played two years with the pacific coast conference (now the Pac 12 conference).
Looking back on a long athletic career, Stanich feels proud and blessed that he was able to take advantage of his natural athletic abilities. His athletic talent helped him get an education. He has a BA and a Masters and was able to get a junior college job. He had his teaching credential. He went to Torrance High School. 
A year later, he got a job at El Camino where he spent 38 years, 15 of which were coaching basketball. He taught every subject in P.E. at the school. He took a sabbatical after 15 years and went with his family to Split, Croatia. They lived there for a year in 1971 and he coached basketball. He coached his team to a national basketball championship which they had never won before. 
Even at the age of 92, Stanich continues a healthy weekly regimen. He still works out in a pool twice a week to maintain his health and does lots of stretching exercises. Stanich still drives and twice a week drives to a pool facility on Crenshaw Blvd and Skypark which is close to Zamperini Stadium in Torrance. He goes to a pool facility in Torrance behind what used to be Palos Verdes Bowl. 
Stanich has been a PE teacher and a weight training teacher so he knows all of his exercises. He does his stretching and once in the pool he stretches out more. He uses noodles to go into the deep end of the pool where he flutter kicks. He does this for 30 minutes as a cardio workout. 
He then comes home, eats a peanut butter sandwich and then goes to bed right away. He has been doing these pool workouts for the past eight years.
"I'm 92 but I'm shooting for 110," Stanich said. "I don't know if I'll ever make it but I'm day to day."