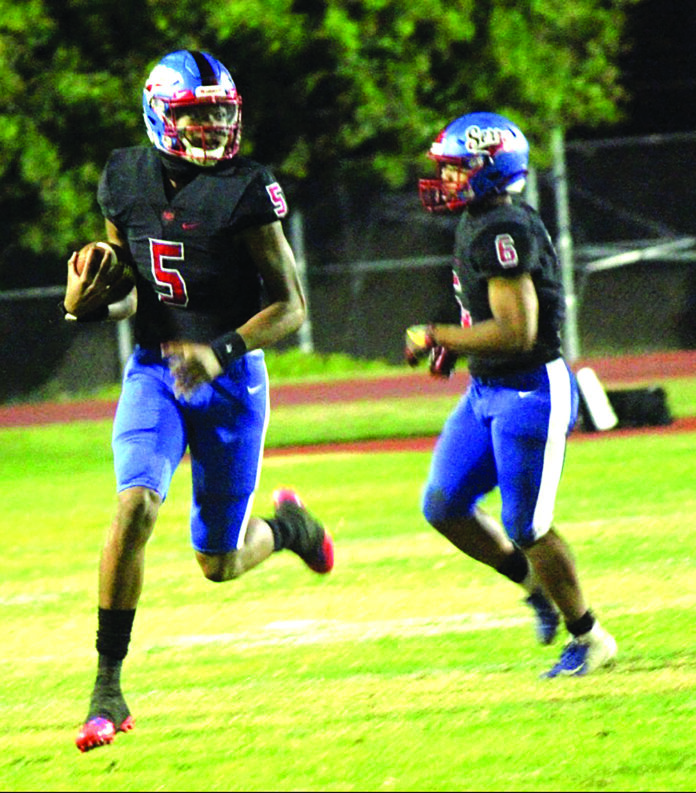 With a mostly young and inexperienced team, Serra High's football season that played through April still enjoyed a 4-2 Spring 2021 season. That spring ball should have been the fall 2020, and included 4-1 in the Mission League and tying with Mission Hills Alemany for the league crown.
Due to football and a large majority of other prep sports being at an unusual time because of COVID-19 delays, there were no CIF-Southern Section or CIF-State playoffs.
The Cavaliers had only five seniors on that squad. The returning players are already gearing to bring back the normal Fall Ball 2021 season that begins Aug. 20 on Serra's new athletic field turf against Orange Lutheran.
"This past season sets us up for the coming season," Serra head football coach Scott Altenberg said. "We have a great quarterback coming back and we'll be pretty good this year."
The starting Cavalier quarterback, Maalik Murphy, enjoyed a very good junior season, despite being just six games, as he enters his senior year. Murphy already committed to University of Texas after graduation in early June 2022. He was named the Daily Breeze South Bay Newcomer of the Year. Murphy, though, played several games in the 2019 season as a sophomore.
He was already named to first team all-Mission League as was Daily Breeze South Bay Defensive Player of the Year Lando Brown. The senior linebacker was already named to first team all-Mission League as was Daily Breeze South Bay Defensive Player of the Year Lando Brown. The talented backer is one of just five players leaving, but he is expected to play at El Camino College this fall as he looks to improve his grades and skills to get to a major four-year college.
Others who made all-Mission first team include senior running back Elijah Brown, senior cornerback Tracy O' Dell and senior wide receiver-cornerback Devin Ford.
O' Dell is headed to University of Nevada at Las Vegas and Ford will play at Weber State University in Utah. Devon Kirkwood did not play last spring, but he has already signed at UCLA.
Second team players include junior wide receiver Darion Anderson, sophomore linebacker De Angelo Davis and speedy sophomore cornerback Roderick Pleasant, who also had a probably even more stellar track and field season by breaking national sophomore class records in the 100- and 200-meter dashes with times of 10.32 and 20.59 seconds, in order, at the California State Championships on June 26 at Arcadia High School.
The new synthetic turf football field will be what the Cavaliers look forward to playing on. With Serra playing all six games on the road due to construction of its new field, the Cavaliers are expected to play six of their 10 games at home, three of five each in non-league and league.