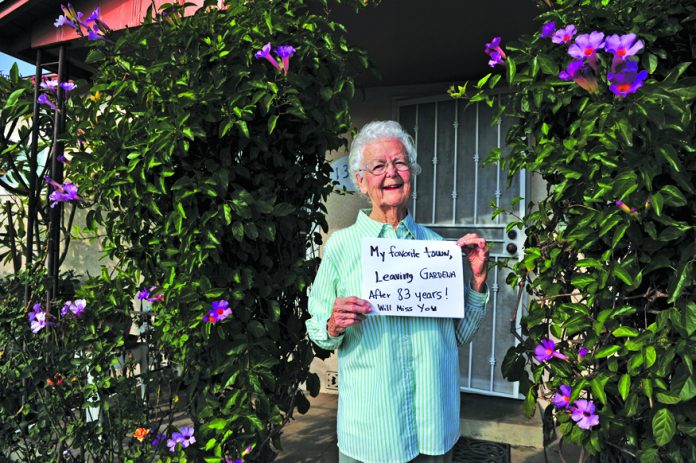 Devoted Gardena woman making move to Oregon to be near family
By Gary Kohatsu
It's Monday, Nov. 23 and the movers have arrived at her Gardena home.
Anna Steuwer is all dolled-up and flashing her best Sunday smile. As one of Gardena's most under-appreciated citizens, she is ready for the next step in her life.
Steuwer will stroll down her driveway for the final time; take a final look around the neighborhood and sigh. 
This is her last day in town.
Gardena has treated this woman well. And in turn, she has given back a wealth of kindness and love.
In anticipation of her big move out of state, she has packed away 88 years of happy memories.
"I have been blessed to live in this special town of Gardena," she says with some melancholy. "I have just sold my house and am moving to Portland, Ore., to be near my son and daughter-in-law. At 93, I feel I need to be near them."
She speaks with patience and ease. Her list of things about Gardena that she will miss can go on and on. But she keeps it short.
The library committee, she notes is a standout in her book. Steuwer has been a longtime member of the Gardena Valley Friends of the Library, a volunteer support group for the Gardena Mayme Dear Library.
She says she'll miss the officers of the Gardena Police Department. And the two police chiefs she got to know so well, including Mike Saffell. Steuwer evens mentions the monthly district police meetings.
"I'll miss my wonderful neighbors… and my own home," she says.
Every Friday afternoon for the past 10 years, she has played a game of Hand and Foot with eight friends. 
Eleanor Bersano, president of the Friends group, noted that Steuwer has a knack for getting involved in Gardena activities.
"Anna will be greatly-missed… she is so intertwined in the fabric of the Gardena community," Bersano says.
Steuwer's life experiences have also branched-out beyond the Gardena borders, she says.
"I have been able to travel to visit many countries in the world and have driven across the United States twice," she says.
Anna came into the world as one of five children born to Harold and Marguerite Garvin in 1927. Her first five years were spent in Salt Lake City, Utah, but the family moved to Gardena when she was 5.
"My father was a chef," she says. "He wanted to help his sister open a restaurant on Redondo Beach Boulevard and Western Avenue. It was located where the bank (now exists)."
Growing up in Gardena in the '30s was a treat, she says. It was an era where nobody locked their doors at night and playing in the street was as automatic as kids today firing up a computer.
"I remember how friendly all our neighbors were," she recalls. "I (remember helping) my neighbor make dill pickles. She always gave me a bottle."
Steuwer says as a child, she attended Gardena Elementary School and then Gardena High. As a student, she was middle-of-the-road academically.
The malt shop on Gardena Boulevard was a neat little hangout for teens back in the day, she says. So was Daniel's Cafe. For a brief period, the city had a walk-in movie theater across from the post office on Gardena Boulevard.
She says the kids in her days would dance after school in a building owned by the Purche family.
Anna played a pretty mean electric guitar in high school and even performed a Hawaiian song on stage.
"Someone from the stage crew accidentally pulled the plug," she says with mock alarm. "I was embarrassed. The choir teacher got mad at me."
During her high school days, Steuwer says she worked at Crown Drug Store. Her sales skills caught the attention of management, she says.
"I remember they asked me to sell some kind of drink — I think it had some kind of alcohol — and I sold every bottle," she says. "Also, I remember boys went straight to the pharmacist to buy condoms. They wouldn't approach me but I knew what they were buying."
She went on to work at the telephone company in Los Angeles, where she stayed for three years.
Steuwer admits to not getting help learning to drive and her first car cost her $40. Ironically, later in life she went to work for the Department of Motor Vehicle. Initially part-time, then full time.
She met her future husband, Bill Steuwer, at a gas station where she bought gas. The couple were married and lived in San Pedro. They moved to Gardena and raised three sons: Gary, a welder. He died a few years ago, Steuwer says. 
Son Ron is retired from the Navy shipyards, and her third son, Bill, is a retired teacher at  Narbonne High in Harbor City. Bill and his wife have since moved north to Oregon, where Anna plans to join them.
After retiring from the DMV, Steuwer says that she started doing volunteer work in Gardena. First, she delivered Meals on Wheels, twice a week.for about 15 years," she says. "Working weekly in our church thrift store in Lomita  for 20 years. Then, helping on our Gardena library committee with a lifetime membership."
Friend Bersano marvels at her friend's ability to affect others.
"Anna is more than special. She is a kind, thoughtful and generous human being," Bersano says. "She gives of her time and energy to support her community, attending city events such as  Mayor Tasha Cerda 's annual State of the City, Coffee with a Cop… and the installation of Chief Michael Saffell. She has attended such events for years."
Steuwer says she has also served as an usher for great stage shows in the evening at The Redondo  Beach Performer Arts Center and the Speakers Series. One of the perks was being able to hear famous speakers come from all over the world.
Her presence will forever be engrained in Gardena, Bersano believes.
"Anna will be taking a piece of Gardena with her to Oregon," Bersano says. "And Gardena will be bidding adieu to a part of its heart."
But all that is in the rear-view mirror as she begins the next chapter in her book of life one state to the north.