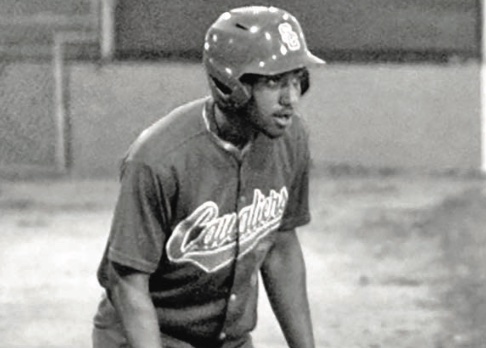 By Joe Snyder
After a poor start that saw Serra High's baseball team at 2-9 and losing its first three Del Rey League games to La Puente Bishop Amat, Pasadena La Salle and Lancaster Paraclete, the Cavaliers got red hot by winning nine of their next 10 games.
Included were revenge wins in the Del Rey League over Paraclete and LaSalle as well as in non-league against Redondo on April 6 but standing in Serra's way, last week, was La Puente Bishop Amat, which is currently ranked 11th in the CIF- Southern Section Division I.
The Lancers proved why they have been a long time Del Rey League power by sweeping the Cavaliers. On April 18 at Bishop Amat, the Lancers outlasted Serra 11-9. Last Friday at Serra, Bishop Amat completed the sweep with a 7-1 victory. The Lancers won all three games over the Cavaliers, who fell to 4-5 in league and in fourth place.
"We had a tough week," Serra head coach Art Perry, Jr. said. "We played good but it was not our week."
The Cavaliers' biggest highlight in the two games were two home runs apiece by Malik Balloue and Jarren Sanderson. Balloue had one homer each in the two games and Sanderson hit both of his on April 18.
Serra (11-13 overall) has a busy final week that includes three games against St. Paul High, one of those a make-up game from an earlier rain out. The Cavaliers began their three-game series against the Swordsmen at home on Mon- day before being at St. Paul in Santa Fe Springs Wednesday. Serra will host the Swordsmen on Senior Day today at 3:15 p.m. seeking to pull off second place behind Bishop Amat. The Cavaliers close their regular season against Maranatha in a non-league game at Jackie Robinson Park in Pasadena Friday at 6:30 p.m.
North Torrance improved to 6-4 in the Pioneer League by easily sweeping Lawndale last week. At Lawndale on April 19, the Saxons rolled to a 15-7 win over the Cardinals. Last Friday at North, the Saxons finished off Lawndale 17-5 in a five-inning mercy rule game.
Last Friday, North wasted no time on the Cardinals by scoring six runs in the bottom of the first inning, four in the second and seven in the third.
North also got off to a fast start in the game at Lawndale, scoring 12 of its runs in the first two innings.
In a critical series that is expected to decide third place in league, North visited cross town rival West Torrance Tuesday and will host the Warriors today at 3:15 p.m.
The CIF-Southern Section playoff pairings will be announced next Monday.
Gardena continued to strug- gle through this season with lopsided shutout losses to Banning in Marine League play last week.
On April 18 at Gardena, the Panthers were shut out by the Pilots 13-0. At Banning in Wilmington last Thursday, the Pilots quickly finished off Gardena 12-0. Both were five-inning mercy rule games.
The Panthers had three hits in each game. Nathan Guzman had a double in the first game.
Gardena continued the league at Carson last Tuesday and will host the Colts today at 3 p.m. The Panthers host Reseda in a San Fernando Showcase Tournament game Saturday at 11a.m. Gardena begins its final week at Narbonne in Harbor City next Tuesday at 3 p.m.
West named as new CIF-SS Commissioner
Mike West has been recently selected to replace the retiring Rob Wigod as the new CIF- Southern Section Commissioner.
West, 55, will begin his tenure on July 5, shortly after Wigod steps down at the end of June. Wigod, who is 64, was the Southern Section Commissioner since 2011.
Wigod has been through the time when the Southern Section had its 100th birthday in 2013 and had to face conflicts with the prep sports schedules that were marred by the COVID-19 Pandemic that forced the entire Spring 2020 and much of the 2020-21 sports to be canceled or postponed.
Also canceled when the COVID emergencies and shutdowns started in March 2020 were the CIF-State boys' and girls' basketball championships slated to be at the Golden One Arena in Sacramento.
The 2020-21 sports year was shrunk from the normal 10 months to just four where all three sports seasons were crammed into one that lasted from late February to late June 2021. Many schedules, including football, were smaller and most section and state championships were canceled.
West is currently principal of Martin Luther King, Jr. High School in Riverside, a position he held since 2015.
In previous times, West was president of the CIF-Southern Section Executive Committee. He served as member of the CIF-State Executive Committee and CIF-State Sports Medicine Advisory Committee. West also served as athletic trainer and athletic director at Chino Hills High and was assistant principal at Patriot High in Jurupa Valley.
West will be the 10th commissioner of the CIF-Southern Section, which was founded in 1913. It currently has 569 member schools.
San Pedro proves too much for Gar. HS
After a good start with wins over Harbor City Narbonne and Long Beach Rancho Dominguez Prep, Gardena High's softball team knew it was in for a big task against highly touted San Pedro in Marine League play last week.
The Lady Pirates continued to prove overwhelming to the Panthers with an easy sweep.
San Pedro began the week with a five-inning mercy rule 10-0 victory on April 17 at San Pe- dro. Gardena, then, came home to host the Pirates a day later. The Panthers managed to go the distance seven innings but were dominated 9-1.
Gardena's offense mustered only one hit in each game.
In the first game, the Panthers trailed 3-0 but San Pedro finished off Gardena by scoring five runs in the bottom of the fourth inning and two more in the fifth to finish off the mercy win.
The Pirates scored all nine of their runs, seven of those in the top of the second, in the first two innings on April 18.
Lillian Leslie had the Panthers' only hit whole Joclyn Morales scored a run in the second game.
San Pedro is currently ranked third in the CIF- Los Angeles City Section by Maxpreps.
On April 6 at Rancho Dominguez, the Panthers downed the Lobos 14-8.
Gardena visited Banning in Wilmington last Tuesday and will host Rancho Dominguez today at 3:15 p.m. The Panthers are at home against Carson next Tuesday and finish the Marine League at home against Banning next Wednesday. All league games start at 3:15 p.m.
Gardena is 4-4 overall and 2-3 in Marine action.
North Torrance is 8-2 in the Pioneer League and 16-5 overall after splitting two league games last week. In a league showdown on April 19 at North, the Saxons lost their second game to Pioneer leader Torrance 10-4. Last Friday, host North crushed a hapless Lawndale team 27-0.
The Saxons finished league by hosting South Torrance on Monday and visiting West Torrance Wednesday.
North is currently in second place at 8-2 and insured itself of a spot in the CIF-Southern Section Division II playoffs which begin next week. Pairings will be announced next Monday.
After a second-place finish in the Santa Fe League and making the CIF-Southern Section Division VI playoffs last year, Serra High's softball team continues to struggle in the Camino Real League losing all four games.
The Lady Cavaliers began last week on April 18 at home but lost to Pasadena La Salle 7-1. Last Thursday at Serra, the Cavaliers were crushed in a five-inning mercy rule game by Lancaster Paraclete 18-0. On Friday, Serra was routed by host Santa Monica St. Monica 13-3. Last Saturday at St. Joseph High in Lakewood, Serra was shut out by the Jesters 1-0.
After visiting Paraclete on Tuesday, the Cavaliers close league at home against St. Joseph today at 3:30 p.m.