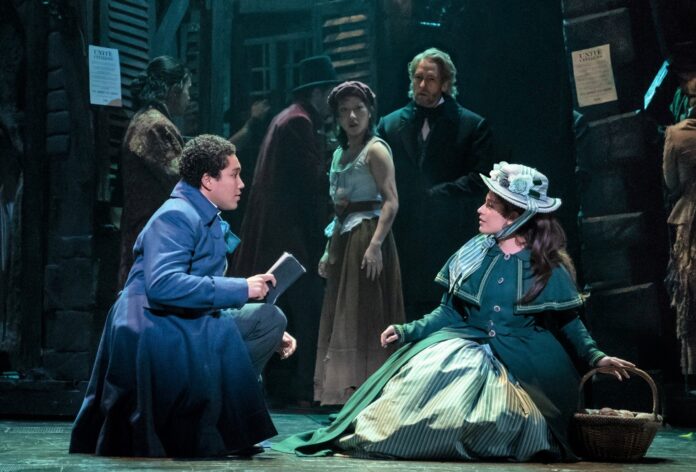 By Shari Barrett
Les Misérables is the world's longest running musical, a true modern classic based on Victor Hugo's novel featuring a memorable score with music by Claude-Michel Schönberg and lyrics by Herbert Kretzmer. As groundbreaking today as it was when it first premiered in London in 1985, the epic, grand and uplifting musical has returned for a limited engagement at the Hollywood Pantages Theatre before venturing down to the Segerstrom Center, certainly packs the same emotional wallop that has thrilled audiences all over the world. 
This award-winning musical about following your heart to independence and true love is set in 19th century France leading up to the French Revolution. The story centers around Jean Valjean (brilliantly portrayed by Nick Cartell) who is released from years of unjust imprisonment after stealing a loaf of bread to feed his sister's family. But after dealing with mistrust and mistreatment, he breaks his parole in hopes of starting a new life. The musical follows his lifelong struggle for redemption as he is relentlessly pursued by police inspector Javert (manifested to perfection by Preston Truman Boyd) who refuses to believe Valjean can change his ways. Eventually during the Paris student uprising of 1832, Javert must confront his ideals after Valjean spares his life and saves the student revolutionary Marius (Gregory Lee Rodriquez) who has captured the heart of Cosette (Addie Morales), Valjean's adopted and much-beloved daughter. I guarantee the lovers' back-to-back numbers about the glory and heartbreak of love, "In My Life" and "A Heart Full of Love" sung with Valjean and Éponine (Christine Heesun Hwang), will pull at your heartstrings while you wipe tears from your eyes. 
And of course, the humorous Thénardiers (Matt Crowe and Christina Rose Hall) and their gang of misfits had the audience in the palm of their hands during all their comical antics. And young Milo Maharlika fully embodies their energetic and outspoken son Gavroche (the younger brother of Éponine), who joins and inspires others to fight, only to be shot down and killed after venturing over the barricade to steal ammunition from dead soldiers.
This Broadway-quality, fast-paced touring production is not to be missed thanks to directors Laurence Connor and James Powell and their extraordinary creative team, including musical staging by Geoffrey Garratt, projections by Finn Ross and Fifty-Nine Productions, emotion-enhancing lighting by Paule Constable, period-perfect costume design by Andreanne Neofitou, Christine Rowland and Paul Wills, sound design by Mich Potter, with set and image design by Matt Kinley. Each element perfectly blends with the rest, making this production a feast for the eyes as well as the soul. Music director Brian Eads conducts the 16-member orchestra, with many local musicians adding to the fine caliber of their almost non-stop performance of the incredible score.
Les Misérables performances take place at the Hollywood Pantages Theatre, 6233 Hollywood Blvd, Los Angeles 90028, through September 10 on Tuesday – Thursday at 7:30 p.m., Friday at 8 p.m., Saturday at 2 p.m. and 8 p.m., and Sunday at 1 p.m. and 6:30 p.m. Tickets are available at BroadwayInHollywood.com or Ticketmaster.com, by calling 800-982-2787 or visiting the Hollywood Pantages box office. A digital lottery is in effect, awarding registered patrons 18 years or older with a valid, non-expired photo ID that matches the name used to enter, two tickets to a performance at a lower cost. The lottery opens 2 days prior to each performance at 11:00 a.m. with only one entry per person, per performance allowed. For lottery rules and to register, visit  www.BroadwayInHollywood.com/Lottery.
Performances take place at the Segerstrom Center for the Arts, 600 Town Center Drive, Costa Mesa 92626, from September 19 – October 1 on Tuesday – Friday at 7:30 p.m., Saturday at 2 p.m. and 7:30 p.m., and Sunday at 1 p.m. and 6:30 p.m. Tickets and more information available at www.SCFTA.org or by calling 714-556-2787.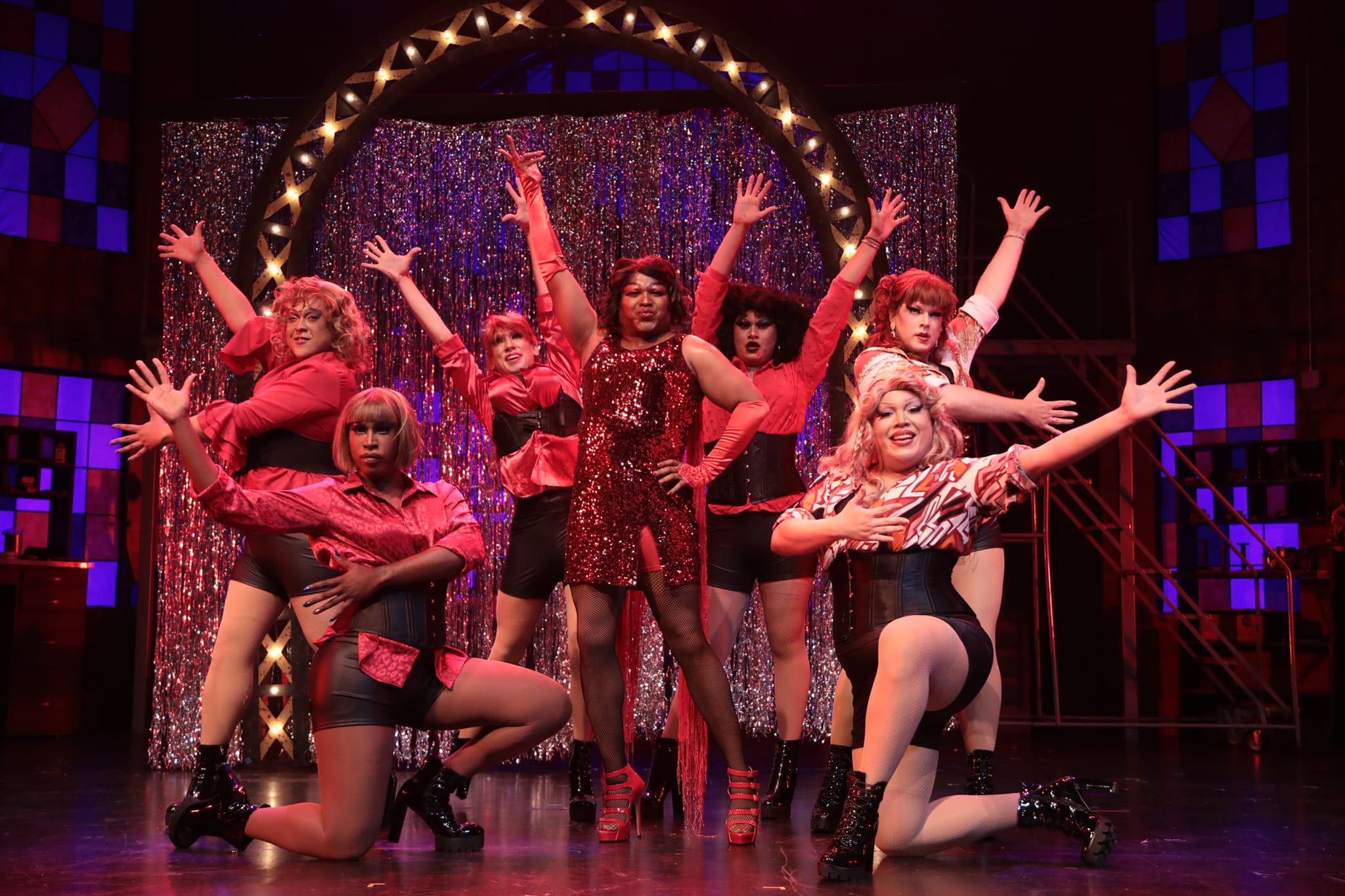 The Torrance Theatre Company kicks off their 24th season with the Tony Award-winning musical Kinky Boots based on the 2005 British film of the same name, which in turn was based on a true story featured in a 1999 BBC documentary named "Trouble at the Top." With a book by Harvey Fierstein and music and lyrics by '80s pop icon Cyndi Lauper, the musical premiered on Broadway at the Al Hirschfeld Theatre in April 2013 and received a season-high thirteen Tony nominations, winning six including Best Musical, Best Actor (Billy Porter as Lola), and Best Score for Cyndi Lauper. 
The story about accepting others as they are follows Charlie Price (triple-threat entertainer Zachary Quinn) who has reluctantly inherited his father's on-the-verge of bankruptcy shoe factory. Trying to live up to his father's legacy and save the family business, Charlie finds inspiration in the form of Lola (Steven Flowers in a star-making performance, especially during his solo "Hold Me in Your Heart"), a fabulous drag queen in need of some sturdy stilettos for performances with his Angels entourage (Andres de Dios, Niko Montelibano, Brett Popiel, Christopher Tiernan, Jose Tovar and Daniel Scipio) who shine each time they take the stage with Lola in color-coordinated costumes and stilettos too high to stand in! But these fine actors manage to dance their way around the stage with nary a wobble. 
As Charlie and Lola, the new shoe factory partners who work to turn the failing business around, the unlikely pair find that they have more in common than they realized, highlighted during their emotional duet "I'm Not My Father's Son." As they discover how when you change your mind, you can change your whole world, the show's finale erupts with acceptance during "Raise You Up/Just Be" with almost every cast member sporting their newly designed Kinky Boots on the runway of a Milan fashion show. 
Maura Lefevre as Charlie's fiancée Nicola and Samantha Labrecque as factory worker Lauren (a role she has been pursuing for many years) both shine while belting tunes or moving energetically around the stage. Other outstanding supporting players include Bradley Weaver as factory worker Don who torments Lola on how she dresses and then challenges her to a boxing match, Daniel Koh as factory manager George whose one-liners generated lots of laughs, and Allie Boettcher as Pat and Lisa Meert as Trish, two factory workers featured in the quick-paced and entertaining ensemble numbers.
Directed by the always hard-working Cary Jordahl, with vocal direction by Stephen Amundson, music direction by Bradley Hampton, choreography by Niko Montelibano, costumes by Bradley Allen Lock, lighting design by Steve Giltner for Streetlite LLC, hair and makeup by Michael Aldapa, with drag consultant Miss Clairvoyance, and stage manager Edgard de Dios, the production features a live twelve-piece orchestra, provided by Friends of TTC, with a 30-member ensemble from all over Southern California offering plenty of fun and excitement from start to finish. 
Kudos to the show's producer Gia Jordahl, Artistic Director of the City of Torrance, for her outstanding non-stop devotion to bringing the Torrance Theatre Company, a program of the Cultural Service Division of the Torrance Community Services Department, back to vibrant life since 1999. For more info on Community Services programs, classes, and events, visit the City of Torrance website at www.TorranceCA.Gov
Despite some sound issues on opening night, which no doubt will be non-existent during future performance, Kinky Boots continues at the James R. Armstrong Theatre at 3330 Civic Center Dr., Torrance 90503, on Friday August 11 at 8 p.m., Saturday August 12 at 8 p.m., Sunday August 13 at 2 p.m., Friday August 18 at 8 p.m., and Saturday August 19 at 2 p.m. and 8 p.m. Reserved seating as low as $25 is available by phone at (310)781-7171; online www.TorranceTheatreCompany.com, or at the Armstrong Theatre Box Office.