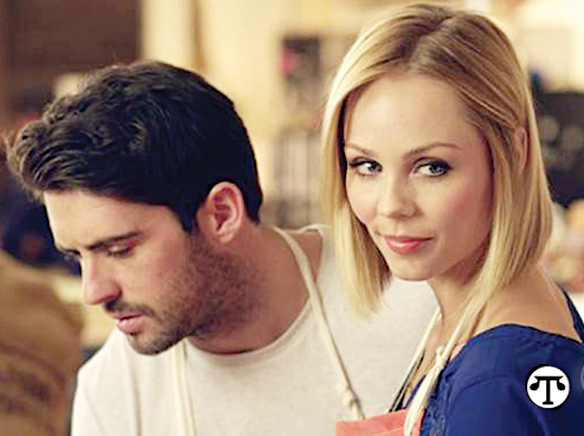 (NAPS)—A new movie offers a fresh take on the eternal struggle to find love, success and the perfect cup of coffee.
(NAPS)—A new movie offers a fresh take on the eternal struggle to find love, success and the perfect cup of coffee.
Airing on the UP network, the movie "Coffee Shop" tells the story of Donavan Turner, a smart, independent, 20-something woman looking for just the right blend of happiness in her life. The role of Donavan is played by fan-favorite actress Laura Vandervoort ("Smallville," "V"). Describing the role, she said, "It's about a character [Donavan] who is trying to find her place in the world and ends up falling for someone she never expected falling for."
The ensemble cast also includes Cory M. Grant ("Nashville," "All My Children"), Rachel Hendrix ("October Baby," "The Perfect Wave") and Jason Burkey ("October Baby," "A Long Way Off"), with Jon Lovitz ("New Girl," "Saturday Night Live") and Kevin Sorbo ("God's Not Dead," "Hercules: The Legendary Journeys").
Turner owns a hip neighborhood coffee shop in a quaint, scenic beach town and her specialty is matching people to their perfect, new brew. While she's been less than successful fixing her love life, Donavan enjoys her work and has the robust support of her sister Becky (Hendrix), Becky's boyfriend Kevin (Burkey) and the wonderful, eclectic family of her coffee shop regulars. Unfortunately, she's keeping a secret from them all. The new bank owner, Frank Miller (Lovitz), won't extend her loan and she's facing immediate foreclosure.
Things get further complicated when Donavan's ex-boyfriend returns to declare his love just as her clashes with Broadway playwright—and tea drinker—Ben Carson (Grant) get interesting. Ben is in town writing his new play for his producer (Sorbo).
With love brewing and financial ruin bubbling around her, Donavan realizes that her identity and self-worth are not defined by what she can accomplish alone. Instead, Donavan—and her community—can accomplish more together, which leads her to make choices she may not have before.
"'Coffee Shop' is a fun, modern, single-gal drama that puts main character Donavan—played by super-actress, the beautiful Laura Vandervoort—at a particular crossroads in her life, personally, professionally and spiritually," said Sophia Kelley, senior vice president of programming, UP. The film is directed by Dave Alan Johnson. He recently wrote and executive produced the Hallmark Movie Channel film "Christmas With Tucker." He also recently executive produced the feature film "October Baby." In addition, Birmingham-based popular singer/songwriter Mandi Mapes contributed an original song, entitled "In Your Arms."
"Coffee Shop" will make its world television premiere exclusively on UP on Sunday, Sept. 14 at 7 p.m. EDT/6 p.m. PDT. It will also air on Friday, Sept. 19 at 9 p.m. EDT and Monday, Sept. 29 at 9 p.m. EDT.
UP is the television network dedicated to uplifting viewers with original and premiere movies, reality and dramatic series, comedies and music specials.
To learn more, visit www.UPtv.com.