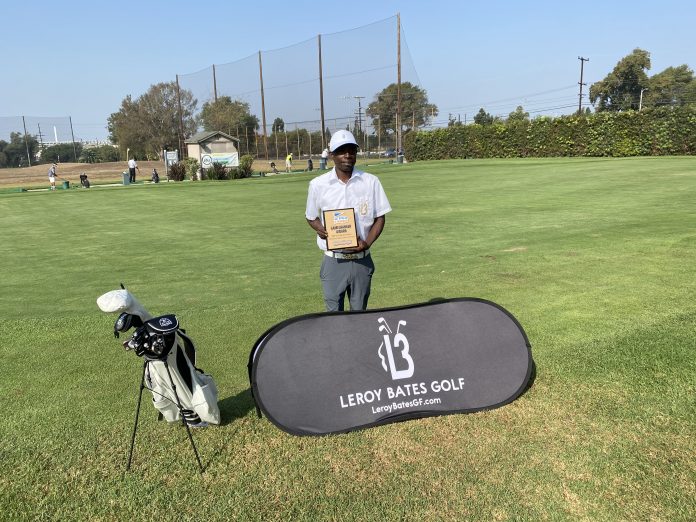 By Ronald Penh
Leroy Bates, 44, is a local golf instructor that was awarded the PGA Jr. League Gamechanger Award for helping to grow the sport of golf. He was among 25 golf coaches in the nation that was given the award.
Bates' program had the fourth largest program in the nation and the largest in southern California with a total of 182 members.
Of the 182 members, about 30 were Gardena residents, Bates shared.
His program typically trains at the Chester Washington Golf Course located on 1818 Charlie Sifford Dr. which is the closest golf course to Gardena, right outside of its city boundaries. Due to COVID-19 circumstances, however, his program now trains at the Rancho Park golf course located on 10460 W. Pico Blvd., Los Angeles, CA.
Bates' program has also helped to make the sport of golf easier to participate in by accommodating for individuals that are economically disadvantaged. The cost of membership for the program is valued at $300, Bates said, a price that would pose as a financial barrier to many. 
Individuals that are economically disadvantaged can reach out to Bates' phone at 323-202-6943 to discuss the possibility of a free or reduced membership. A qualification to receive financial assistance can be as simple as providing proof of one's residential address, Bates shared.
Bates also shared that the majority of the program's members from Gardena received financial assistance.
Bates has an illustrious golf career in which he won city championships for his high school, received a scholarship to play golf at Southern University, and went on to play professionally at the age of 21 with the PGA where he played against Tiger Woods in competition.
However, his genesis into golf was not easy, coming from a low-income family and being raised by a single mother.
"Tournaments were expensive, so I had to win to be able to compete," Bates said.
Since the pandemic, the program's membership has reduced to about 75 members. Practices still resume at a normal pace and individuals can still even participate in competitions.
Kenley Kyle is a parent of daughter Addison Kyle, 10, and son Palmer Kyle, 7, who have both been a part of Bates' program for two years. Being able to have multiple generations of his family come together for an activity is what made Kyle want to put his kids into a golf program.
"I see golf as a multigenerational activity," Kyle said. "How cool would it be to have us as a family — grandparents, parents, kids all in an activity together, that's something I was really attracted to."
Kyle also likes the skills that his kids learn from playing in Bates' program.
"(Bates is) fun to be around, he expects a lot (out) of the kids," Kyle said. "He encourages discipline, he also encourages learning and understanding the rules of the game…he teaches respect for others, taking care of your gear, being accountable, being on time, and he's a great communicator."
The program is for individuals aged from 7 to 17. For those that are interested in joining, you can contact Bates by phone at 323-202-6943, or by visiting the website www.leroybatesgf.com
A membership covers equipment such as clubs, bags, and range balls, uniform, competitive matches, and practice. 
The Gamechanger Award program started in 2019 to recognize PGA and LPGA Professionals who have grown their programs at their facilities and have created fun and inclusive experiences for families.