By Brett Callwood
At the City Council Meeting on the evening of Tuesday, July 12, new Council Member Wanda Love was sworn in, and took her place for the remainder of the meeting.
Departing Council Member Art Kaskanian was given a Resolution of Commendation and all of his former colleagues spoke fondly of their time working with him.
Departing City Treasurer Ingrid Tsukiyama was also given a Resolution of Commendation.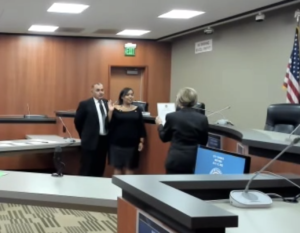 Mayor Tasha Cerda and City Clerk Mina Semenza, both of whom ran unopposed, took their Oath of Office again, as did returning Mayor Pro Tem Rodney Tanaka, new Council Member Wanda Love, and new City Treasurer Guy Mato.
Speaking after she was sworn in, Council Member Love said, "This has been a long day coming. I want to thank everyone who supported me, everyone that believed in me, everyone that got out and helped me win this election. They tell you, 'Don't make promises' when you're campaigning and you're an unelected official. But I will make one promise. That promise is, I will continue to be the person that I've been, the person that you elected. I will continue to do what I think is best for this city as a whole. I will promise to work as hard as I can on behalf of our residents."
The new-look City Council got straight to work approving the Consent Calendar, while Love's first directive for staff saw her request cell phones for Council Members.