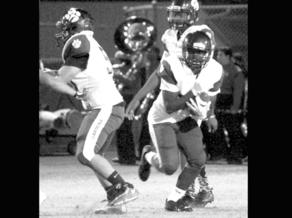 Coming into last Friday's Marine League game against CIF-Los Angeles City Section power Narbonne, Gardena High's football team was expected, by virtually all prep football observers, to get embarrassed.
That certainly happened to the Panthers. The Gauchos made things look very easy in a 62-0 blowout.
Despite the devastation, Gardena head coach Jim McElroy managed to look at some of the positives. The Panthers managed to make a few good plays that included a couple of sacks on Narbonne's standout quarterback Jalen Henderson and some breakthrough yardage gains.
"We fought hard," McElroy said. "We gave them a better effort. We showed fight despite the fact that we lost some players."
The Panthers were unable to reach the end zone and managed just 54 total yards on offense. Gardena, though, had a good kickoff return by Nehemiah Seale and a few first down plays.
With a very young and inexperienced squad that was also plagued with some key injuries, the Panthers found it completely impossible to hold down Narbonne as the Gauchos built a 49-0 halftime lead that forced the entire second half to be running time. Narbonne added two second half touchdowns. The Gauchos, in fact, scored on the first play of the second half on a 58-yard touchdown pass from Henderson to Joshua Jackson to increase their bulge to 56-0.
Narbonne added a fourth quarter TD on Henderson's 15-yard pass to Elijah Queen.
The Gauchos, who improved to 7-2 overall and 3-0 in Marine action, had eight different players score touchdowns, including two of those by Jackson. Narbonne, though, started fast by racing out to a 28-0 first period advantage then added three more TD's in the second quarter.
Gardena, which won two non-league games over Beverly Hills and Torrance Bishop Montgomery, did improve from the previous two seasons. In the 2016 and 2017 seasons, in order, the Panthers lost to the Gauchos by 78-0 and 76-0 scores.
On Oct. 15 at Gardena, the Panthers finished off their Marine League game with Carson and the Colts pulled away for a 42-7 win.
On Oct. 12, Carson raced to a 14-0 lead in the first six minutes but the contest was halted due to a lightning storm. The coaches and athletic directors of both schools agreed to resume the game three days later.
Gardena managed to cut the Colts' lead to 14-7 late in the first quarter when Quanta Pugh recovered a fumble and ran 70 yards for the touchdown.
Carson, though, finished the game with 28 unanswered points.
The Colts, meanwhile, went on to roll over rival Banning 41-14 last Friday at El Camino College to set the stage for the league showdown at home against Narbonne Friday at 7 p.m.
The Panthers close league at home against San Pedro, which is also 0-3 in league and 2-7 overall after a 44-14 non-league home loss to Chatsworth Sierra Canyon, one of the top teams in the CIF-Southern Section Division III, last Friday. McElroy feels that Gardena has a possibility of defeating the Pirates, who have done very well in the recent pass but are faced with a rebuilding season this year. The Panthers will seek to end their 13-game league losing streak. Gardena's last Marine win was against Washington, now in the Metro League, in 2015.
Serra Football
Playoff hopes fade for Serra after loss to Chaminade
By Joe Snyder
Serra High's football team is virtually out of contention for a CIF-Southern Section Division I playoff spot after falling at Chaminade 45-28 in a Mission League game last Friday in West Hills.
The Eagles have been a nemesis for the Cavaliers and last Friday was no exception. Chaminade scored on just the third play of the game by Serra. Jalen Fisher intercepted a pass by Cavalier quarterback Doug Brumfield and returned the ball 30 yards for the touchdown.
Serra tied the game at seven on a 1-yard TD run by Ronald Gillam but the Eagles took the lead for good when sophomore running back Jaden Jones scored on a 3-yard run.
In the second period, Chaminade increased its lead to 21-7 when quarterback Ryan Stevens completed a 42-yard pass to wide receiver Michael Cerhart. Serra, though, cut the Eagles' lead to 21-14 when Brumfield found Melquan Stovall from 16 yards out. Shortly before halftime, Stevens hit a screen pass to Erhart which ended in a 70-yard scoring play to increase Chaminade's lead to 28-14.
In the second half, the Eagles pulled away from the Cavaliers behind two more touchdown passes by Stevens from 22 yards to Tyler Daye and 48 to Blake Antzoulalos.
Down 45-14, Brumfield threw two TD passes. He completed 29 of 46 passes for 331 yards, three touchdowns and two interceptions. He also rushed for 58 yards on five carries. Stevens was 15-for-20 with 306 yards and four TD's. He threw no interceptions.
Serra hopes to close out the regular season with a win as it hosts Loyola High Friday at 7 p.m. Last Friday, the Cubs were routed by Bishop Amat 41-7. If the Cavaliers win, they have slim hopes at getting an at-large spot in the playoffs that will include Bellflower St. John Bosco, the No. 1 team in the United States and Santa Ana Mater Dei, still among the tops in the country despite its loss to the Braves on Oct. 13.
Prep Football Roundup
North inches in on second straight league title after routing Inglewood
By Joe Snyder
North Torrance High's football team clinched at least a tie for the Pioneer League championship after rolling over host Inglewood 44-0 last Friday at Coleman Stadium.
The Saxons, who improved to 7-2 overall and 4-0 in league, were led by quarterback Victor Puelles who threw for three touchdowns and scored another.
Stephen Bradford ran for two TD's.
North will be looking to win its second consecutive outright league crown as it visits cross town rival South Torrance Friday at 7 p.m.
West routs South: The West Torrance High football team remained in a solid second place and one game in back of leader North Torrance in the Pioneer League after blowing out South 49-7 last Friday at West.
The Warriors, who improved to 5-4 overall and 3-1 in league, were sparked by Xerxes Reamer who rushed for 182 yards and two touchdowns on 13 carries.
Reserve quarterback Dylan Cardenas, who replaced the injured Brandon Poffenbarger, added 157 total yards as he ran for two and passed for another.
West closes league against cross town rival Torrance at Zamperini Field Friday at 7 p.m.
Torrance falls to Morningside: Torrance High's football team fell to 2-2 in the Pioneer League after a 33-26 home loss to Morningside of Inglewood last Friday.
The Tartars will seek to upset rival West as they host the Warriors Friday at 7 p.m.
Carson pulls away from Banning: After a 14-14 tie, Carson High's football team finished with 27 unanswered points for a 41-14 win over Marine League rival Banning of Wilmington last Friday at El Camino College.
The Colts, who are 3-0 in league, took the lead for good when sophomore quarterback Ui Ale, son of head coach Arnold Ale, threw a 25-yard touchdown pass to Demoni Sanchez.
Leading 21-14 at halftime, Carson poured it on the Pilots that started when a 2-yard TD run by Devonte Lee. The Colts added a 5-yard scoring run by Lee and a 30-yard touchdown pass from Ale to Sanchez in the fourth quarter.
Ale completed 16 of 21 passes for 172 yards and two touchdowns. Sanchez had nine receptions for 109 yards and one TD. Kori Moe carried the ball 13 times for 91 yards.
After Carson took a quick 14-0 lead, Banning tied the game at 14 in the second period behind two scoring passes by quarterback Jake Otto, 32 to Diego Corona and 11 to Anthony Martinez.
The win set the stage for a Marine showdown between the host Colts and Narbonne Friday at 7 p.m. Banning has a bye week and hopes to receive a CIF-Los Angeles City Section Open Division of Division I playoff spot. The Pilots ended league at 2-2.
Bishop Montgomery routs CSH: Bishop Montgomery High's football team improved its Camino Real League to 2-0 after rolling over Cantwell-Sacred Heart 55-28 last Friday in Torrance.
The duo of running backs Matthew Origel and Kyle Moten proved too much for the Cardinals as they combined to score seven touchdowns. Origel rushed for four and Moten scored three.
The Knights will look to win the league title as they visit St. Monica High at Santa Monica City College Friday at 7 p.m. in their league finale.
Sports Scoop
Dodgers win National League title; seek first World Series crown in 30 years
By Joe Snyder
For the second straight year, the Los Angeles Dodgers Major League Baseball entered the World Series after finally finishing off the host Milwaukee Brewers 5-1 last Saturday at Miller Park.
Getting the save was Dodger ace starting pitcher Clayton Kershaw who set down the Brewers in order. It was not the only time that Kershaw came into the ninth inning with a save. Two years ago, Kershaw got the save when the Dodgers defeated the Washington Nationals in a National League Divisional series. In 2016, L.A. lost in the National League Championship Series in six games to the eventual World champion Chicago Cubs.
The Dodgers began the World Series at 106-year-old Fenway Park in Boston last Tuesday. The Red Sox, who finished the regular season with a Major League best 108-54 record, are solid favorites to win the title.
In 1988, though, L.A. was heavy underdogs against the Oakland Athletics, who also had the Major League's best record. The Dodgers went on to stun the A's four games to one that was highlighted by that famous Game One home run by Kirk Gibson giving L.A. a come-from-behind 5-4 win. The Dodgers, in fact, were even underdogs in the National League Championship Series against the Eastern Division champion New York Mets, who took L.A. 11 of 12 in regular season play. The Dodgers defeated the Mets in six games.
The Red Sox are dominating, especially on the road where they hold a combined 5-0 record in their wins over their rival New York Yankees in the American League Divisional Series and the defending World Champion Houston Astros in the ALCS.
Boston relies on its small ball on offense and has a well-balanced pitching staff. They also have good speed that includes seven players with 30 or more stolen bases. The Dodgers (92-71 in the regular season after a National League Western Division tie-breaking 5-2 home win over the Colorado Rockies on Oct. 1) hit more than 250 home runs as a team that include seven with 20 or more. Like the Red Sox, L.A. has good depth with their pitching but, at times, have been inconsistent. The Dodgers will need to improve on their consistency and make sure they get the clutch plays on offense and defense for any hope to upset Boston.
It will, without doubt, be whoever is the better team in the period that began on Tuesday and could last as late as on Halloween (Tuesday, Oct. 31).
Let's go Dodgers! Beat Boston!
ECC holds off Mt. SAC: El Camino College's football team jumped out to a 17-point halftime lead before hanging on for a 45-41 victory over host Mt. San Antonio College in a key National Central Conference game last Saturday night at Covina District Field.
The Warriors continued to be led by quarterback Grant Ferrauilo who completed 19 of 25 passes for 319 yards and four touchdowns, three of those to wide receiver Trevon Clark, who caught seven passes.
ECC took a 31-14 halftime lead but the Mounties came back with 20 unanswered points to take a 34-31 lead. That was part of Mt. SAC's 27-point third quarter that also saw the Mounties lead 41-38 on a 95-yard pass play from quarterback Steven Nava to wide receiver Chris Jackson.
El Camino finally scored its eventual winning TD on a 74-yard pass play from Ferrauilo to Clark early in the fourth period.
The Warrior defense did the rest in holding down Mt. SAC in their first victory over the Mounties in the past several seasons.
ECC, which improved to 5-2 overall and 2-0 in conference, will host Palomar in its annual homecoming game Saturday at 6 p.m.