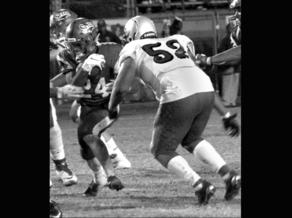 After losing its first two Mission League games and facing the possibility of missing the CIF-Southern Section playoffs for the first time since 2004, Serra High's football team kept its hopes alive by upsetting Alemany High from Mission Hills 26-15 in the Cavaliers' annual homecoming game and in a thunder and lightning storm last Friday.
The Serra-Alemany game, in fact, was one of the very few South Bay games to finish. Virtually all other contests, including Carson and host Gardena in a Marine League battle and a Pioneer League showdown between host North Torrance and West Torrance, were called off due to the freak storm that included dangerously close lightning and heavy rain. Both of those games, were in fact, homecoming for the Panthers and Saxons.
Junior quarterback Doug Brumfield continued his outstanding showing in leading the Cavaliers, who improved to 4-4 overall and 1-2 in league. Brumfield completed 16 of 23 passes for three touchdowns.
The Warriors, who fell to 6-2 overall and 2-1 in Mission play that included an impressive 31-14 victory over highly regarded Chaminade a week earlier, took a 15-13 halftime lead shortly after Basillio Vives converted on a 29-yard field goal.
Serra started the second half on a good note that began with a 10-yard run by junior running back Jaylon Armstead and a 46-yard pass from Brumfield to wide receiver Justin Lockhart that put the ball on the Alemany 15-yard line. The drive finished with three runs from Armstead as he ended it out with a 3-yard TD run to give the Cavaliers a 20-15 lead.
The Cavaliers' defense, then, rose to the occasion. The Warriors threatened to regain the lead by driving to the Serra 2-yard line late in the third quarter. The Cavaliers held Alemany on four downs that included pressuring Warrior quarterback Miller Moss to over-throw to his receiver on the fourth-down-and-two play. Alemany had another threat having a fourth down and goal inside the 10. That was when Serra's defense, again, heavily pressured Moss as his pass sailed well past the end zone.
Serra all but put the game away with 5:40 left in the game when Brumfield tossed a 20-yard scoring pass to Ronnie Gillam.
That touchdown play was followed by two Cavalier interceptions from Macen Williams and Devyn King that ended any hopes for a Warrior comeback.
Serra hopes to win its second straight Mission contest and pull off a playoff spot with another contest at home against Loyola High on Oct. 26 when it visits Chaminade High in West Hills Friday at 7 p.m. Chaminade bounced back to down Loyola 27-10 last Friday.
ECC Football
El Camino rallies for wild win over Mesa
By Joe Snyder
El Camino College's football team trailed host San Diego Mesa throughout most of the game before pulling off a wild 51-44 victory last Saturday in Kearney Mesa.
The Warriors broke a 44-44 tie with just 14.7 seconds left in the game when quarterback Aaron Thomas threw an 18-yard touchdown pass to Trevon Clark.
ECC got off to a slow start as the Olympians took a 16-7 lead but the Warriors cut their deficit to 23-21 when starting quarterback Grant Ferrauilo found Kishawn Berry from 10 yards out.
Mesa came back to grab a 30-21 lead but, again, El Camino got within two as it finished an 80-yard drive on a 15-yard TD pass from Thomas to Clark.
The Warriors, who improved to 5-2 overall after the National Central Conference opening victory, took their first lead at 36-30 on Jonah Tuvai's 3-yard scoring run followed by a two-point conversion.
The Olympians, however, bounced back with 14 unanswered points for a 44-36 lead before ECC finished off with two touchdowns. A one-yard run into the end zone from Tuvai and another two-point conversion tied the game at 44.
ECC's only first half scoring came on a 19-yard TD pass from Ferrauilo to Berry early in the second quarter.
The Warriors accumulated 546 total yards on offense, 346 of those on the passing of Ferrauilo and Thomas. Ferrauilo completed 16 of 30 passes for 187 yards, three touchdowns and three interceptions. Thomas was 16-for-20 for 159 yards and two TD's. Clark had 10 receptions for 159 yards and two scores. Berry caught eight passes for 82 yards and two touchdowns.
El Camino's rushing was led by Raymond Graham who totaled 132 yards on 21 carries.
ECC will visit Mt. San Antonio College at the Covina District Field Saturday at 6 p.m.
North Football
North tops West in storm shortened game
By Joe Snyder
It was just a half of a game, but the North Torrance High football team was able to top rival West Torrance 12-7 in a contest that was stopped there due to heavy rain and dangerous lightning.
The rest of the contest, reportedly, was canceled.
The Saxons scored the go-ahead touchdown in the second quarter on a 12-yard touchdown run by Brayden Deocampo.
West had taken a 7-6 edge midway in the first period on a 5-yard TD run by Jacob Moreno. The point after touchdown was made.
North scored first on its opening drive on a 72-yard run from Stephen Bradford.
In just the first half, Bradford rushed for 131 yards and one TD on 11 carries.
North, which improved to 3-0 in the Pioneer League and 5-2 overall, visits winless Inglewood (0-8, 0-3) Friday at 7 p.m. at Coleman Stadium. At the same time, West hopes to stay alive to pull off the Pioneer League title when it hosts rival South Torrance.
Prep Football Roundup
Lightning storm postpones, cancels games
By Joe Snyder
A freak lightning storm with heavy rain caused most of the South Bay's prep football games to be either delayed or canceled last Friday night.
Among those were even some homecoming games that included a Pioneer League showdown between host North Torrance and West Torrance. The game ended after just the first half and, eventually, the Saxons were declared the winners after a 12-7 lead. Coaches and athletic directors from both teams met at halftime. As of Monday, they decided to cancel the remainder of the contest.
With the two teams appearing to be runaway favorites in Pioneer play, it appears that North will win its second straight league crown as it has games on the road against winless Inglewood (0-8, 0-3) and still rebuilding South Torrance (1-6 entering Monday's makeup home game against Morningside and 1-1 in league). South also had its homecoming contest postponed from the storm on Friday. If it goes as predicted, West will be favored against rivals South and Torrance and will, most likely, be second in league.
Gardena's homecoming contest against Carson went about six minutes with the Colts ahead 14-0. According to head Panther coach Jim McElroy, the game is expected to not finish. Whether Carson will be declared the winner or the game will just not happen, it remains to be seen.
Torrance, meanwhile, was able to play the entire game against host Inglewood as the Tartars shut out the Sentinels 21-0. Despite a 0-5 non-league and an overall mark of 2-6, the Tartars are in very good position to finish third in Pioneer play and make the CIF-Southern Section Division X playoffs after their 28-21 home win over rival South on Oct. 2 at Zamperini Field. Torrance will host Morningside Friday at 7 p.m. before finishing league at home against West on Oct. 26.
A major storm also postponed what was billed as the United States' biggest prep football game between host Santa Ana Mater Dei and Bellflower St. John Bosco last Friday at the Santa Ana Bowl. The Braves entered the game as the No. 1 team in the nation but many observers felt that the Monarchs, whose wins include 24-20 over national power IMG Academy from Florida and ranked second in the country, would be favored. Instead, St. John Bosco proved why it is the top team in the U.S. by routing Mater Dei 41-18 on Saturday.
The Braves, who are 8-0 overall and 3-0 in the prestigious Trinity League, were led by junior quarterback D.J. Uiagalelei who completed 15 of 22 passes for 279 yards and five touchdowns, four of those in the first half.
Uiagalelei is considered one of the top overall high school junior athletes in the United States, also being a standout baseball player where many feel he will be a first round pick, possibly even first overall when he graduates in 2020.
St. John Bosco's win snapped the Monarchs' 22-game winning streak. Mater Dei's last loss, in fact, was to the Braves 42-28 in the CIF-Southern Section Division I championship game.
The Monarchs (6-2 overall and 2-1 in league) were the nation's second ranked team entering the game but will drop a few spots down. Both teams could meet, most likely, for the Southern Section Division I championship next month. One of Mater Dei's losses was by forfeit.