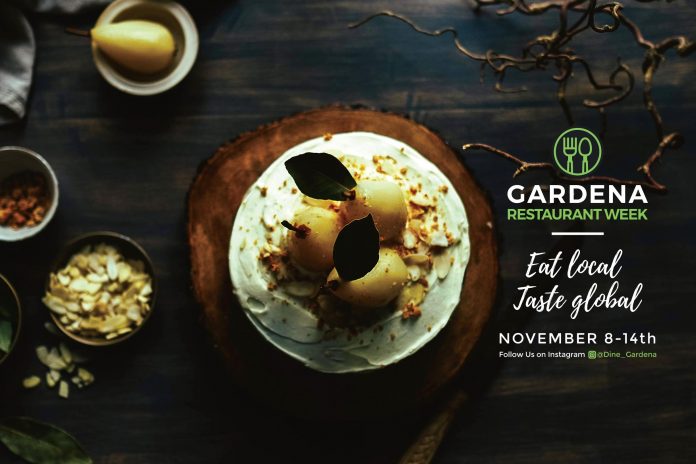 By Ronald Penh
Amid the economy-threatening circumstances of the pandemic, Gardena's 2020 Restaurant Week will step up their support for local restaurants from Nov. 8 to 14 by making the program free for restaurants and by providing assistance for restaurants on using social media as a marketing platform.
You can view eateries partaking in the program by going on the website www.gardenaawaits.com/restaurant-week/ and clicking on the section "Participating Restaurants" towards the bottom of the page.
This is the second Gardena Restaurant Week which was started to promote restaurants and showcase the variety of restaurants that exist within the city. 
Restaurants are showcased by offering "prix fixe" dining options, free desserts, free drinks, and other special promotions.
"We had a very successful turnout last year for Restaurant Week, but promoting our restaurant industry this year is even more important due to the harsh circumstances COVID-19 has put our restaurants in," said Mayor of Gardena Tasha Cerda in a press release. 
In 2019, restaurants had to pay $150 to participate in the program, with proceeds going towards the food pantry, Gardena Economic Development Manager Spencer De La Cruz shared. Due to the financial strain caused by the pandemic, restaurants will not have to pay to participate this year.
Gardena's restaurant industry was hit particularly hard, leaving many owners uncertain of the future of their restaurants.
Based on a survey from the city of Gardena that interviewed 26 restaurants, 44% of respondents believe that their restaurant can only sustain current business conditions for the next one to six months.
In the survey, De La Cruz also found that restaurants scaled back their marketing budget due to the pandemic and that they wanted assistance with social media.
"Based (on) the data we got, we decided if you need assistance with social media, we're going to help you," De La Cruz said. "We're going to put together some type of package and resource for you to reference."
The resource that was given to the restaurants to aid in social media consists of an in-depth presentation on social media marketing that explains topics such as the significance of social media in advertising, improving search engine optimization, how restaurants can adapt to COVID-19, and the benefits of utilizing online delivery.
Individuals will also be able to win gift cards to restaurants that are participating in this year's Restaurant Week. 
Those that eat food at a participating restaurant, take a picture of the receipt and the food, and tag the @dine_gardena Instagram account, send a direct message to the @dine_gardena Instagram, or send an email to economicdevelopment@cityofgardena.org will be eligible to win a gift card.
For more information, contact Gardena economic development at 310-217- 9533 or email economicdevelopment@cityofgardena.org
You can stay updated by following the social media account @dine_gardena on Instagram.