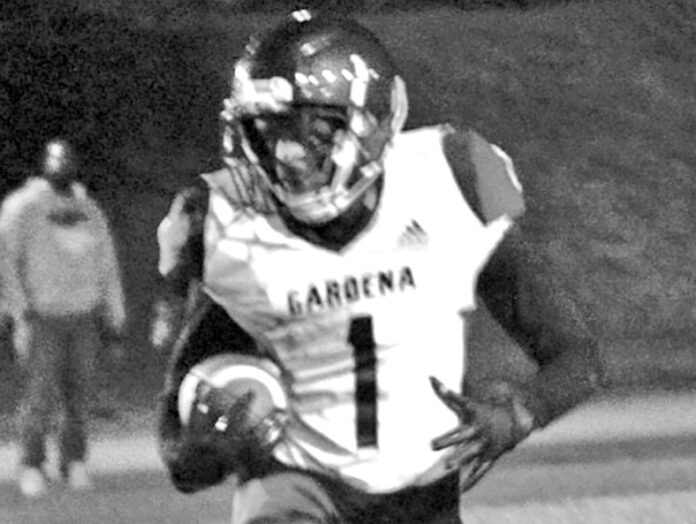 By Joe Snyder
Gardena High's football team hosted its annual homecoming game against a one-time Marine League rival, Washington, last Friday.
It was a match-up between two mostly explosive offenses with all of the scoring in the first half. In the second half, both defenses took over as there was no score, but a few threats.
In the end, the Panthers were able to hold off a few General threats for a 20-12 win.
Gardena, which improved to 5-0, scored on its first possession on a 2-yard run by Xavier Grant. The point after touchdown was good as the Panthers took a 7-0 lead.
Washington (2-3) bounced back and cut Gardena's lead to 7-6 on a 75-yard pass play, then a 1-yard quarterback keeper gave the Generals a 12-7 lead early in the second quarter.
On the ensuing kickoff, Ferrell Davis took the ball 85 yards for the go-ahead touchdown as the Panthers regained the lead at 14-12 with 10:11 left in the second period.
Later in the second quarter, Gardena had another drive that ended when quarterback Torey Pierce punched into the end zone from two yards out. The PAT attempt was blocked.
In the second half, the Panthers had two touchdowns in the fourth period, but both were called back to holding penalties.
Washington made some threats but Gardena's defense was able to make clutch defensive plays, including stopping the Generals at the Panther one-yard line as time expired.
The Panthers visit King-Drew Medical Magnet in the Willowbrook area in non-league play Friday at 7:30 p.m. The Golden Eagles are unbeaten in four games after shutting out host Compton Centennial 36-0 last Friday. Gardena has a 54-6 win over the host Apaches from Sept. 2.