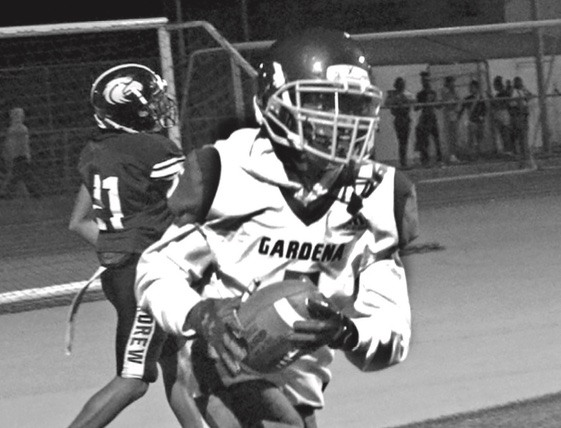 By Joe Snyder
Gardena High's football team entered last Friday's non-league finale against King-Drew Medical Magnet High with a 5-0 record at Los Angeles Harbor College.
The Golden Eagles, meanwhile, are fielding football for the first time, but won their first four games. It was King-Drew's first homecoming game and its home side was filled to capacity with about 3,500 fans. Overall, there were about 4,000 spectators.
The Panthers, however, proved dominating in rolling over King-Drew 37-6.
Gardena began its scoring in the first quarter when running back Xavier Grant scored on a 2-yard run.
The Panthers, who are 6-0, continued to lead 7-0 until late in the second period when they stretched their lead to 14-0 when quarterback Torey Pierce connected with wide receiver Johan Wallace from 14 yards.
On the Golden Eagles' pursuing drive, a bad snap on a hike forced quarterback Keenan Jack- son to recover the ball in his own end zone giving Gardena a safety and a 16-0 lead with 35 seconds left before halftime.
In the second half, the Panthers started to turn the game into a rout. Gardena increased its lead to 23-0 on a 41-yard TD pass play from Pierce to wide receiver Maurice Henderson.
Aided by a pair of defensive penalties on Gardena, King- Drew (4-1) got on the scoreboard when Jackson kept the ball and scored from three yards out.
Gardena finished off the Golden Eagles with two fourth quarter touchdowns; a 10-yard pass from Pierce to Wallace and a 3-yard run by sophomore running back Myles Mason.
"It was truly a team effort," Gardena head coach Monty Gilbreath said. "We played physical."
The Panthers, though, will face stiff tests in the always brutal Marine League starting at home against Narbonne Friday at 7:30 p.m. Last season, Gardena defeated the host Gauchos 12-6 for its first on-field Marine win since 2015.
"The Marine is the toughest league in the City," Gilbreath said. "We'll come and compete. It will be an obstacle. We must focus and cut down on our mistakes and penalties."
Despite the easy win over King-Drew, the Panthers were plagued with numerous penalties, especially on defense