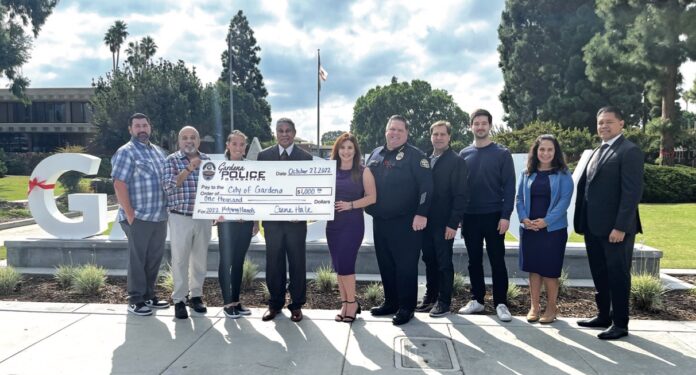 By Gary Kohatsu
The Gardena Police Foundation kicked off the 2022 Help- ing Hands holiday food and toy fundraiser for local needy families. In attendance for the check presentation were several GP Foundation members and Gardena city officials: Josh Bettencourt, Russ International; Ketan Sharma, Wendy's; Elizabeth Hernandez, Gardena Police Foundation; Gene Hale, G&C Equipment Corp.; Jaclyn Arcos, City of Gardena (Helping Hands Coordinator); Mike Saffell, Chief of Police; Paul Giuliano, Giuliano's; Alex Fleischman, Roadium Open Air Market; Stephany Santin, Recreation and Human Services Director; and Clint Osorio, City Manager.
The Helping Hands sign-up by needy families is fast underway.
Now in its 41st year, the holiday program registration will continue electronically, city officials said.
"The videos currently online are from 2021, but it is a 'how to sign up' video [and] the process hasn't really changed," Stephany Santin, director of Gardena's Recreation and Human Services said.
Santin added that the city "will get the 2022 version in case it is confusing [for] them to see the 2021 flyer:
and in Spanish:
Individuals will need to provide documentation in order to fully be registered.
"If you are referring to LA County Guidelines, we anticipate that if cases rise which they usually do after the holidays, we will have to follow CO- VID-19 protocols, so we usually include this language," she said.
At this time, the city of Gardena doesn't have a mask man- date, but that could change depending on the coronavirus numbers.
"Our plan is to promote [the Helping Hands holiday food and toy drives] as much as possible to help as many families as possible.
Santin said that all families have to register through the online portal at www.cityofgardena.org/events. They will need to upload documents at the time of registration, but if they are unable to or don't have them available at the time they can email them to Helpinghands@ cityofgardena.org
The sign-up process is underway and will continue into November. For exact dates, go to the city's website.
City of Gardena families in need can register for a food voucher and toys for the holiday season.
An account must be created under the head of household name and include additional family members or children to the account.
• Applicants will be placed on a waitlist until all of their documents have been approved by staff.
• Once approved, an email confirming that an applicant is registered will be sent.
For questions regarding the registration process, contact the Human Services Division at 310-217-9574 or email helpinghands@cityofgardena.org
The Helping Hands program helps between 400 and 450 families each holiday season. That would include about 700 children and overall, about 2,000 people.
Families who live outside of Gardena, in the unincorporated area of the Harbor Gateway, might also qualify for the Helping Hands program if there is enough food and toys, city officials said.
For a great cause
Sponsored by the city of Gardena in cooperation with the Gardena Valley News, the holi- day food drive began in 1980 as a food basket giveaway to Gardena's less fortunate.
In recent years, food vouchers to area grocery stores have replaced food baskets, which provides families with a greater selection of food items, including dietary and ethnic items.
Last year, the Helping Hands program received palettes of canned foods and non-perishables from various groups for the holiday.
The city of Gardena provides all staffing in the Hands drive and all monetary contributions go toward the holiday fundraiser and the year-round food pantry.
No money is used for administrative costs.
As in the past, the Gardena Valley News will publish a list of contributors, with a weekly update of new donors. For more information about Helping Hands, call 310-217-9574.
• Checks should be made to "Helping Hands" and can be sent electronically online to www.cityofgardena.org/events, under "Donation Opportunities" tab. Then click "Helping Hands.'
• If donations are sent by snail mail: City of Gardena, Attn: Human Services Department, 1700 W. 162nd Street, Gardena, CA 90247.
• Money donations should be dropped off at the Human Services Building, 1651 W. 162nd Street, Gardena.
• Toys can be dropped off at the following two locations: Nakaoka Community Center or the Human Services Building.
• Food donations are accepted year-round.
"We need items such as toys, books, art supplies, board games, sports equipment and gift cards for youth age 10 and older," Helping Hands director Jaclyn Arcos said.
To learn more about the event, contact Jaclyn Arcos, City of Gardena Recreation Department, at 310-217-9574.