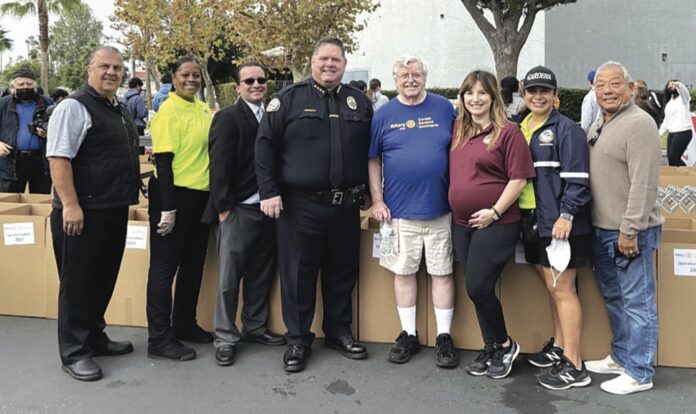 By Gary Luster
For the second year, the city of Gardena and the Carson-Gardena-Dominguez Rotary Club will join forces to provide 500 Thanksgiving dinner boxes to needy families as part of the 31st Annual Operation Gobble on Thursday, Nov. 17.
The 500 dinner boxes will include canned vegetables, stuffing, gravy packets, fresh vegetables, cranberry sauce, fresh rolls, cake or bread mix. Included with the dinner boxes will be aluminum pans and foil. Recipients cannot partake of a traditional Thanksgiving feast without a turkey, so every recipient family will also receive a Kroger gift card to be used toward the purchase of a turkey from any Kroger store, including Ralph's and Food 4 Less.
Glenn Mitchell said that the dollar amount of the gift cards is currently being discussed and a decision will be made this week. Last year's gift card was for $15.
"It's a grocery store gift card," said Mitchell, Community Service Director of Carson-Gardena-Dominguez Rotary Club. "They can choose whatever items they want. If they want to get a turkey, if they want to get a ham, or they want to buy other staple items."
Mitchell said canned goods will be provided by the Food Bank of Southern California, a Long Beach-based service center whose mission is to provide basic sustenance and proper nutrition to the community's hungry citizens and to ensure that no individual goes hungry.
The determination of which families will receive the dinner boxes lies with the participating LAUSD elementary schools. Mitchell said that the city of Carson will receive 200 dinner boxes for distribution to needy families while the city of Gardena will receive 60.
The rest will be distributed to various local agencies such as the Harbor Regional program for developmentally disabled children and adults, which will receive 20 dinner boxes.
Getting the dinner boxes to the families in need requires the combined efforts of volunteers and members of both rotary clubs.
"The day of the event we will conduct an assembly line where volunteers, city staff, Rotarians all come together to assemble the boxes," said Jaclyn Arcos, Community Services Counselor for the Gardena Recreation and Human Services Department. "They are distributed at the site to stakeholder representatives where then they distribute them on campus or deliver to their homes."
This year saw the city of Gardena expande its efforts of providing meals to the needy families of Operation Gobble by partnering with the Carson-Gardena-Dominguez Rotary Club, Gardena LAUSD, Waste Resources, Gardena Elks Lodge 1919, Charitable Funds Benefiting Gardena and the Harbor Gateway North Chamber.
According to Arcos, Operation Gobble started with Golden State Water Company donating frozen turkeys to the City of Gardena Human Services Division. During Covid-19 the company changed how they allocated turkeys by sending a monetary donation.
From there, the city decided to partner with Carson-Gardena-Dominguez Rotary Club that partners with more community stakeholders including the partnership with LAUSD to reach students and their families.
The Rotarians have been conducting its own Thanksgiving food distribution for more than 30 years, starting with the original Gardena Rotary Club — of which Mitchell was a member.
This partnership between Gardena and the Rotarians allowed the city to increase its reach and assist even more families within the Gardena community.
"We are grateful to have a generous and positive community which allows us to create opportunities to enhance our outreach," Arcos said. "We would love to expand and help even more families. We encourage local non-profits and other agencies to contact us to help us help even more individuals."
Rotary brings together a global network of volunteer leaders who dedicate their time and talent to tackle the world's most pressing humanitarian challenges. Rotary connects 1.2 million members from more than 200 countries and geographical areas. Their work impacts lives at both the local and international levels.
Arcos said that participating in Operation Gobble is not just for their volunteers and partner organizations, but average citizens and residents can also get involved.
"They are welcome to donate to the City of Gardena-Operation Gobble where their donation will go directly to purchasing food," she said. "They can join and become a member of the Rotary Club. We encourage all community members not just to get involved during the holidays but year-round by donating to our [Gardena] food pantry."
One of the biggest drivers of a program like Operation Gobble is the issue of food insecurity. According to the U.S. Department of Agriculture, food insecurity is lack of consistent access to enough food for an active, healthy life. It also relates to a lack of enough available funds at the household level. The efforts of Gardena and its partner organizations is driven by the need to eradicate the issue of food insecurity so that needy families can get what they need in terms of food, especially at Thanksgiving, a holiday associated with food.
The Carson Gardena Dominguez Rotary Club was founded in 1947 and is always looking for members who share their values of fellowship and working together to help those less fortunate. All are welcome to attend any of their meetings to learn more about them. They meet every Wednesday at noon. For more information about the Carson Gardena Dominguez Rotary Club, visit its website at www.rotarycgd.org.
For more information about Operation Gobble, contact the Gardena Recreation and Human Services Department at 310-217-9537.